Notice of acceptance for entrance in Fall 2024 will be sent on a rolling basis from October 15, 2023, to early August 2024. The GW MD Program will not offer a seat to an applicant who has matriculated at another MD program. 
Candidates must reply via a signed contract which must be returned as directed to hold their seat. 
Conditions of Acceptance (2024 Cycle)
Please review AAMC traffic rules for applicants: On or before April 15, narrow your selection(s) to no more than three schools or programs, and withdraw your acceptance(s) from all other schools or programs; and

On or before April 30, choose the school or program to which you plan to matriculate and promptly withdraw your acceptances from all other schools or programs. After April 30, you must inform the Office of Admissions (within 24 hours) of any additional MD program acceptance that you receive. 
Important timeline dates:

Accepted students narrow offers to a maximum of three schools
April 15
By this date accepted students hold only one seat
April 30
"Commit to Enroll" is required to be selected by accepted students matriculating into the GW MD Program
June 5th
Mandatory Orientation Begins
Early August
First day of classes
TBA
All accepted students will be subject to a criminal background check through the AAMC criminal background check service and must have satisfactory completion.
If you are the recipient of any institutional disciplinary or legal action, it is your responsibility to inform the Admissions Office immediately.

All acceptances are contingent upon satisfactory completion of all current and future coursework at a high academic level, including pre-medical requirements. If you are in a degree program, you must complete the program. If you have made changes in the selection of courses after filing your AMCAS application, please notify the Admissions Office in writing. The Admissions Office should also be notified of any decision to take a course for credit/no credit, pass/fail, audit, offered at a school other than the one indicated on the AMCAS application, or of a decision to graduate early or enroll as a part-time student.

AMCAS does not forward transcripts. Before you matriculate, you must have all official transcripts sent to the Admissions Office from every college or university you have attended. Unofficial or student copies are not acceptable. These transcripts will become an official part of your permanent medical school record and will be used for verification purposes after you graduate.

Any deferral requests must be submitted no later than May 30 to the Associate Dean of Admissions. Requests should be emailed directly and include a plan of action for the year, as well as any supporting documentation. Deferrals are granted on a case-by-case basis, and admitted students are limited to a one-year deferral. 

Admitted students must have a laptop computer available throughout the academic year for examinations that will take place on an online platform. Both the GW and National Board of Medical Examiners exam software are not compatible with tablet computers; therefore, all students must have a laptop computer available to complete their examinations. Laptops must 1) run an up-to-date operating system (Windows 10, Apple OS X10.14 Mojave or greater) and 2) meet the system requirements published by Examsoft and NBME. Please review the Examsoft website and the NBME system requirements. Questions about any of the required specifications should be directed to casshelp@gwu.edu.

Students may be eligible to request an increase in your financial aid budget to cover the cost of a laptop computer if needed. Please review the computer purchase policy (located towards the bottom of this Cost of Attendance page) for more information. 

Failure to meet any of these Conditions of Acceptance may result in withdrawal of your acceptance.
View licensure status of Medical Doctorate in the School of Medicine and Health Sciences.
---
Orientation 2023
Orientation for all accepted MD Program students will begin in August 2023. A private Facebook group allows entering students to interact with one another throughout the summer. 
Featured Story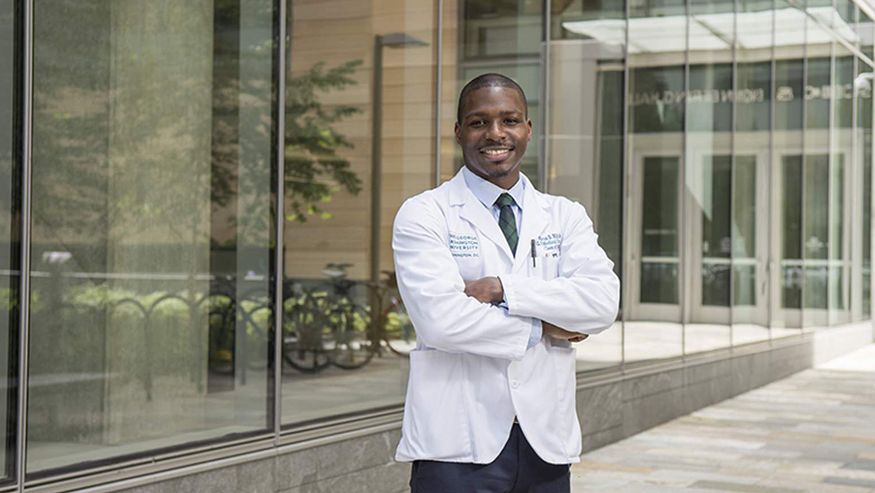 Marcus Mitchell, clad in green scrubs and his GW School of Medicine and Health Sciences white coat, has only a short break after finishing his rounds at GW Hospital to talk about the meandering path he's taken in medicine. The D.C.