Founded in 1824, the GW School of Medicine and Health Sciences (SMHS) is the 11th oldest medical school in the country and the first in the nation's capital. Since its establishment, the school has been at the forefront of medical education, and has grown to include highly-ranked programs in the health and biomedical sciences.
With dozens of top-tier residency programs, SMHS is a competitive and esteemed destination for medical school graduates across the country.
Today, students and residents are exposed to some of the most innovative educational techniques, taught by world-renowned faculty members, in state-of-the-art facilities. Outside of the classroom, students and residents enjoy unmatched opportunities to engage with nearby government, non-governmental, and non-profit organizations -- many of these opportunities are due to the school's prime location in the nation's capital.
SMHS graduates are well-trained, compassionate health care professionals who are exceptionally prepared to participate in the decisions affecting the future of our nation's health care.
Clinical Partners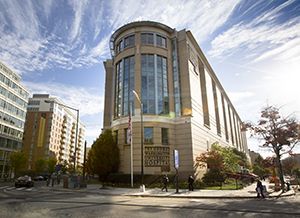 GW Hospital serves as a teaching hospital for SMHS medical students and residents. It is jointly owned and operated by UHS (80%) and The George Washington University (20%). The hospital is a multidisciplinary, tertiary care hospital renowned for breast care services, surgery, cancer care, cardiovascular care, emergency medicine, OB/GYN services, and orthopaedics.
---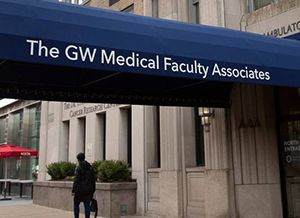 The GW Medical Faculty Associates has 800 physicians who provide comprehensive patient care in 51 medical and surgical specialties. As SMHS faculty members, the GW MFA physicians serve as teachers and mentors for medical students, residents, and researchers. Additionally, the Dr. Cyrus and Myrtle Katzen Cancer Research Center, the GW Heart and Vascular Institute, and the GW Breast Care Center are head- quartered at the GW MFA. The GW MFA is a separate 501©3 corporation.
---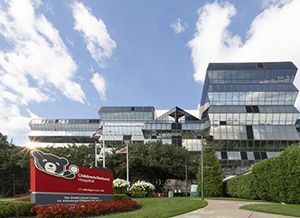 Children's National Health System (Children's National) is the premier pediatric care provider in the Washington, D.C., metropolitan area. Children's National is home to the SMHS Department of Pediatrics and the Department of Integrative Systems Biology. GW sponsors two residency programs at Children's National and 10 fellowships. GW and Children's National are partners on an NIH Clinical and Translational Science Award.
---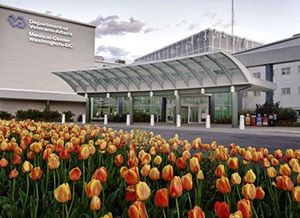 The Washington DC VA Medical Center (DCVAMC) is a tertiary care, Complexity Level IA hospital, providing comprehensive primary and specialty care in medicine, surgery, neurology, and psychiatry as well as a clinical study site for functional-MRI. The medical center has 164 acute care beds, 30 Psychosocial Residential Rehabilitation Treatment (PRRTP) beds, an adjacent 120-bed Community Living Center (CLC), a 20-suite Fisher House, and a full service Women's Health Clinic equipped with digital mammography and gynecological care. The staff honors Veterans with world-class health care in an environment that fosters compassion, commitment, and service.