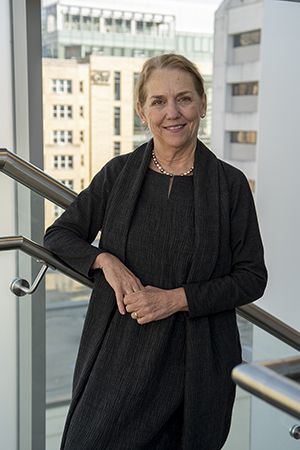 Barbara L. Bass, MD, RESD '86, vice president for health affairs (VPHA), dean of the GW School of Medicine and Health Sciences (SMHS), and chief executive officer of The GW Medical Faculty Associates (GW MFA), is a widely respected leader in academic medicine, a surgeon, and a published author known for her pioneering innovation in academic surgery.
At GW, Dr. Bass leads the academic, clinical, and research missions and provides strategic direction on all aspects of GW's medical enterprise, including the university's relationships with the GW MFA and the GW Hospital. As CEO of the GW MFA, Dr. Bass oversees operations management and provides an effective and efficient administrative structure that supports the clinical enterprise and creates a culture of excellence in both internal and external customer service.
Dr. Bass is a GW residency alumna, completing her residency in general surgery at GW in 1986. She completed a research fellowship at the Walter Reed Army Institute of Research while serving as a captain in the U.S. Army Medical Corps. After graduating, she began her career on the GW faculty as a general surgeon and surgeon-scientist at the Washington DC VA Affairs Medical Center.
Most recently, Dr. Bass served as chair of the Department of Surgery at Houston Methodist Hospital and built the department from the ground up. She recruited internationally acclaimed faculty; established high-quality clinical, residency and fellowship programs; and created robust interdisciplinary research teams in the basic sciences, translational, and clinical research domains. She also developed a highly rated clinical rotation for medical students and led the creation of Accreditation Council for Graduate Medical Education-accredited training programs in general surgery and numerous other surgical fellowship programs.
Additionally, Dr. Bass is the founder and former executive director of the Houston Methodist Institute for Technology, Innovation, and Education, a state-of-the-art education and research center that has hosted training courses for more than 55,000 health care providers in practice. Dr. Bass served as chair of the surgery department in the Houston Methodist Specialty Physician Group and held the John F. Jr. and Carolyn Bookout Distinguished Presidential Chair. She also held positions at Weill Cornell Medical College and the Houston Methodist Institute for Academic Medicine; Texas A&M College of Medicine; and was a full member of the Houston Methodist Research Institute.
Dr. Bass also served in leadership positions at the University of Maryland School of Medicine and University of Maryland Medical System, as a professor of surgery, program director of the residency in general surgery, and associate chair for research and academic affairs.
As a researcher, her current interests include computational surgery, health services research and outcomes sciences, and clinical trials in surgical oncology, following two decades of bench research in gastrointestinal biology. For more than 25 years, Dr. Bass' research has been funded by the National Institutes of Health (NIH), the National Science Foundation, VA Health Services Research and Development Service program, and the European Union, among others. She has published more than 170 peer-reviewed manuscripts, and numerous monographs, chapters, and books; served on NIH review boards and on the editorial boards of the Annals of Surgery and the Journal of the American College of Surgeons, among other roles.
Dr. Bass has advanced her field with advocacy for equality and diversity for women and underrepresented minorities in health care careers and in academic advancement: through her national service and leadership, as well as her current position as the first woman to hold the VPHA/Dean position at GW School of Medicine and Health Sciences. She is nationally recognized for crafting innovative pathways to surgical training and fostering the career development of clinician-investigators and leaders in health care and academic medicine.
She was a founding member of the research program that led to the development of the National Surgical Quality Improvement Program in the Veterans Affairs health care system and in the private sector program of the American College of Surgeons. Through leadership roles as chair of the American Board of Surgery, president of the Society for Surgery of the Alimentary Tract and the Society of Surgical Chairs, and most recently as the 98th president of the American College of Surgeons, Dr. Bass has had significant impact on professional initiatives in surgical education, quality and outcomes measurement systems, professional advocacy, and surgical career development.
Dr. Bass has received numerous honors including the Olga Jonasson and Nina Starr Braunwald award of the Association of Women Surgeons, the Founder's Medal of the Society for Surgery of the Alimentary Tract, and the Distinguished Service Award of the American College of Surgeons, and election to the Alpha Omega Alpha Honor Medical Society as a medical student at the University of Virginia. She has received honorary fellowships from numerous international surgical colleges, and, in 2019, Bass was the keynote speaker at the GW MD Program Diploma Ceremony.
Dr. Bass earned a BS from Tufts University and an MD from the University of Virginia. She is married to Richard S. Marshall, who received his JD and LLM degrees from GW. They have two sons, Wes and Wyatt.