The George Washington University School of Medicine and Health Sciences seeks to graduate "Physician Citizens" committed to local, national, and global public service through excellent patient care, leadership, advocacy for change and innovation, and scholarly inquiry. This goal will be achieved through a robust and flexible curriculum and by leveraging the School's unique position as part of a major university located in the heart of the nation's capital surrounded by major institutions and leading authorities in domestic and international health.
To meet this goal, the MD Program is dedicated to admitting a well-rounded group of students who will be prepared to meet the broad and disparate needs of patients and their communities.
Explore the GW MD Program
Prospective MD Students   Current MD Students
Experience GW
CHECK OUT THE SMHS EXPERIENCE IN LESS THAN 1 MINUTE
Get Started
Essential Links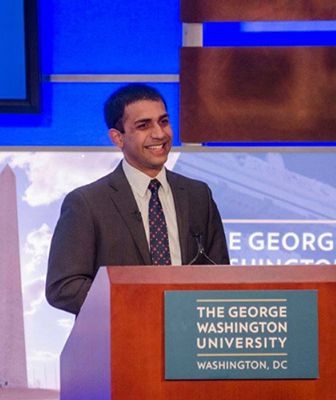 Sharjeel Chaudry
Class of 2020
CLINICAL AND TRANSLATIONAL RESEARCH SCHOLARLY CONCENTRATION
GW has been instrumental in helping me pursue my research interests alongside my medical education. When I wanted to do summer research between my first and second year of medical school, the Office of Student Opportunities helped me get one of seven grants as a Harvard-Longwood Research Trainee in Vascular Surgery (NIH-T35). After spending the summer studying small molecule inhibitors of thrombosis, I considered take a year off to further build my research skills."