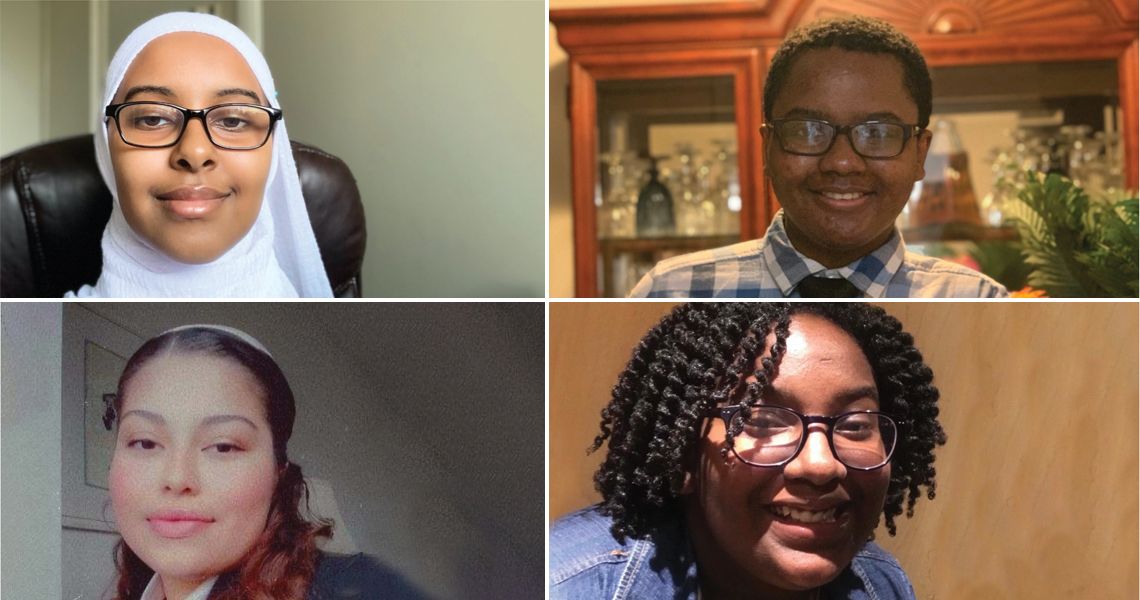 Investing in People
Meet Alhaji Bah,  Ayrana Brooks, Tiffany Guevara Fuentes, and Tesnim Mohammed.
The four teenagers are among the newest students attending the Governor's Health Sciences Academy (Academy) at Alexandria City High School. And they represent the future of health care.
"I've always known that I wanted to have a career in the medical professions, but I didn't really know how to start," said Bah, a 10th-grader. After hearing about the Academy from friends, he decided to apply.  "They were saying such good things about it... I knew I wanted to join because of my passion for medicine. It helps you so much.
"I can't wait for the future," the 15-year-old added.
Setting students up for future success in a health sciences career is at the heart of the Academy, a unique collaboration between the George Washington University (GW) School of Medicine and Health Sciences (SMHS) and the Alexandria City Public Schools. The Academy, established in 2018 to respond to the region's urgent need to expand health care pathways, is an example of how GW Health Sciences is investing in people, a focus area of the Health Sciences Strategic Plan 2020-2023. That focus and three others address the division's mission to drive innovation and quality in health and health care delivery through education, scholarship, and service.
The Academy promotes career pathways in STEM-focused health sciences fields, supports students who want to pursue postsecondary education, and prepares graduates to meet workforce needs. There are seven career and technical education pathways students can choose from: biomedical informatics, medical laboratory sciences, sports medicine, pharmacy, emergency medical services, nursing, and surgical technology. Based on the selected pathway, Academy students can earn up to 18 college credits from GW while in high school.
The Academy's first cohort of 85 students will graduate from high school in 2022. More than 400-plus students are expected to graduate by 2025. Academy graduates will earn their high school diploma, career-related industry certification, college credits for coursework, and guaranteed admission to GW SMHS.
Just as Bah joined the Academy to get a head start on a health care career, so did his classmates Brooks, Guevara Fuentes, and Mohammed.
"Ever since I was younger, I've always been interested in health sciences and the human body, so when I heard about the program, I knew that I wanted to apply," said Mohammed, 15. "There are so many different issues going on in the world … viruses and diseases. I want to be a part of helping people deal with those different issues."
Mohammed is one of many students in the Academy who are multilingual. She speaks Amharic and Afaan Oromo in addition to English. Bah is fluent in Creole, while Guevara Fuentes and Brooks both speak Spanish. In all, 26 languages are spoken by Academy students.
All four students applaud the Academy's goal to help diversify health professions. "There aren't a lot of people that look like me that are in the health care field," Mohammed said. "For future generations, it will be good for them to see somebody that looks like them."
Brooks, who wants to be a pediatric nurse, agreed. "We all deserve the same equal opportunity so to see more people of color and people from different backgrounds or different races will be a game changer."
"I want to open doors and opportunities … there are so many wonderful things that come out of the Academy," she added.
Guevara Fuentes said, "I have seen my mom who doesn't speak English really struggle. When we have the barrier of language we're not able to connect or communicate easily. I feel like me speaking a different language besides English will be helpful."
Bah, too, is excited to have an impact as a future graduate of the Academy. "It's kind of overwhelming, but it also makes me proud to know that I'm going to be a part of this effort to change the world and increase diversity in these professions," he said.
Bah, who wants to be a surgeon, has been influenced by his mother, a nurse. "She works so hard and she helps so many people," he said. "I want to have that feeling that she does whenever she helps someone else."
Guevara Fuentes' goal is to have a career as a surgical technologist. "I am very interested in just about anything that has to do with the sciences and health overall and taking care of people," she said.
She and the other three students took prep courses over the summer so they could enter the Academy as 10th-graders this fall. "At first, I was a little scared … the workload was a little bit heavier, but not too much to the point that it was overwhelming," Guevara Fuentes, 16, said. "To me, it's such a great opportunity. You just have to try, and if you have the right intentions … if you have a dream, you can do it."
Mohammed, who's interested in emergency medicine, was initially worried about the college-level work required in the Academy, but she's managing just fine. "The courses have been really great," she said. "I wasn't so sure about how I would be able to handle it, but I'm able to complete all my work and enjoy the courses ."
She loves being an Alexandria City High School and GW student. "I'm really happy because I'm part of a university," she said. "This is a really big deal for my family. I have three younger brothers, so it's really important for me to be a role model for them, and to show them that if they work hard, they can do what they want."
Brooks also says she's setting an example for her younger siblings. "I think I'm accomplishing a lot, especially with being only 15. You don't really hear about a lot of high schoolers doing college classes," she said. "I am a big influence and role model with my sisters. They watch everything I do because they want to be just like their older sister."
Brooks is interested in attending GW after graduating from the Academy. If she does, it will continue a family tradition: her grandfather, Michael Brooks earned a Bachelor of Business Administration degree from the GW School of Business in 1970, and her father, Alphonso Brooks, has taken classes in the School of Professional Development.
For now, all four students are trying to cope with virtual classes during the pandemic.
"I kind of have mixed opinions about it," Guevara Fuentes said. "I like the fact that I get to stay home. I like the comfort of my own house, but I also hate the fact that I don't get to interact with my classmates or my teachers."
Brooks agreed. "It's been difficult adjusting to certain things because I am a hands-on learner, " she said. "But I've adjusted to virtual classes because the teachers make it very easy."
The initial novelty of attending school from home has worn off for Bah, but he, too, is adjusting. "At first I was excited because I thought I was going to just stay away from school," he said. "But the longer we've been doing this the more I realize it's kind of hard. The whole general thing is kind of stressful and disappointing, but there's nothing anyone can do to fix it."
"It has made me want to pursue a career in the health sciences even more because of the millions of people who are affected by this pandemic," he added. "It makes me want to help them."
Being a high schooler and a GW student can be overwhelming at times, Bah admitted. "It kind of makes my heart race a little bit. I'm taking GW college courses with people who are way older than me. They're like in their 20s taking the same courses," he said. "I'm trying to make sure it doesn't get to my head."
For more information about the Governor's Health Sciences Academy at Alexandria City High School visit our website.