Awards
The School of Medicine and Health Sciences presents several awards throughout the course of the year to honor outstanding students, residents, and faculty members for their academic achievements, excellence in teaching, research efforts, or service to others.  
See awards presented at graduation and throughout the year.
Awards Presented at Graduation
Alpha Omega Alpha Honor Society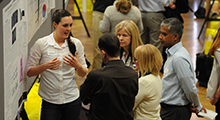 Research Day
Undergraduate, graduate, and postdoctoral students have the opportunity to showcase their work and compete for prize money at the Annual Research Days. This event is dedicated to highlighting the breadth of research, creative scholarship, and cultural discovery on issues of major disciplinary, multidisciplinary, and global significance being done at GW by students and postdoctoral researchers.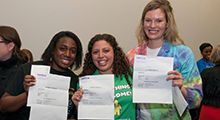 Match Day
Match Day is a very special event here at SMHS, where its fourth-year medical students are "matched" for residency at a ceremony on campus.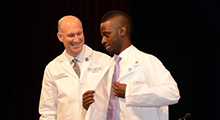 White Coat and Honor Code Ceremonies
The annual White Coat Ceremony welcomes first-year medical students into the George Washington University SMHS community. During the ceremony, students are presented their white coats, recite an oath and sign the Honor Code pledge.
All friends and family members are invited to attend this memorable event, which is sponsored by the GW Medical Alumni Association and the White Coat Initiative.
Stay tuned for information on the next White Coat Ceremony.
For directions and parking to Lisner Auditorium, please visit the Lisner Auditorium website.
For hotel suggestions, please refer to the George Washington University Lodging and Dining website.
For further information, please contact:
Valerie Espinoza
Executive Coordinator for Student Affairs
202-994-3176
vespinoza@gwu.edu