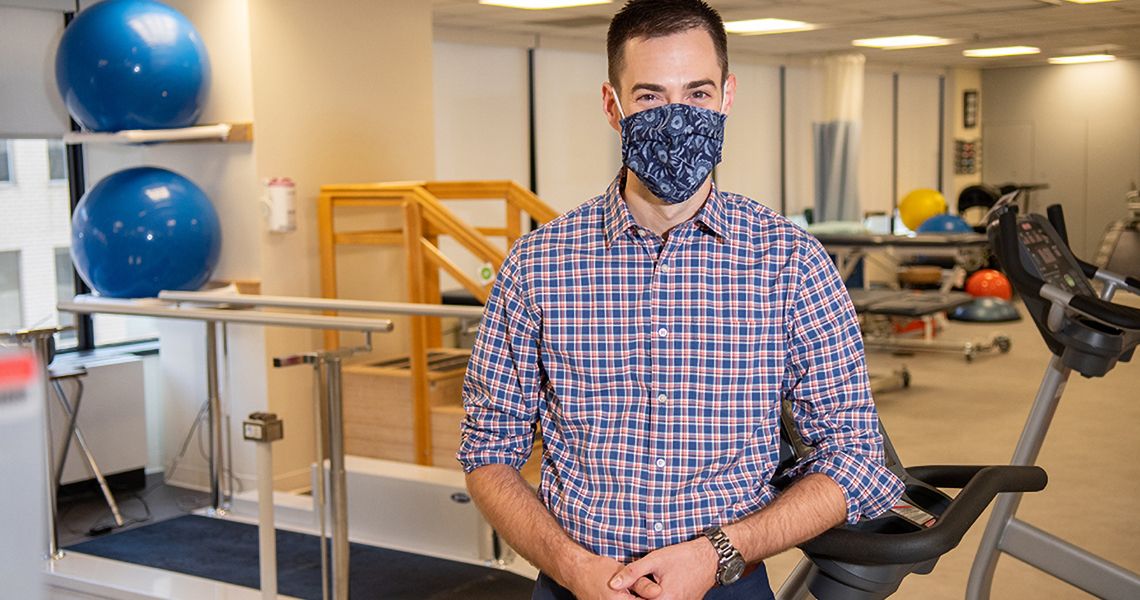 When Michael Taber, a 2017 alumnus of the Doctor of Physical Therapy Program (DPT) at the George Washington University (GW) School of Medicine and Health Sciences (SMHS), sees an issue that needs to be addressed, he readily tries to find a solution.
That was the case when Taber realized that patients who recovered from COVID-19 could benefit from outpatient rehabilitation after being discharged from the George Washington University Hospital (GW Hospital).
"The need for rehab services for individuals who have recovered from COVID-19 can be significant," Taber said. "After the infection, their body may require extra time to fully recover." The infection can leave patients with muscle weakness, decreased energy or problems with speech or swallowing, he noted.
In other words, the road to recovery can require physical therapy.
To address this need, Taber, a senior physical therapist at GW Hospital Outpatient Rehab, developed an innovative program that's now in place at the hospital to safely evaluate and treat patients in clinic or via telehealth. Taber's initiative is an example of how GW Health Sciences is influencing health professions education, health care policy, and practice, which is a focus area of the Health Sciences Strategic Plan 2020-2023. That focus and three others address the division's mission to drive innovation and quality in health and health care delivery through education, scholarship, and service.
"This is an opportunity for us to help out; we are the experts," Taber said. "Research to further inform assessment and treatment of patients following COVID-19 infection continues to develop, but outpatient rehab may be appropriate if patients experience any challenges in their day-to-day life. We're considering the whole physical and emotional trauma, offering a multidisciplinary service to include physical therapy, occupational therapy, and speech language pathology."
Taber and his colleague, Fieke Janson, PT, a senior physical therapist, are leading the program that offers services, such as aerobic conditioning, lung function assessment, strength conditioning, endurance training, pain management, energy conservation training, balance training, cognitive rehabilitation, and voice and swallowing rehabilitation.
Taber credits his training at GW Health Sciences Department of Health, Human Function, and Rehabilitation Sciences for the proactive approach he brings to his practice. "The PT program always advocated for us to be innovators and to think about how to improve clinical spaces and clinical care," he said. "I'm trying to do that. We want to challenge the norm and make it better, if possible."
Taber took his rehabilitation idea for COVID-19 patients to Lauren Wohl, DPT '09, the orthopedic rehab lead therapist at GW Hospital, and Karen Whitesell, PT, DPT, the neurological rehab lead therapist. Wohl and Whitesell, both adjunct faculty members with GW DPT, signed on to the idea as did Dan Finn, DPT, MBA, the manager of the Outpatient Rehabilitation Center. So, the next step was to reach out to physicians to gauge their support to screen patients in the hospital and send them to rehab, if needed. "Everybody was on board," Taber recalled.
GW DPT is well-represented in the GW Hospital rehab outpatient center. Three faculty members, Keith Cole, PhD, DPT, assistant professor; Dhinu Jayaseelan, DPT '10, co-academic director of the orthopaedic residency and assistant professor; and Joseph Signorino, DPT, clinical assistant professor, are on staff along with four adjunct faculty members: Megan Barker, DPT '15; Michelle McLellan, PT; Kristin Quinn, PT, DPT; and Anna Tessiatore, PT, DPT, who completed a neuro residency at GW in 2019. Four other GW alumni are on staff, too: Mary Busch, DPT '18; Jenica Holt, DPT '18; Kevin Keating, DPT '18; and Marin Smith, DPT '19.
Hospitalization is not required for patients to take advantage of the new rehab service, which uses a personalized approach to determine treatment, depending on the patient. "We wanted a step-by-step process that is varied according to each individual patient's needs," Taber said.
The program allows patients to be seen in the outpatient clinic if they meet the CDC guidelines of a negative COVID-19 test, or they have been symptom free for at least 72 hours without medication and are more than 10 days post initial symptoms. All patients are screened for temperature upon entering the hospital lobby and are required to wear a mask and sign a Risk Questionnaire. Telehealth visits are encouraged for individuals who do not meet the criteria for face-to-face appointments, including individuals over the age of 65, and those with comorbidities that put them at greater risk.
Even though the program is in its early stages, it is already having a positive impact, with preliminary results demonstrating a successful progression from telehealth, to in person rehab, with significant improvements in patient function including gait, balance, and aerobic endurance.
Taber and Janson recently presented their program and its early successes to the rehab management teams of GW Hospital's parent company, United Health Services. "Our goal is to normalize rehabilitation following any disease process that impairs a person's function," Taber said.
"The big success is seeing these patients return to doing what they love down the road and improving population health by doing early interventions."
For more information on the program, contact the GW Hospital Outpatient Rehab Center at 202-715-5655 and when prompted press 2.