Within the School of Medicine and Health Sciences, we have the vital pieces of the health care continuum in one place and we are shaping the future of interdisciplinary health care. These aspirations in Health Sciences will help us advance the mission of our school to improve the lives of the people we serve.
Barbara Bass, MD, RESD '86 Vice President for Health Affairs Dean, GW School of Medicine and Health Sciences CEO, The GW Medical Faculty Associates
Message from the Senior Associate Dean for Health Sciences
GW Health Sciences Community,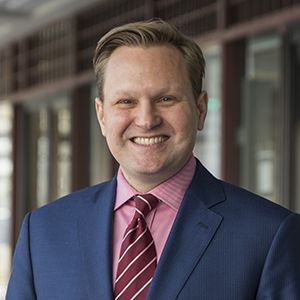 To develop a vision and plan for the future, we asked several questions about health care and health professions education. How can we ensure health care is accessible, affordable, high-quality, and patient-centered? What strategies will shape a health care workforce that reflects the diversity of those it serves? Why is so much clinical evidence inconsistently translated into better care? How can we best prepare future health professionals to deliver evidence-based care for individuals and create healthier communities? What new skills and competencies do our graduates require to drive transformational change in their professions and enhance the health of their communities?
In GW Health Sciences, we ask tough questions like these every day, and are focused on tackling big issues. Our faculty and staff understand the importance of preparing graduates for dynamic careers in health fields that are often defined by complexity and uncertainty. We recognize the power of health professions education to cultivate critical thinking, connect passion with purpose, and support upward social mobility.
This strategic plan began with efforts to define our core values. These values—innovation, collaboration, diversity & inclusion—are embedded in who we are and who we aspire to be. We examined what is working and what is not in health care and health professions education. We reflected on the strengths and capabilities of our teams, which span more than 34 health care fields, and how we could make a positive difference. We crossed boundaries to leverage interprofessional collaboration to shape an aspirational vision for the future and chart the course ahead. In the pages that follow, we share our plan and stories of success. We invite you to join us in investing in people; living our social mission; influencing health professions education, health care policy and practice; and catalyzing innovation and socially responsible entrepreneurism.
The Institute of Medicine described a learning health care system as "one in which science, informatics, incentives, and culture are aligned for continuous improvement and innovation." GW Health Sciences embraces this way of thinking and behaving, and we extend it from the classroom to research settings to communities around the world. Together, we can drive innovation and quality in health and health care delivery through education, scholarship, and service.
Sincerely,
Reamer L. Bushardt, PharmD, PA-C, DFAAPA Professor and Senior Associate Dean
Areas of Focus Over the Next 3 Years
GW Health Sciences is championing innovation and facilitating continuous improvement in health and health care delivery locally, nationally, and globally.