Clinical Public Health principles are seamlessly integrated into many components of students' scholarly work, volunteer efforts, and involvement in student organizations. Given GW SMHS' prime location in Washington, D.C. with unique proximity to local, regional and national leaders, decision-makers, and advocates from the U.S. Congress, all Federal agencies, and the headquarters of most professional and advocacy organizations, students can immerse themselves in a variety of extracurricular opportunities that can strengthen their clinical public health knowledge and skills as they work to improve the community and national health. Students can collaborate with a wide array of community health experts, national and local policymakers, and organizations during their time at GW. There are several opportunities to apply Clinical Public Health to extracurricular activities at GW, such as:
Scholarly Concentration Programs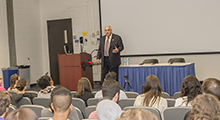 GW boasts eight Scholarly Concentration programs that allow students to explore different concentrations within the field of medicine. Participation in one of these programs is optional and requires students to complete a summer opportunity and focused scholarly project. Students from a variety of Scholarly Concentration programs have incorporated Clinical Public Health concepts into their projects. The Clinical Public Health Curriculum encourages students to enhance their learning by integrating specific requirements using public health frameworks and projects.
Past student summer experiences have included:
Developing a text-based tobacco cessation program
Assessing the impact of social networks on HPV vaccination rates
Meeting the health care needs of homeless populations
Understanding the impact of employment history on health status
Consumer advocacy for safer drugs
E-curriculum development for Sub-Saharan Africa
"Understanding the Changing Emergency Medicine Workforce"-Summer project involving student working on exploring health systems using Medicare Claims data.
"Improving Lead Screening in the District through Innovation, Education, Collaboration and Expertise"-Longitudinal project involving clinical informatics and novel public health strategies to impact lead screening rates and management in the District of Columbia.
"A Quality Improvement Study: The Effect of Mobile App to Increase Participation in Family-Centered Rounds" -Summer project involving student working within a health system using quality improvement skills to enhance involvement of vulnerable patients and families and improve healthcare delivery.
"Medicaid insurance coverage for Hepatitis C Virus (HCV) testing and treatment in the DC, MD, VA area" -Summer project involving student working alongside local health department to explore and compare coverage practices for vital HCV medication.
Learn more about the Track Programs
Healing Clinic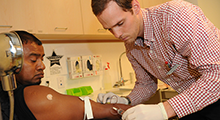 Students apply their clinical public health knowledge and skills in the HEALing Clinic, GW's student-run clinic. Through their volunteer experience, students better understand and address the health disparities experienced by their patient population.
Learn more about the Healing Clinic
Student Organizations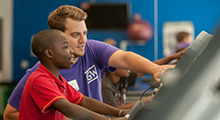 Students can weave clinical public health training into the variety of student organizations and activities available to GW medical students. Students for Clinical Public Health student group, Team KiPOW! (helping mitigate childhood obesity by working with D.C. schools), SALUD "Medicine en Español," and the Social Justice Interest Group, are just a handful of the exciting student organizations that allow students to further enrich with their Clinical Public Health education.