The George Washington University (GW) School of Medicine and Health Sciences renamed the Department of Physical Therapy and Health Care Sciences to the Department of Health, Human Function, and Rehabilitation Sciences. The newly renamed Department of Health, Human Function, and Rehabilitation Sciences captures the broad array of education, clinical practice innovation, and research being accomplished—each focused on improving the quality of lives of patients and families.
---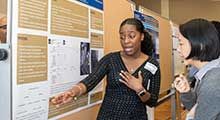 The George Washington University's (GW) Doctorate of Health Sciences (DHSc) in Clinical Practice and Education allows clinical health professionals to advance their expertise and professional practice in either the clinical or academic environment by emphasizing the scholarly and practical application of systematic inquiry including healthcare program design and implementation, leading interprofessional teams, and advancing healthcare through evidence based practice. Develop the skills necessary to make research-based contributions to healthcare that integrates theory and practice and serves to advance clinical and educational practices.
---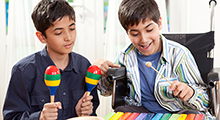 This program is designed for individuals who are seeking to advance their leadership, clinical reasoning, practice and research skills. Demonstrate your commitment to state-of-the-art occupational therapy practice by earning an advanced degree from GW.
---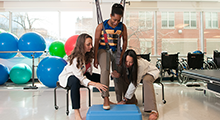 The GW PT program strives to create an environment for learning that supports the professional development of students, faculty, and clinicians and fosters well-respected practitioners through excellence in teaching, service, and scholarship.