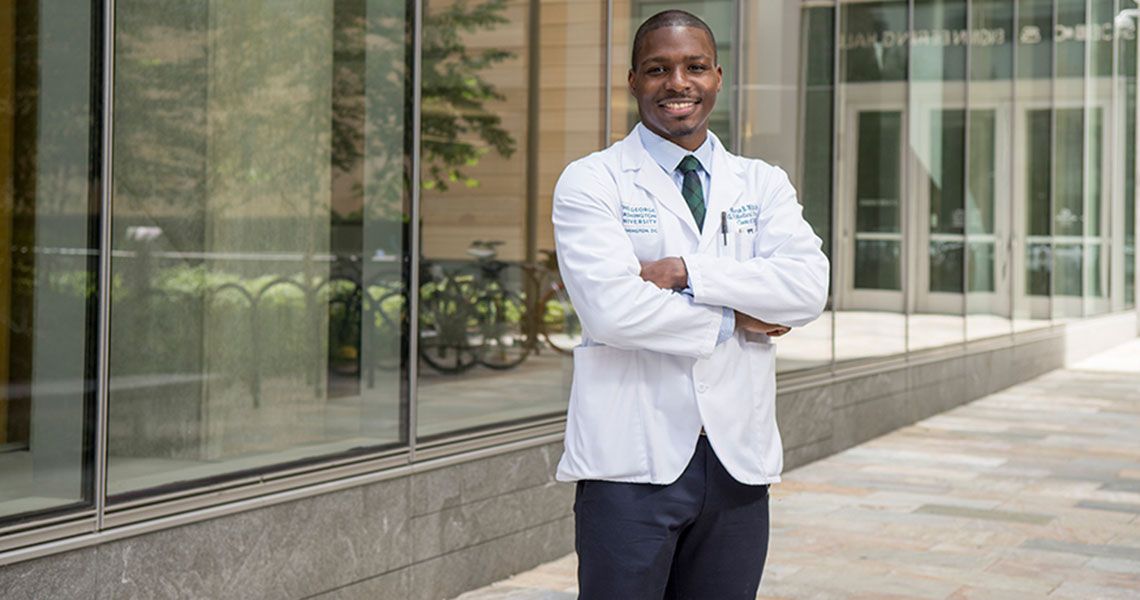 Marcus Mitchell, clad in green scrubs and his GW School of Medicine and Health Sciences white coat, has only a short break after finishing his rounds at GW Hospital to talk about the meandering path he's taken in medicine. The D.C. native initially planned on pursuing emergency medicine, but "although I have so much respect for the field, I quickly found out that it wasn't for me," he says, laughing. "Had you told me I'd be applying to anesthesiology last year, I probably wouldn't have believed you. It's something that just kind of developed."
Anesthesiology, he explains, pausing to sip from his to-go coffee, is procedural and hands-on, with moments of intensity. It incorporates pharmacology and physiology, which appeals to him, and it allows him to interact more closely with his patients, giving them his undivided attention. "I like that even though [during] your interaction with your patients, their conscious awareness is brief, it's really powerful, especially during the pre-op encounter."
That kind of interaction is central to Mitchell's brand of medicine: He cares about his patients, about his community, and about his future clinician colleagues. "I want to be involved with and serve an underserved community; that's really important to me, that I have diverse patients who come from all over and have various socioeconomic statuses," he explains. Already a veteran of medical mission trips to Haiti and Ecuador, Mitchell plans to bring his anesthesia skills to wherever they're needed most.
And at home, he plans to give back. When Mitchell first entered SMHS, he was awarded the Power and Promise scholarship, designed to alleviate the financial burdens for GW's best and brightest. It's helped relieve his student debt — and inspired him. "It actually encourages me to give back as an alumnus," he says. "I definitely want to have my own scholarship fund so I can give back and help some [unsuspecting] student who's doing a good job."
With that, Mitchell stands up, coffee cup still in hand, to head back to the hospital, where he'll remain on call until 9 a.m. the next day. Help students like Marcus pursue their medical career. Give to the Power and Promise scholarship fund.