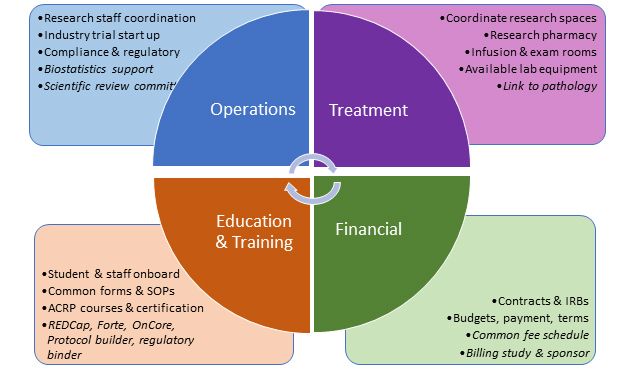 Our primary research goal is to develop new knowledge and improved treatments that are effective and safe for patients. To accomplish this we initiate and participate in basic, clinical and translational research projects. GW supports robust and highly supportive research education and training across the clinical and translational training continuum.
Check out possible mentors and teams in the searchable faculty research database launched in 2017 that profiles ~650 researchers, listing research interest, translational level, publications and contact information. Sign up to receive automatic emails from Research Matters funding alerts on federal and foundation funding opportunities every week in 25 thematic areas.
Clinical research at GW / Medical Faculty Associates involves clinical studies and trials managed by expert professionals and staff. For more information, connect with Clinical Research Contacts and include as much information as possible about your role and inquiry, etc.
The CTSI-CN is a partnership between Children's National Hospital and The George Washington University that offers unique resources in translating discovery to improved health. Learn more about the CTSI-CN.
The university manages human subjects, research integrity, and ethical and compliance matters and the IRB. The human subjects module of GW iRIS initiates and tracks the status of IRB applications. Learn more about GW Human Research.
Infrastructure and tools like REDCap, protocol builder, OnCore and enhanced clinical research training from ACRP build your clinical research skills with clinical research infrastructure and tools.