White Coat Initiatives create lifelong connections between GW students and alumni. Sponsoring one or more students with the gift of a white coat is a wonderful way to show your support for the next generation of GW health care providers and welcome them on their professional journey.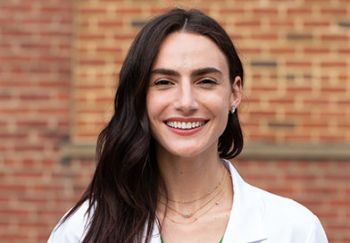 Receiving my first white coat was a tangible experience of positivity and hope, an open door to a future that for many years had seemed like an impossibility. It is more than a simple uniform or piece of clothing; it symbolizes a wealth of guidance from predecessors and offers the invaluable privilege of providing care to patients.
Shannon Tillery, MD '22
 
MD White Coat Initiative
The MD White Coat and Honor Code Ceremony is one of the most important traditions for GW's incoming medical classes. During this rite of passage, new medical students don their first short white coats, marking the official start of their medical career. 
Your contribution of $350 or more to the MD White Coat Initiative provides that first white coat, as well as other essential equipment, to an incoming medical student. To recognize your support, we will place your name in the pocket of the white coat, and include your name in the ceremony's program. 
                               
 Give a White Coat
PA White Coat Initiative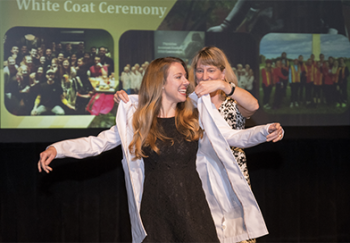 The PA White Coat Initiative presents graduating GW physician assistants with a white coat in a special ceremony during commencement week. Each year, GW PA alumni show their support for these graduates and the profession by contributing to the initiative and providing each graduating PA student with a white coat.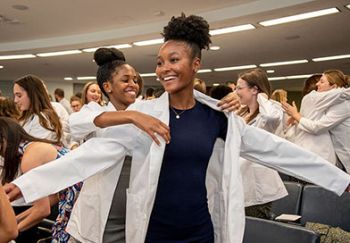 PT White Coat Initiative
Each fall, incoming physical therapy students receive their first white coats during the PT Convocation and White Coat Ceremony. As a show of their support, graduating PT students and PT alumni contribute to the PT White Coat Initiative to ensure that each new PT student receives a gifted white coat. 
For more information on any of the White Coat Initiatives, please contact SMHS Development and Alumni Relations at 202-994-7511 or smhsalumni@gwu.edu.