Our Adopt-a-Doc Scholarship Program – established in 2010 with a gift from pediatrician Russell Libby, CCAS BS '74, MD '79, to honor his mother – provides critical financial and emotional support to GW students over their years of medical school. 
With a minimum annual gift commitment of $50,000 over five years, donors can "adopt" a future physician beginning a medical career and provide mentorship and continual financial assistance. 
Seeing Eye to Eye
Is there such a thing as a self-made man or woman? Thomas E. Flynn, MD '86, doesn't think so. Rather, he believes each successful person has had some help along the way. For him, that helping hand was GW Trustee Emeritus Sheldon Cohen, AA '48, BA '50, JD '52. Originally wait-listed at the School of Medicine and Health Sciences, Tom credits the former GW Board of Trustees chairman with helping him get an interview which ultimately secured his acceptance. "Sheldon Cohen believed in me," Tom says, "and I will never forget that August Sunday when the phone rang. I got the spot of someone who dropped out the day before classes started…I thought I was dreaming."
Tom's dream of attending GW came true that day, and now, more than 30 years later, he and his wife, Susan Scherbel, are giving back to ensure future generations have the same opportunity. The couple has pledged $100,000 to establish the Flynn Family Adopt-a-Doc Scholarship Fund, which will support five students for the duration of their medical education at GW.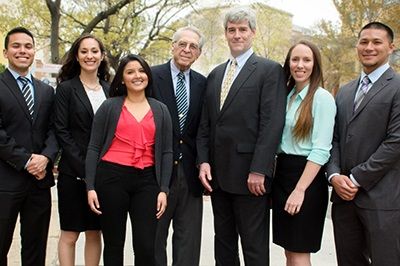 ---
These scholarships are more than just an opportunity to help SMHS students as they begin their own journeys; this is an opportunity to recognize the impact Sheldon had on us. I wouldn't be where I am today without his help, and it was important to us for Sheldon to be there as we begin to pay it forward."
Thomas E. Flynn, MD '86
How to "Adopt-a-Doc"
Establishing an Adopt-a-Doc Scholarship will help a specific student on their worthwhile journey toward an MD. By pledging minimum support of $50,000 over five years, in equal installments of at least $10,000, you will share the joy of their educational experiences and ease the financial burden for current GW medical students.
To the extent you desire, you can develop a personal mentoring relationship with your Adopt-a-Doc student and you and your student will be invited to the annual GW Celebration of Scholarship and Fellowships Dinner held in Washington, D.C.
Thanks to your support, talented medical students can focus on gaining only-at-GW educational and professional experiences while minimizing the burden of student loan debt.
To learn more, please call Development and Alumni Relations at
202-994-7511.