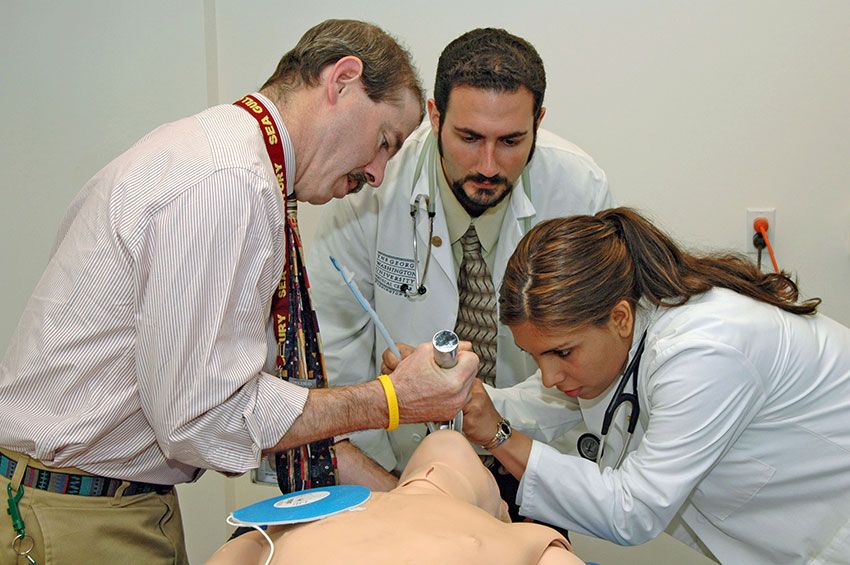 GW's innovative approach to medical education has made us a pioneer in the use of technology to teach medicine in ways that are now emulated by other leading medical schools.
We were one of the first to install an all-digital classroom to teach pathology and microscopic anatomy. Instead of learning to maintain microscopes and clean slides, GW students spend more time learning about the human body and disease processes — and they can do so 24/7 by accessing our digital library of anatomy and cell biology images anywhere from their own laptops.
It is not surprising that other medical schools are following GW's lead in this innovation. GW continues to push the envelope with technology to train the best physicians possible.
For example, in our Clinical Learning and Simulated Skills Lab (CLASS), we are expanding our use of ultrasound to teach such fundamental practices as inserting an IV or central line, and for bedside diagnosis. GW faculty are experimenting with ultrasound technology in several specialties to speed diagnosis and improve patient outcomes and GW medical students are learning these leading edge techniques.
We believe that within ten years ultrasound will be considered the stethoscope of the 21st century and GW physicians will be recognized as leaders in its clinical application.
Our all-digital classroom for pathology and microscopic anatomy and our usage of ultrasound technology in our CLASS center are only a few examples of how we continue create innovative medical education environments for our students.