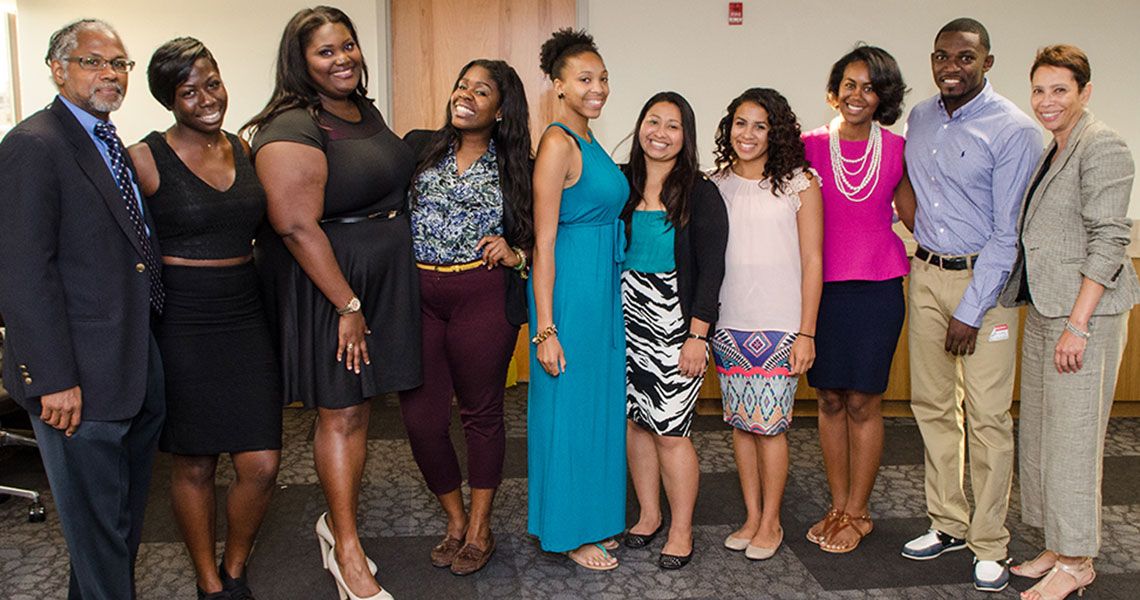 Ingrid Rodriguez was the first of her family to attend and graduate college. She credits the GW School of Medicine and Health Sciences (SMHS) DC Health and Academic Pre Program (DC HAPP) for giving her the confidence to pursue her dream of becoming a nurse. The program offered Rodriguez the opportunity to transition from high school to college. "DC HAPP prepared me academically, as well as emotionally," she said. "English is my second language, so I was nervous about my abilities to work in the health care field." Rodriguez, who graduated from Trinity Washington University in May of 2013 with a bachelor's degree in nursing, says it was the SMHS faculty and student mentors "who gave me the push I needed to succeed." Rodriguez currently works at Holy Cross Hospital in Silver Spring, Maryland.
Rodriguez, a graduate of the first DC HAPP Cohort, participated in the four-week pre-college matriculation program for high school seniors graduating from Washington, D.C. public or charter schools. To qualify for the program, students must be accepted to a university, receive a recommendation from their high school's guidance counselor or teacher, and be in need of financial support. Students are paired with SMHS medical and physician assistant students who serve as mentors.
The program, which launched in 2009, was funded for two years through a congressional grant administered through the U.S. Department of Education, but when the grant ended so did the program. SMHS leadership, however, knew they had a successful initiative and decided to support the program's return this summer. 
"I am happy to have the opportunity to restart the program," said Yolanda Haywood, M.D., RESD '87, associate dean for diversity, inclusion, and student affairs at SMHS, adding "I am absolutely ecstatic that the GW School of Medicine and Health Sciences thinks enough of this program to put resources into revitalizing it." Haywood will oversee the program along with Grace Henry, Ed.D., director of the Office of Diversity and Inclusion at SMHS.
Haywood and her team are thrilled to restart the program that has given so many local high school seniors who demonstrate an interest in pursuing a health career the opportunity to learn what that trajectory would look like.  
"Our goal is to open up the health care world to these high school students," said Haywood. "They are talented and eager, and we want to help propel them into successful careers.
For Jasmine Richardson, a graduate of Cohort 1, DC HAPP taught her that she can have a successful career in the health care field. Richardson recently earned her bachelor's degree in biology with a minor in speech pathology from Elizabeth City State University in Elizabeth City, North Carolina. "DC HAPP helped me get to where I am today," she said. "The program deepened my interest in and understanding of science." As for the future, Richardson plans to pursue a master's degree in speech pathology.
"There is excellence associated with diversity," said Haywood, adding that pipeline programs like DC HAPP are so important because "if we don't look at people who are underrepresented, we are missing talent."
"The experience was fundamental to my academic career," said Yefferson Cordoba, a graduate of Cohort 2. From the beginning, Cordoba had an interest in medicine, specifically neurosurgery. "DC HAPP gave me the opportunity to explore the different aspects of medicine through hands-on learning," said Cordoba, who will graduate from Pennsylvania State University this fall with a bachelor's degree in general science. For Cordoba, being able to witness a surgery at GW Hospital was an experience he will never forget. "It was more than just a preparatory program for me; it gave me insight into what a career in medicine would be like." Cordoba plans to apply to medical school next year.