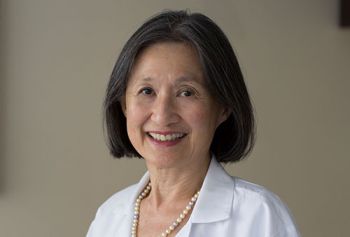 Congratulations to May Chin, MD, RESD '81, professor of anesthesiology and critical care medicine at the George Washington University (GW) School of Medicine and Health Sciences, for receiving a Trailblazer Award from the American Society of Regional Anesthesia and Pain Medicine (ASRA).
Chin was one of eight women to earn the award, which honors their achievements and contributions to the field. The ASRA Trailblazer Award recognizes eight trailblazing women in regional anesthesia and pain medicine. The recipients are selected for their accomplishments in several areas, including enhancement of educational programs, mentoring and/or sponsoring women colleagues and/or trainees, and growth of a subspecialty of regional anesthesia or pain medicine.
"I am humbled and honored to be recognized by ASRA with this award," said Chin. "Years ago, building on the vision that pain control is integral to good patient care and outcomes, I championed and worked toward the organization of an acute pain service for perioperative pain control. The same concept expanded to the care of patients suffering from chronic pain.
"Furthermore, along with my trailblazing colleagues, I hope we helped pave the way a little for the recognition of the work and accomplishments of the younger generation of women who are committed to science and medicine," she said.
Chin serves as the co-director of the GW Spine and Pain Center and spearheaded the development of the Acute Pain Service and the practice of pain medicine at GW more than 20 years ago. Her clinical interests include regional techniques for acute, chronic, and cancer pain; neuromodulation; interventional spine techniques; and interventional and pharmacological management of neuropathic pain.
Chin is now the program director of the newly accredited GW Pain Medicine Fellowship, a collaboration between the GW Department of Anesthesiology and Critical Care Medicine, the Washington DC VA Medical Center, and Children's National Hospital. The Pain Medicine Fellowship, according to Chin is "another step forward as we continue to strive for excellence in the education and in the management of pain in patients."
Explore this year's ASRA Trailblazer Awards