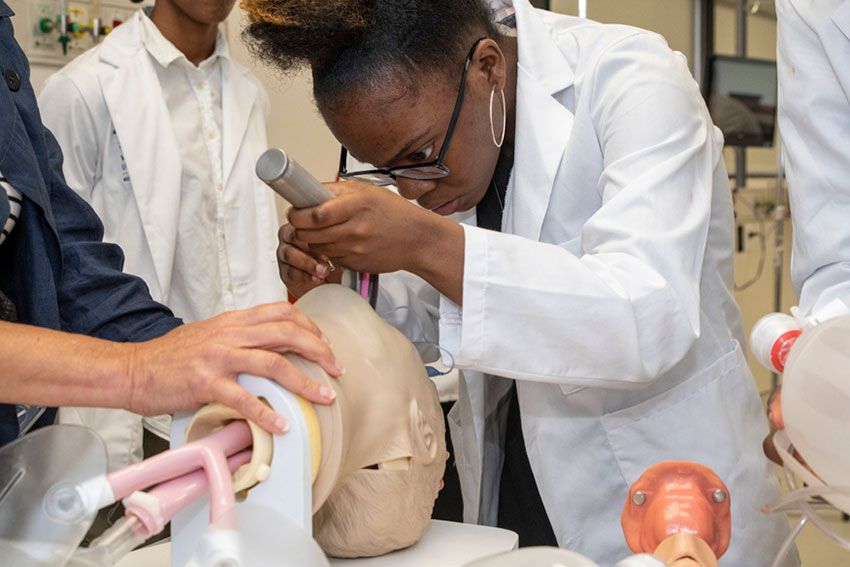 The George Washington University (GW) Rodham Institute has received a $125,000 gift to support a "Doctors of Tomorrow" program, which exposes Washington, D.C. high school students to health careers. The gift was made by the TD Charitable Foundation, the charitable giving arm of TD Bank, America's Most Convenient Bank®.
Disparities in access to health care and the quality of care received by racial and ethnic minorities in the U.S. are well-known and especially prevalent in D.C. A key part of this problem is the lack of diversity among the health care workforce. Through the "Doctors of Tomorrow" program, 120 ninth grade students from four different D.C. high schools will have the opportunity to observe surgeries, round with doctors, and visit research labs at GW. The students will be mentored by medical students as they complete a social impact project in partnership with a community-based organization.  
"We are grateful to the TD Charitable Foundation for their support of this important work. We know programs like this can make a big impact on the future of health care in our city," said Jehan "Gigi" El-Bayoumi, MD, founding director of the GW Rodham Institute and professor of medicine at the GW School of Medicine and Health Sciences. "The 'Doctors of Tomorrow' program will help diversify the future of health care by exposing underrepresented minority students to careers in medicine, addressing many of the health equity challenges of today."
"The COVID-19 pandemic brought long-standing racial and ethnic inequities to the surface," said Paige Carlson-Heim, director of the TD Charitable Foundation. "Through TD's social purpose platform, the TD Ready Commitment, we aim to create a more inclusive future for everyone and one of the most important ways to do this is by driving equitable health outcomes for all.  We are honored to support the GW Rodham Institute's 'Doctors of Tomorrow' because of its vision of moving the marker on a long-standing systemic issue and changing the face of healthcare by increasing opportunities for DC's young residents to join the field. 
The "Doctors of Tomorrow" program was developed at the University of Michigan. Of the 60 students who have graduated from the program, an impressive 18 students are now enrolled at the University of Michigan. 
"We have been working closely with the University of Michigan and are excited to be able to duplicate their successful program at GW with the support of TD bank," said Tracie Bass, director of 'Doctors of Tomorrow' and workforce pipeline programs at the GW Rodham Institute.
The "Doctors of Tomorrow" program supports the GW Rodham Institute's mission of increasing the number of health professionals from communities in need by deepening and sustaining interest in science, health education, and establishing a pathway to a health professions career. In doing this, along with community collaborations and training of health professionals, the GW Rodham Institute believes health equity may be achieved in the nation's capital.
"We believe the 'Doctors of Tomorrow' program will be an important tool in meeting our health equity goals and improving health care in D.C.," said El-Bayoumi. "At the end of the program, students will have the opportunity to present their social impact projects. We hope this teaches them that, even as high school freshman, how valuable their voices are and their enormous capacity to affect change. We can't wait to show them this."