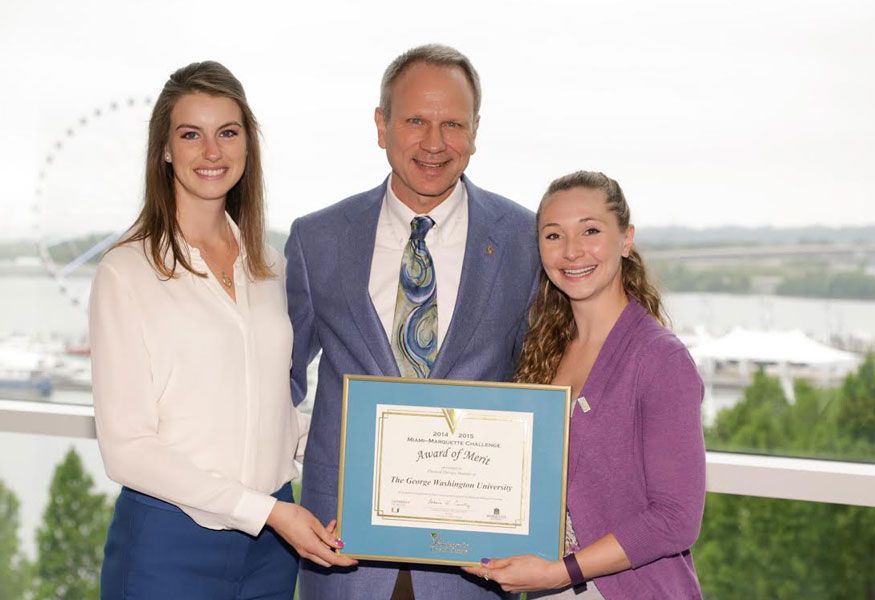 The Foundation for Physical Therapy recognized The George Washington University's PT Program with the Award of Merit for the 2014-2015 Miami-Marquette Challenge.  The Award of Merit is given to schools who show immense dedication to the Challenge by donating $6,000 or more.
The award recipients of the 2014-2015 Miami-Marquette Challenge were announced during the Foundation's 2015 Gala at APTA's NEXT Conference and Exposition in National Harbor, MD on June 4. Physical therapist and physical therapist assistant students from 146 schools across the country raised $275,423 to support physical therapy research. The University of Pittsburgh took top honors, winning first place and naming rights for the next Challenge by raising $36,000.  The 2015-2016 Pittsburgh-Marquette Challenge kicks off at the National Student Conclave in Omaha, Nebraska on October 22. 
The Challenge is the Foundation's signature annual fundraising campaign and since its inception in 1989, 235 schools have participated in raising over $3 million for physical therapy research.
Funds raised through the Challenge support a $40,000 research grant and a Promotion of Doctoral Studies (PODS I) scholarship of $7,500 to physical therapist researchers. Since 2002, the Challenge has specifically funded more than 20 research grants and scholarships, and also partially funded the $300,000 Clagett Family Research Grant in 2010.  The Challenge also annually supports the rigorous scientific review process for all Foundation grants and scholarships.
###
This Announcements posted courtesy of the Foundation for Physical Therapy.