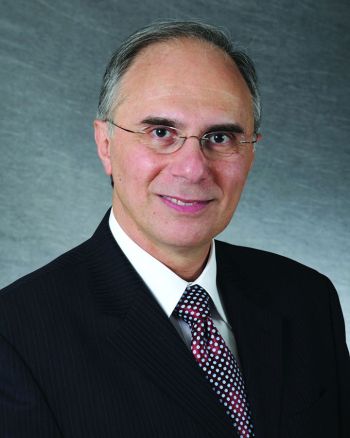 The American College of Surgeons (ACS) has appointed Anton N. Sidawy, M.D., M.P.H. '99, to its Board of Regents. In his new role, Sidawy, the Lewis B. Saltz Chair of the Department of Surgery and professor of surgery at the George Washington University School of Medicine and Health Sciences, will help formulate policy and direct affairs for the organization, which works to set high standards for surgical education and practice.
"It is a distinct honor to be elected to the Board of Regents of the American College of Surgeons; this is one national position that many senior academic surgeons aspire to hold," said Sidawy. "It is rewarding to be provided the opportunity to work actively with other Regents and College staff to fulfill the mission of the College in 'improving the care of the surgical patient and safeguarding the standards of care in an optimal and ethical practice environment.'"
Sidawy, who specializes in vascular surgery, previously held a six-year term as an ACS governor. He also has served on the ACS Committee on Patient Safety and Quality Improvement and held the positions of secretary-treasurer and president of the ACS Metropolitan Washington, D.C. Chapter. Sidawy has been an ACS fellow since 1987, and in 2006 he received the ACS Washington Metropolitan Chapter's LaSalle D. Lefall Jr. Award for outstanding contributions to the profession of surgery in the metropolitan Washington community.
In addition to his service to the College and its chapter, Sidawy has served as president of five professional organizations, including the Society for Vascular Surgery. He currently serves in the position of editor-in-chief of the Journal of Vascular Surgery, the premier publication in the specialty. He has been published in more than 130 peer-reviewed articles, and he has edited two books, authored or co-authored more than 50 book chapters, presented numerous abstracts, and made several national and international presentations; his publications span the clinical, research, and educational fields.