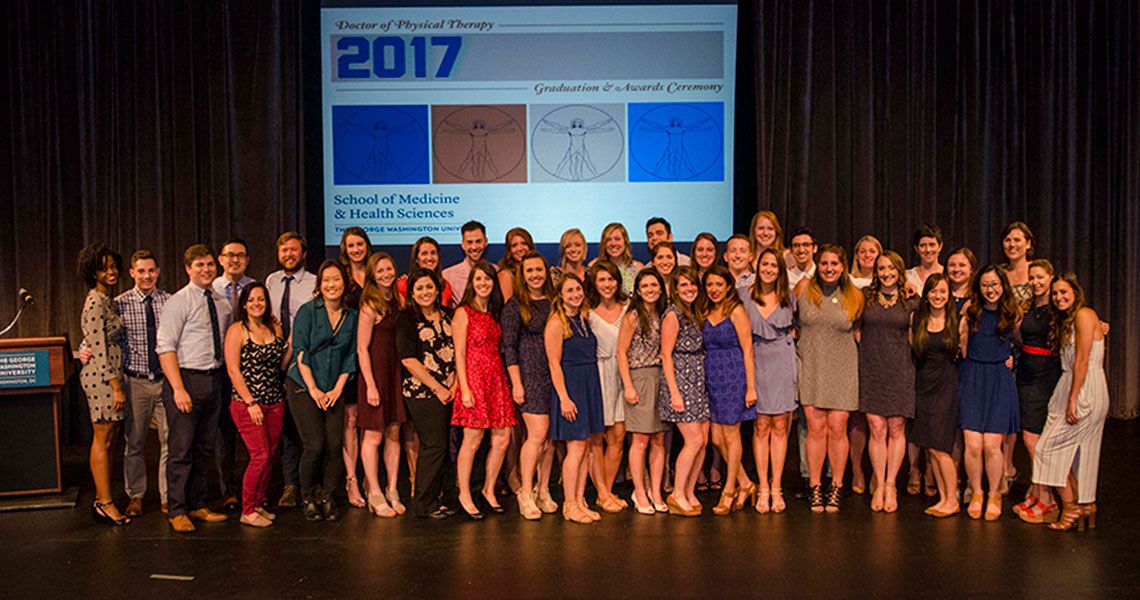 Graduating Doctor of Physical Therapy (D.P.T.) student Ryan Cusack crossed the stage at the Dorothy Betts Theater in the George Washington University (GW) Marvin Center. Halfway to the podium, he leaned down, untied the laces of his dress shoes, and slipped them off, to a mix of confusion and laughter from the audience of friends, families, and D.P.T. graduates at the annual GW School of Medicine and Health Sciences (SMHS) D.P.T. Graduation and Awards Ceremony.
Cusack, who was awarded the prestigious Jean Johnson Award for Leadership, Excellence, and Quality, has a long list of admirable virtues — he's reliable, respectful, friendly, invested in his patients, proactive — but Margaret Plack, Ed.D., D.P.T., professor of physical therapy and health care sciences at SMHS, who presented the award, had one more to add.
"Fun," she said. "This individual was there [at clinics and in class] to make people laugh."
Cusack, who accepted his award before presenting the Outstanding Faculty Award, lived up to his reputation. "I get hungry every time I have to treat a patient with knee pain," he said with deadpan delivery. "It usually occurs right before lunch, and as the patient is describing his or her knee pain, all I can think about is what type of sandwich I'll eat … or at least, that's how the analogy went."
When the cheers died down, Cusack transitioned from analogy to anecdote, explaining the Class of 2017's decision to recognize Dhinu "Dr. J." Jayaseelan, D.P.T. '10, assistant clinical professor of physical therapy and health care sciences at SMHS. "It all started back with the muscular-skeleto-orthopedic professors; they got pregnant at the same time. So, as Dr. [Joyce] Maring is walking up and down the hallways, thinking 'who's going to teach these students about the spine?'… Dr. J is sitting in his office, and he says, 'Wait, I'm not pregnant.' And from that moment forward, we welcomed a new professor to our muscular-skeleto course."
Unfortunately for Dr. J., Cusack said, he was stuck with 41 students whose sole purpose was to ask questions. Dr. J., however, maintained his good humor and dedication, inspiring the students to "never, ever give up what you're passionate about."
"Now, many of you are wondering why I took my shoes off to give this speech," Cusack concluded. "Despite all of the life lessons and management of complex patients that Dr. J. taught us, the most important thing he taught us was if you're going to check sensation in someone's feet, you have to take their shoes off. It's some mind-blowing stuff."
While Cusack and Dr. J. garnered the loudest laughs of the ceremony, they were far from the only academic and clinical powerhouses acknowledged. Meaghan Rieke, for example, described with equally abundant adjectives as her classmate Cusack — patient, flexible, mature, willing to learn — received the Academic Excellence Award.
"This student has been a tremendous scholar, leader, and advocate for the P.T. program, the school, and the P.T. profession, all while maintaining the highest cumulative GPA in the D.P.T. class," said Sue Leach, Ph.D., assistant professor of physical therapy and health care sciences at SMHS.
Likewise, Mike Taber won the Clinical Leadership Award, receiving among the highest praise, according to Rhea Cohn, D.P.T., assistant director of clinical education and assistant professor of physical therapy and health care sciences at SMHS: "the patients … were upset he was leaving." Graduating students Andrea Osborne, Katie Donovan, and Erica Hwang received the Service Excellence Award, having participated in open houses and interview days for the program, served in the pro bono clinic and at community health fairs, and worked with GW engineering students to develop a wheelchair for an underserved community in Belize.
Also recognized during the ceremony were graduating students who had served as research assistants, class leaders, and pro bono clinic volunteers, as well as those inducted into the Alpha Eta National Honor Society.
Outside of graduating SMHS students, Ashley Stevens was honored with the Clinical Educator Award for her demonstration of the core values of the profession, and Jeff Sandy, D.P.T. '13, who has maintained significant involvement with the American Physical Therapy Association, received the Outstanding Alumni Award.
The Class of 2017, in their own outstanding move, presented their class gift at the conclusion of the event; they, like the two classes before them, raised funds, with 100 percent of the class contributing, to purchase white coats for the incoming class of D.P.T. students.
With that eye on the future in mind, "Class Mom" Hannah Staton, in her charge to her classmates, advised, "Someday soon, a physical therapy student is going to walk through our door and trust everything we say. … So, my final challenge to you is to use your brain, your heart, and your hands to drive this profession forward."