Also Announced During Commencement Week Was the Society of the Emeriti Class of 2021 and Silver Anniversary Faculty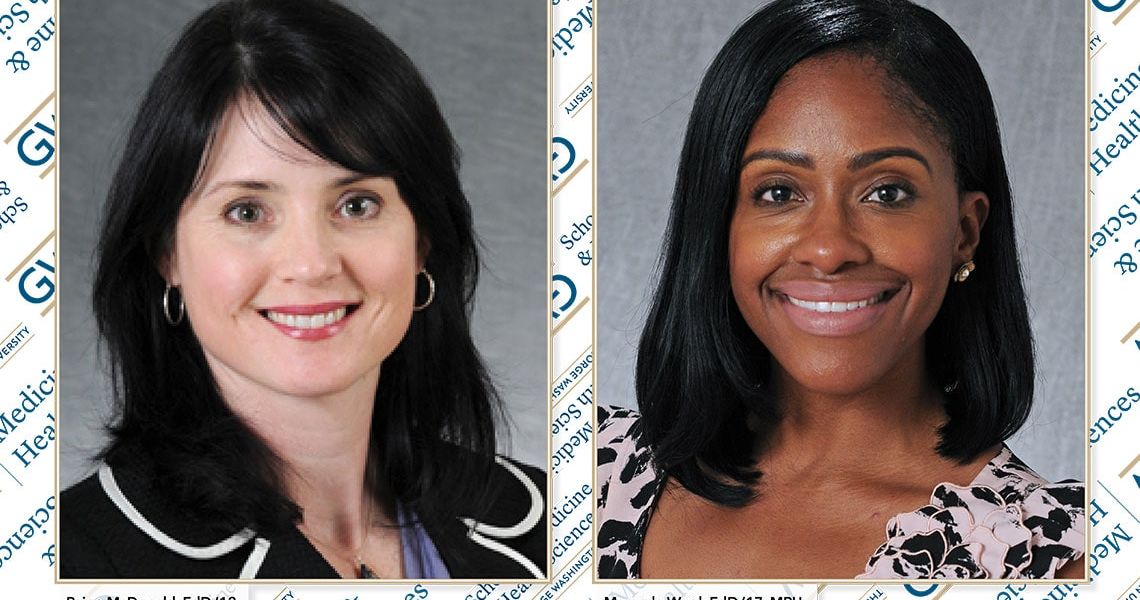 A pair of faculty members in the George Washington University (GW) School of Medicine and Health Sciences (SMHS) Department of Clinical Research and Leadership were among five GW professors to receive the 23rd Annual Morton A. Bender Teaching Awards. Paige McDonald, EdD '12, vice chair and assistant professor, and Maranda Ward, EdD '17, MPH, assistant professor, represented SMHS, while the other awardees came from the Columbian College of Arts and Sciences, School of Nursing, and Elliott School of International Affairs. The achievement marks the ninth time an SMHS faculty member has received a Bender award.
"The work in the area of teaching is core to the mission of the institution and I am overjoyed to have two members of the Department of Clinical Research and Leadership receive the highest teaching awards bestowed on faculty by the university," said Leslie Davidson, PhD, chair of the Department of Clinical Research and Leadership. "Both Drs. McDonald and Ward push the envelope in the area of teaching, making clear the status quo is not acceptable. As Department Chair, I am extremely proud and honored to have two gifted members of the GW faculty be chosen as 2021 Bender Awardees."
A committee of faculty and students select the recipients for the annual teaching award, which recognizes undergraduate, graduate, and professional teaching at GW. Endowed by Morton Bender and the university, the award provides a $1,000 prize to be used by the recipient for professional development. In addition to teaching excellence, nominees must have taught at GW for at least two academic years. During this time, they must have demonstrated a talent for innovation and adaptation of instructional methods to meet student strengths and needs, as well as scholarship of teaching and learning.
Davidson added, "Dr. McDonald is the catalyst for teaching excellence, innovation and scholarship in health sciences. Her work transcends programming from BSHS through the PhD and she has gained international recognition for her work in blended learning and innovative curricular design."
"Dr. Ward," Davidson continued, "has made her mark across health sciences and university education through her curricular changes, course offerings, service-learning projects, and scholarship in the area of health equity and diversity as core outcomes for academic programming."
Also recognized during Commencement Weekend were the Silver Anniversary Faculty — those with more than 25 years of continuous, full-time service to the university — and the newest class inducted into the Society of the Emeriti, established to maintain close ties between exceptional retired faculty members and the university.
Representing GW SMHS among this year's Silver Anniversary Faculty were Anne Chiaramello, PhD, associate professor of anatomy and cell biology, and Marianne Vail, PhD, MS '95, assistant professor of physician assistant studies.
The Class of 2021 Emeriti Faculty featured 16 members of the GW SMHS community: Lisa Mustone Alexander, EdD '03, MPH '89, PA-C '79, Physician Assistant Studies Darlene Atkins, PhD, Pediatrics Patricia Berg, PhD, Biochemistry and Molecular Medicine Mary Corcoran, PhD, Clinical Research and Leadership Lawrence D'Angelo, MD, MPH, Pediatrics; Prevention and Community Health; Medicine; and Health, Human Function, and Rehabilitation Sciences Craig Geist, MD, Ophthalmology and Neurology Albert Grollman, MD, Medicine Guillermo Gutierrez, MD, Medicine Phillip Guzzetta, Surgery and Pediatrics Valerie Hu, PhD, Biochemistry and Molecular Medicine Harvey Katzen, MD '75, RESD '80, Medicine Paula Kimmel, MD, Medicine Panagiotis Labropoulos, MD, Orthopaedic Surgery Anne Linton, MS, Medicine David Parenti, MD, Medicine Roberto Novarro Sunga, MD, Ophthalmology