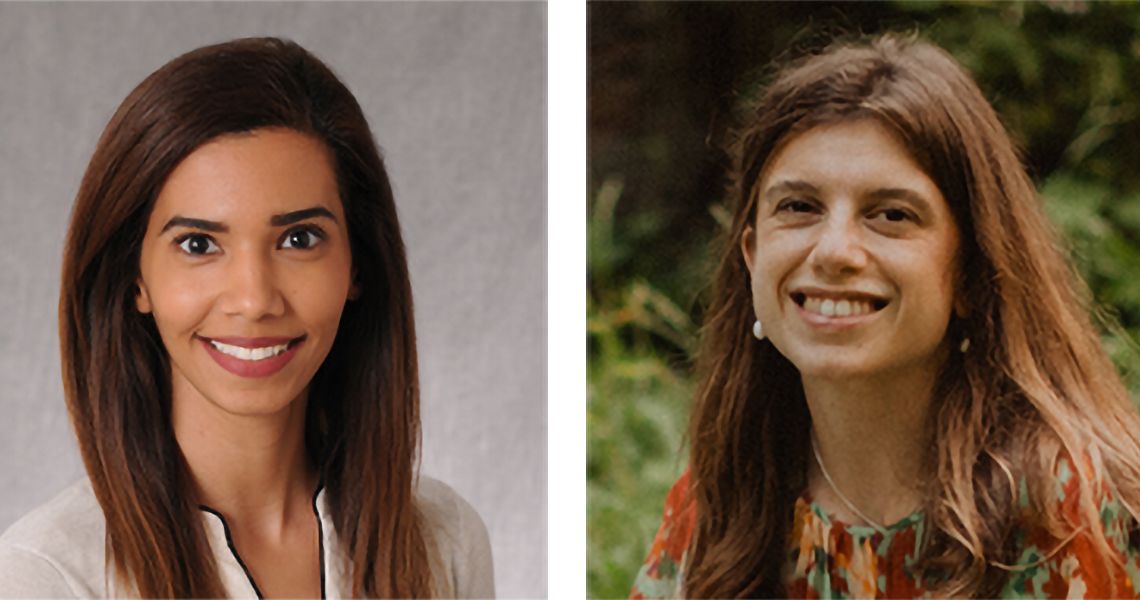 ANNOUNCEMENT (June 21, 2023) — The George Washington University (GW) School of Medicine and Health Sciences (SMHS) announced the selection of Hematology and Oncology Fellows, Walaa Aldhahri, MBBS, and Zoë McKinnell, MD, as the 2023 Albert L. Tucker and Elizabeth T. Tucker Postdoctoral Fellowship awardees. The Albert L. Tucker and Elizabeth T. Tucker Postdoctoral Fellowship program supports physician scholars at the fellowship level to pursue mentored clinical and translational research leading to a prospective trial.
Aldhahri's award will support her research project on tumor microenvironment immune modulation with neoadjuvant endocrine therapy in breast cancer. Her interest in research developed early in her medical school training, while collecting data and conducting epidemiological analysis regarding breast cancers in a rural town in Saudi Arabia. She noted that she is "very excited to work in this burgeoning field and intrigued to understand how a tumor's immune profile relates to the tumor's microenvironment. I hope to improve the therapeutic protocols that are currently in place to better serve our patient population."
Aldhahri received her medical and internship training at the King Abdulaziz University in Jeddah, Saudi Arabia, before coming to the George Washington University for residency training in internal medicine, followed by a fellowship in hematology-oncology. Pavani Chalasani, MD, MPH, director of the Division of Hematology Oncology, will serve as Aldhahri's primary mentor.
McKinnell's research will explore whether a subset of older adult patients with chronic lymphocytic leukemia (CLL) can be safely and effectively treated from the outset with reduced-dose ibrutinib, a frontline treatment for CLL. The outcomes of this study have the potential to lower drug costs and reduce toxicity in some patients with CLL. McKinnell will study data from the Veterans' Administration Informatics and Computing Infrastructure (VINCI) in a secure, high-performance computing environment, while ensuring veterans' privacy and data security. McKinnell was drawn to the study and treatment of leukemia as a medical intern during a rotation at the Memorial Sloan Kettering Cancer Center in New York. With the award of the Tucker Postdoctoral Fellowship, McKinnell believes she is taking "an important next step to developing my goals of becoming a clinical-researcher and continuing to explore research questions inspired by my patients. Specifically, I wish to pursue research projects to inform optimized care for the very young and old leukemia patients who may have been underrepresented in clinical trials."
McKinnell completed her residency training in internal medicine at the Icahn School of Medicine at Mount Sinai in New York and began her Hematology/Oncology residency at George Washington University in 2021. Maneesh Jain, MD, associate professor of Medicine, will serve as McKinnell's primary mentor.
Julie E. Bauman, MD, MPH, Dr. Cyrus Katzen Family Director of the GW Cancer Center, and associate dean of cancer at GW SMHS, expressed her excitement that the next Tucker Postdoctoral Fellowship awards will go to two emerging cancer researchers. "Drs. Aldhahri and McKinnell represent the future of physician-scientists at GWCC. This award will enable each to advance from retrospective research, which looks back at data sets to identify hypotheses, to prospective clinical trials that rigorously test novel treatments that could improve the standard of care for people living with cancer."
For more information about the Albert L. Tucker and Elizabeth T. Tucker Postdoctoral Fellowship program, please contact the GW Cancer Research Training and Education Coordination (CRTEC) Association Director Alison Hall, PhD, associate dean for research workforce development at SMHS, at akhall@gwu.edu.