Endowed health policy fellowship will grow GW's family medicine specialty and improve health equity throughout the District.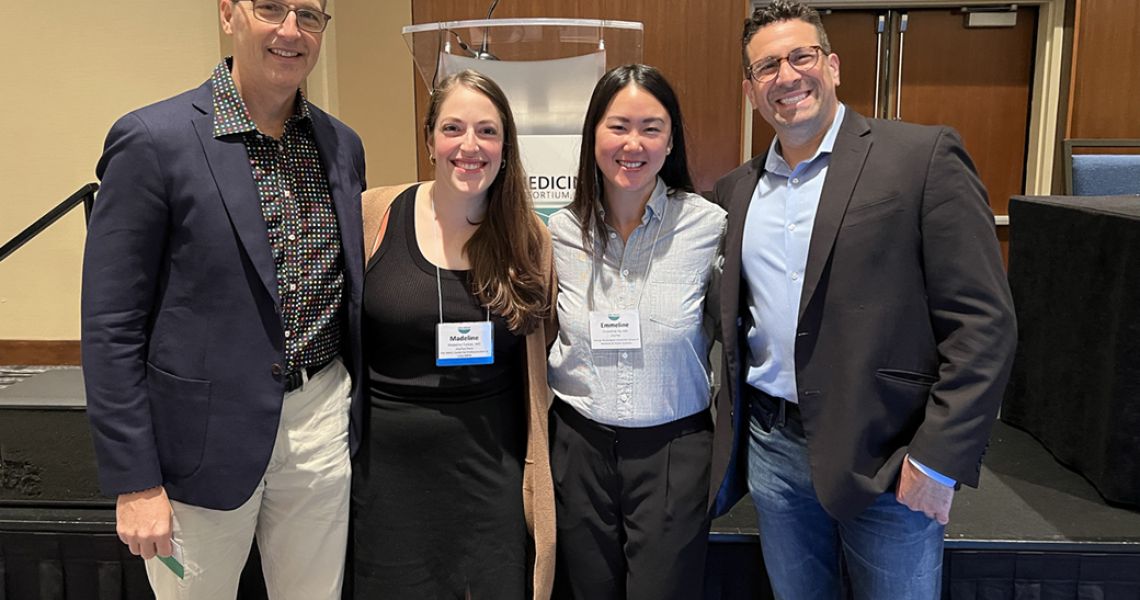 The District's dire health disparities were on the mind of D.C. native Madeline Taskier, M.D. '19, when she chose a career in family medicine as the best way to help her community. After earning her degree at George Washington University, she pursued a family medicine residency―and encountered the tremendous barriers her patients often faced in health care.
"The other trainees and I were constantly frustrated by the way our patients were treated within the system," Taskier said. "I'd think, 'why is the medicine I've prescribed not covered by insurance? Why does my patient have to wait a month and a half for this test?' This all relates to health policy, and I came away from residency wanting to understand why this doesn't work for us and our patients."
Taskier has returned to GW as the American Board of Family Medicine (ABFM) Health Policy Fellow, which gives her the opportunity to explore systems―such as Medicare for individuals with disabilities, or who are 65 and older―that make a major impact on health and well-being by dictating how health care is delivered and accessed.
"As a physician, I want to enhance the community's resiliency, but you cannot take care of your patients well unless you understand the system they're in," Taskier said. "This fellowship is an opportunity to better understand how the health care system operates, and how to fix it."
Previously funded through annual gifts, the health policy fellowship now has stable, secure, perpetual funding through an endowment from the ABFM Foundation (ABFMF). The perpetual gift is an investment into long-term collaboration between ABFM and GW's family medicine program, said Robert Phillips, executive director of ABFM's Center for Professionalism and Value in Health Care.
"We value GW as a partner in training a new generation of policy-savvy physicians," said Phillips, a health policy and management lecturer at Milken Institute School of Public Health. "Developing family physicians into health policy leaders and supporting a growing workforce is really important. We want to help GW's family medicine program attract excellent talent and potential future faculty who are interested in both clinical care and health policy."
The endowment will help family medicine evolve from a division within the Department of Emergency Medicine into its own department in the School of Medicine and Health Sciences (SMHS). SMHS plans to launch a family medicine residency program when Cedar Hill Regional Medical Campus, GW Health, opens in 2025. The hospital, located in D.C.'s Ward 8, will be the focal point in training much-needed family medicine practitioners, some of whom will then locate their practices in this community.
"There is a shortage of primary care providers in D.C. and the shortage is worse east of the river," said Maria de Lourdes Portela, chief of the SMHS Division of Family Medicine. "Family medicine physicians deliver the largest proportion of primary care and serve more frequently in underserved settings."
A larger primary care workforce leads to higher life expectancy, increased use and receipt of preventive care and greater access to health care in general, she explained.
"If you tie all those elements together, they lead to better patient outcomes, better health, better quality of life," she said. "We are beyond excited to be working with community and academic partners toward developing a family medicine residency at the new Cedar Hill campus. Our goal is to lead it through the lens of health equity, justice, innovation and community-oriented primary care."
Family medicine practitioners work with patients of all ages, providing a wide range of care–from routine physicals and procedures to partnering with nutritionists and social workers. Trained to think of individual patients as part of a unit, they build long-term, trusting relationships with entire families. Their holistic approach embraces both patient-centered and community-centered care and helps patients achieve better health outcomes.
"What family medicine can do, unlike any other specialty, is meet the needs of the community–whether that is child health disparities, women's health reproductive access or geriatric end-of-life consultations," said Emmeline Ha, B.S. '14, M.D. '18.
A local and GW alumna like Taskier, Ha is a former health policy fellow who is now an assistant professor of emergency medicine at SMHS. "We're trained in everything," she said. "We can really reach out and be there for the community."
The ABFMF gift is a shining example of GW's strong partnerships with the D.C. community, said GW President Mark S. Wrighton.
"This endowed fellowship helps the university's medical enterprise expand its efforts to improve health outcomes in underserved areas through excellent physician training and patient care," he said. "We are grateful that the foundation chose to create this endowment, which provides a perpetual source of funding to allow our university to have even greater positive impact in the community."
The endowment also solidifies the university's partnership with ABFM, "an organization that aligns with our values in terms of health equity and social mission," said SMHS Dean Barbara L. Bass, RESD '86, vice president for health affairs, Bloedorn Professor of Administrative Medicine, and CEO of The GW Medical Faculty Associates. 
"With this gift, we will keep moving toward our ultimate goal: not just starting a Department of  Family Medicine and teaching the future leaders of family medicine and health policy, but also delivering high-quality services to a community that still needs better access to health care close to home," she said. "We are thankful for this investment by the ABFMF."
The generous endowment ensures a pipeline of talented family physicians like Ha and Taskier will continue to flow into GW, said Donna Arbide, vice president of development and alumni relations. "That directly serves the community," she said, "and it impacts the exceptional medical students who come to GW eager to help patients in D.C. and around the world."
Nationally, family medicine is the second-most popular specialty in medical schools. At GW, students clamor to study this area of primary care with the division's six full-time faculty members. The endowment of the fellowship will help the school grow to meet this growing demand.
"We have been able to recruit a marvelous cadre of academic family physicians at SMHS, and I'm excited to see family medicine grow and become an academic department in the next few years," said Robert Shesser, RESD '79, chair of GW's Department of Emergency Medicine. "Gifts like this endowed fellowship help the institution realize that physicians trained in health policy and health equity will be able to improve the lives of many more patients than they can individually treat. "