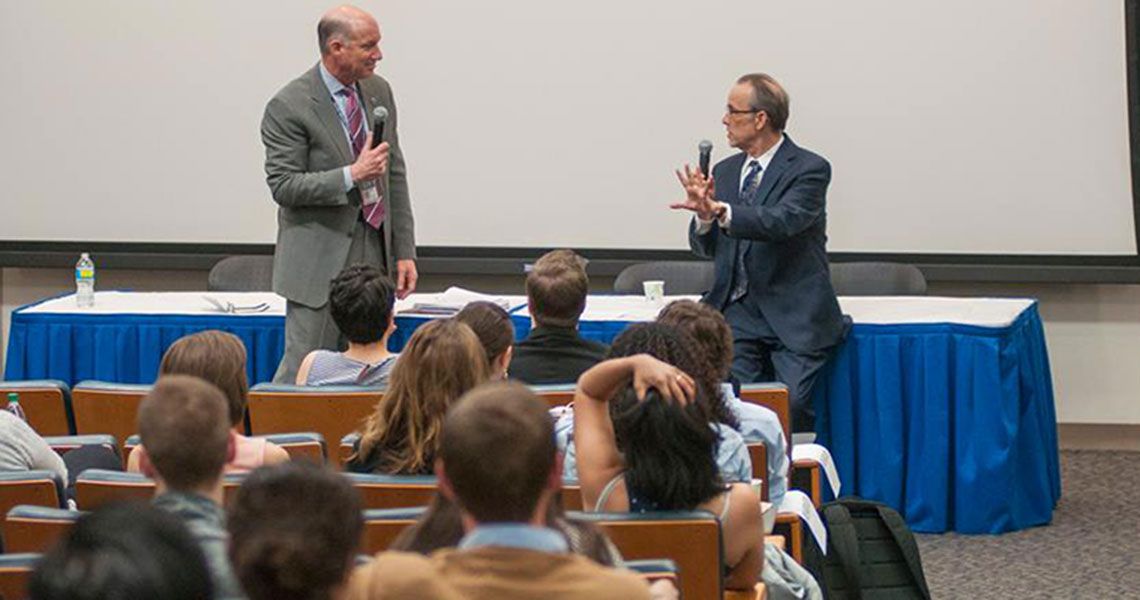 "The 20th century was a remarkable period of understanding and learning about the health and mental health of gays, lesbian, and bisexuals," said Jeffrey S. Akman, M.D. '81, RESD '85, Walter A. Bloedorn Professor of Administrative Medicine, vice president for health affairs at GW, and dean of the GW School of Medicine and Health Sciences (SMHS). Akman and Lawrence "Bopper" Deyton, M.D. '85, M.S.P.H., senior associate dean for clinical public health at SMHS, offered their perspective of lesbian, gay, bisexual, and transgender (LGBT) health at SMHS to medical students as part of a GW Out for Health event on April 16. The student-run GW Out for Health provides outreach, education, and information to LGBT people, their health care providers, and the community about the importance of inclusive, welcoming, and respectful care for LGBT patients.
Akman's talk, "Stand Up, Speak Out: A History of LGBT Health at GW School of Medicine & Health Sciences," shared his views as a student, resident, faculty member, and now as dean.
The 1950s was a period when clinicians started generating a lot of important data on gay and lesbian health, explained Akman.  
The next 10 years became a crucial time for gay and lesbian rights. "It was the 1960s, a period of counterculture, free love, woman's liberation, and the Vietnam War," said Akman. "This time period also included the gay rights movement." It was also the dawn of the era of people coming out, he explained. Activists and advocates for gay rights became more prominent, especially in Washington, D.C.
During that time, Winfield Scott, M.D., associate dean for education at SMHS, asked Akman to join the board of the National Lesbian and Gay Health Foundation, the oldest gay and lesbian health organization in the country at the time. "He was openly gay and a member of that board," recalled Akman. Because of Scott's involvement, SMHS co-sponsored the National Gay and Lesbian Foundation annual meeting and offered CME credits. The conference turned into a multi-disciplinary annual event that was not only focused broadly on LGB health, but also on transgender health.
"With the stigma and discrimination that existed at the time, GW had a connection to this organization, and it really validated this foundation to have an academic medical center be a sponsor and provide CME credit," he added.
"When I arrived in D.C. in 1976, there was one organized health clinic that serviced gays and lesbians," said Deyton. "In 1977, the clinic leaders separated from the Washington Free Clinic and began to craft their version of a health care organization, starting The Whitman Walker Clinic."
Whitman Walker was originally set up as a gay and lesbian health center, explained Deyton, with volunteer clinicians from around the D.C. metro area delivering health care services. 
When the first cases of HIV/AIDS were seen in the District of Columbia in 1983, Akman, an openly gay psychiatry resident, started volunteering at the Whitman Walker Clinic. "I saw patients for free and trained volunteers and the staff on a range of issues related to AIDS," said Akman, who also remembered the level of fear and anxiety surrounding the unknown disease. "At that time HIV/AIDS was a death sentence," he added. Akman recalled colleagues advising him not to pursue this area because it would identity him as gay, which would jeopardize his medical career.
In the early 1980s, the field of psychiatry was somewhat of a mixed bag in its approach toward homosexuality. However, across the county, other gay psychiatrists were also seeing these patients and experiencing these losses. "We developed an expertise in the psychiatric aspects of HIV/AIDS and related to that, gay and lesbian mental health issues," said Akman.
Deyton echoed Akman's sentiments. "As an openly gay man, I was discriminated against during the medical school application process," recalled Deyton. "GW welcomed me. It was a place known around town as being supportive and accepting of the LGBT community."   
Fast forward to his days as dean, Akman had the opportunity to build upon the school's reputation for supportiveness and interest in LGBT health, hiring a chair of the Department of Microbiology, Immunology, and Tropical Medicine renown in his fight against HIV/AIDS. "I was fortunate to recruit Douglas Nixon, who is internationally recognized for his work in HIV/AIDS and vaccine development." Deyton added that first-year medical students recently completed an intensive clinical public health workshop to develop proposals to achieve an AIDS-free generation.
Both men agree that at GW, they discovered an institution with a history of embracing diversity, a culture of support, acceptance, and tolerance. "I believe my path would not have been possible at any other institution, certainly within the District of Columbia," said Akman.