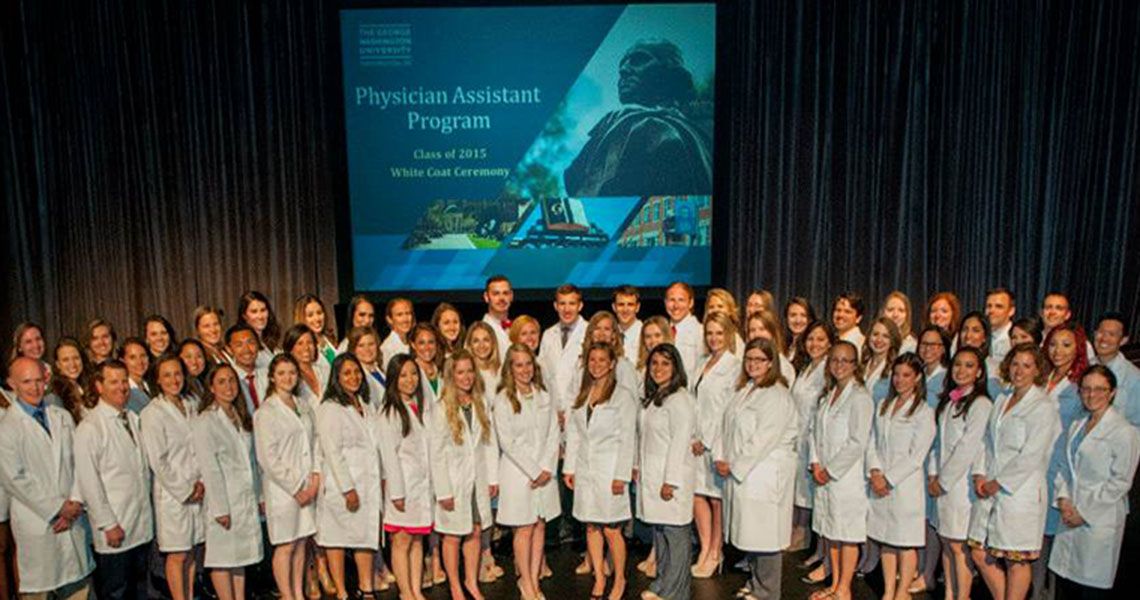 "When you put on your long white coat today, think about it as an opportunity to love your patients a little more. People will trust you automatically. They will tell you things that maybe you didn't want to know, and you will have to be ready to hear those things," said Susan Lelacheur, Dr.P.H., PA-C, associate professor of Physician Assistant (PA) Studies at the GW School of Medicine and Health Sciences (SMHS), addressing graduates during the PA White Coat ceremony, May 15.
Karen A. Wright, Ph.D., PA-C, interim chair and program director of the Department of PA Studies at SMHS, welcomed the class of 2015, along with family and friends. "Today, we gather to honor the efforts and accomplishments of our soon-to-be graduates," she said, adding that this day represents the culmination of a two- to three-year journey that results in these graduates joining the ranks of an exciting and rewarding profession.
"The PA program at GW is one of the top academic programs at the university and in the country," said Joseph Bocchino, Ed.D., MBA, senior associate dean of health sciences at SMHS, addressing the audience. There are two factors, explained Bocchino, which make up this great academic program, "the hardworking graduates and the outstanding faculty."
Elizabeth Prevou, student speaker and a graduating dual-degree PA and Master of Public Health candidate at the Milken Institute School of Public Health at GW, compared her journey to becoming a PA to a whirlwind romance. "It was one of those love-at-first-sight moments," recalled Prevou, after learning what the SMHS PA program was all about. "I just knew that the PA profession was for me." After she was accepted into the program, Prevou said it, like any relationship, was filled with ups and downs. "There was so much growth, so many challenges, lots of learning and studying, late nights, early mornings, group projects, real patients and practice patients, tears over biochemistry notes and exam results," she said. "But there were also laughs, smiles, relief, and purpose." Prevou's love story isn't the only one. "Each of my classmates has taken a unique journey to get to this day," she added. "Today, we slip on our long white coats as a symbol of this union, and say 'I do' to the commitment of being a PA."  
Following Prevou's remarks, Bryan Walker, M.H.S., PA-C, guest speaker and assistant professor of PA Studies at SMHS, addressed the graduates. Walker told them to remember four important things as they embark on their professional journeys as PAs — first, professionalism; second, practice evidence-based medicine; third, advocate for your patients; and fourth, community service. To his first point, Walker said, "Professionalism is the white coat you are able to put on and the responsibility that comes with it." Elaborating on practicing evidence-based medicine, Walker said, "Medicine is as much of an art as it is a science. It's our job to take all of the great information that we have and try to distill it and apply it to our patients." He then focused on the importance of advocating for patients. "Advocating for the patient to navigate, not only the information you just told them, but how to get from point A to point B." Finally, Walker stressed the importance of service to the community. There is a big legacy of community service within the PA profession, he explained, and he encouraged the graduates to be part of it. 
Jacqueline S. Barnett, D.H.Sc., PA-C, assistant professor of PA Studies at SMHS, then presented the student awards to graduates who have maintained the highest overall GPA in their class. This year's recipients included Liz Hankinson, Alex Nelson, and Kristin Ridenour.
Next, 67 graduates of the class of 2015 walked across the stage of the Dorothy Betts Theater and put on their long white coats, donated by SMHS PA program alumni, for the first time.
In closing, the students recited the PA oath, dedicating themselves to a career of treating their patients with dignity and respect while providing quality care. This ceremony kicked off graduation weekend, where graduates received their diplomas and celebrated with family and friends.