Generous gift from former faculty member will promote health through nutrition at Foggy Bottom teaching kitchen space.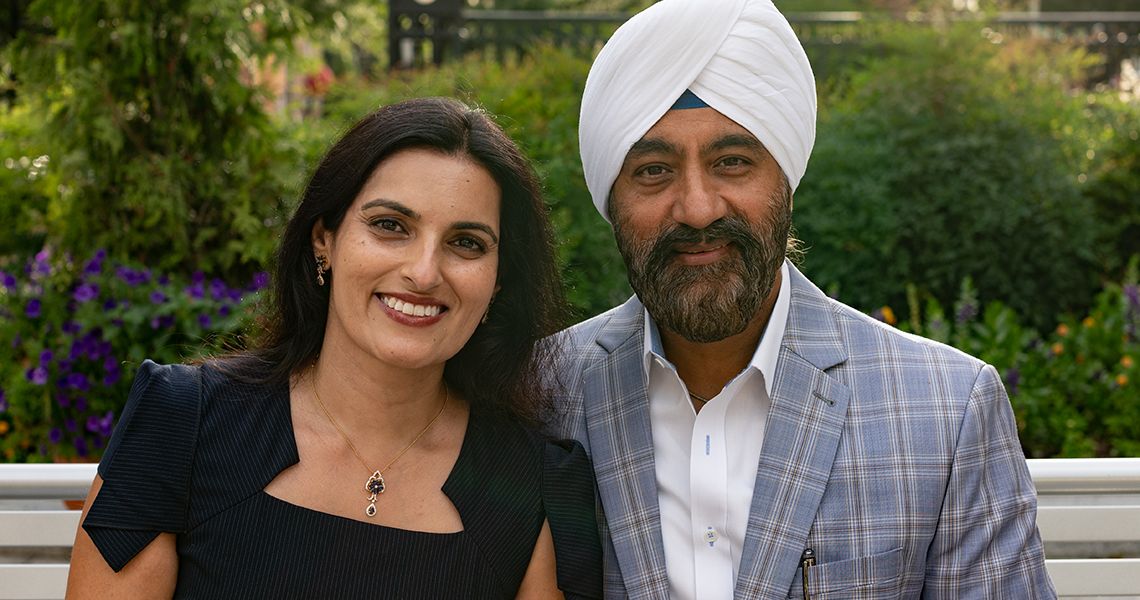 Every day in the nearly 20 years she practiced medicine at George Washington University, Seema P. Kakar, saw the impact of unhealthy eating in her patients living with diabetes, high blood pressure, kidney disease and other chronic diseases. 
While counseling her patients on the importance of eating healthy, she remembered how hypocritical she felt during those conversations, particularly when convincing anyone with a hectic life—as she had once had as a GW resident in internal medicine.
"Here we were advising patients to eat healthy," she recalled, "while we [residents] had terrible eating habits and thought nothing of reaching for a candy bar as a meal."
But years later, as a respected GW clinician and faculty member, she had an epiphany about nutrition when fellow internist Timothy S. Harlan—a chef and recognized expert in food and health—discussed U.S. smoking cessation rates during a Grand Rounds lecture at the School of Medicine and Health Sciences (SMHS).
"He said when doctors themselves stopped smoking that the general population also began to stop smoking," Kakar said. "Dr. Harlan made the point that only when we as doctors change our own ideas about eating and how food treats illness and prevents disease, will we be able to help our patients change their behavior."
In that Grand Rounds talk, Harlan reviewed research on an innovative curriculum used to teach medical students and health professionals about the new discipline of culinary medicine: an evidence-based field blending the art of food and cooking with clinical medicine as a tool to treat and prevent disease.
Determined to help future physicians learn how to help their patients and themselves, Kakar launched culinary medicine education at SMHS in 2017. She rented teaching kitchen space and taught the "Health meets Food" courseware with physicians, professional chefs and dietitians teaching medical students and residents the knowledge and skills they need to empower patients (and themselves) to make healthy food and cooking choices.
Recently, Kakar and her husband, Sonny, made a major philanthropic investment establishing the Seva Culinary Medicine Teaching Kitchen Fund to create the Seva Teaching Kitchen, a new learning space for GW.
"It's the right time for this kind of investment," Kakar said. "The general population is—no pun intended—hungry for this kind of knowledge and skills." 
By their gift, the Kakars hope that incorporating culinary medicine programs into the medical school curriculum can empower members of the GW and D.C. communities, healthcare providers and patients alike, to prepare nutritious, affordable and delicious meals that can modify health risk factors and help treat and prevent certain illnesses. Teaching how food can be medicine supports growing demands for preventative medicine as chronic diseases and illnesses continue to escalate.
"Our university is committed to using our teaching and research mission in service of the community, including here in Washington," President Mark S. Wrighton said. "Our students in medicine and health sciences have an important impact on the individuals they serve, and by strengthening our ability to teach about healthy food, the Kakars are greatly enhancing this impact."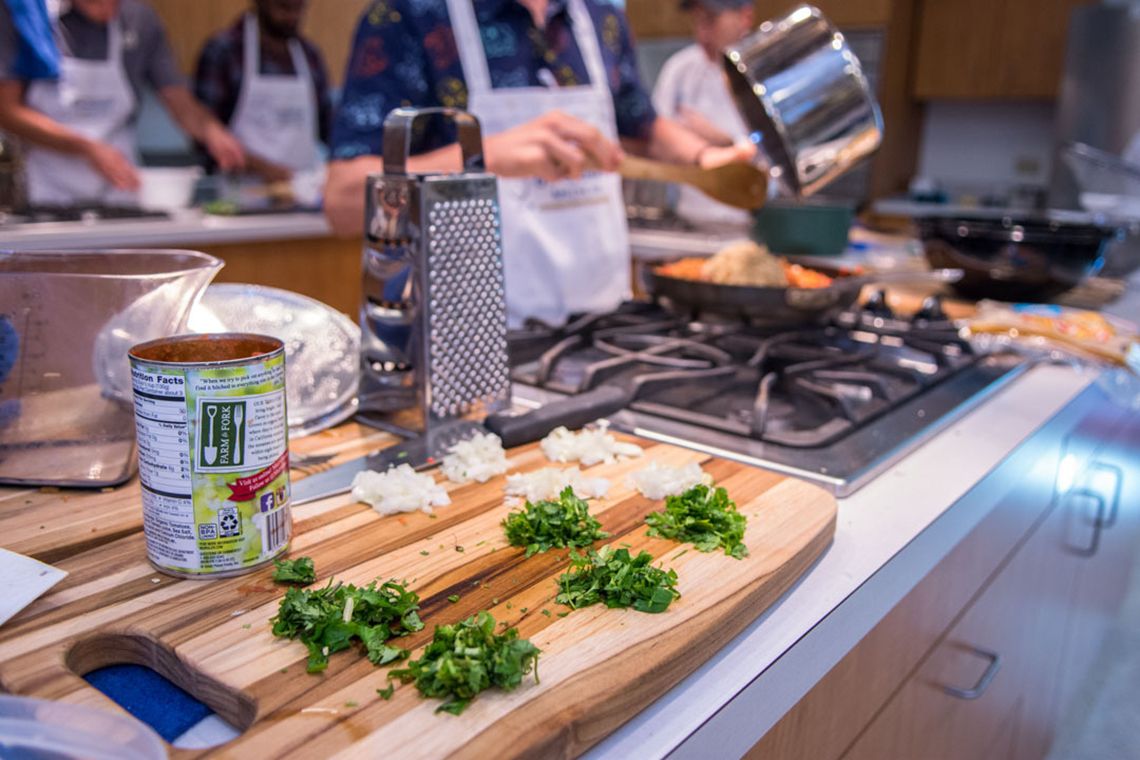 SMHS medical students prepare a healthy meal together as part of the school's culinary medicine program.
---
The new learning space will be "a force multiplier for our growing culinary medicine program," said Harlan, who joined GW in 2019 as the program's executive director.
"GW is the national thought leader in the area of culinary medicine and the Seva Teaching Kitchen will allow us to scale up the impact of our virtual and in-person programming," Harlan said. "It's the spark that will bring even more visibility and priority to our goals of education, research, clinical care and improving overall health while serving this community."
The kitchen's name has deep cultural and personal significance to the couple. Pronounced "seh-vuh," seva means "serving a greater purpose" in Punjabi and is a key element of the Kakars' Sikh faith.
"Seva is a special name," Sonny said. "It's a word that is infused with action and service to humanity. In the Sikh community, seva is a word that really resonates, just as the concept of service resonates universally. Serving a greater purpose means seeing beyond ourselves, working for the common good and seeing universal light in all humanity."
In 2015, the couple founded a non-profit organization, SevaTruck Foundation, a food truck program that partners with Title 1 schools and underserved communities to serve hundreds of daily free, nutritious meals to students after school followed by homework and tutoring sessions aimed at improving educational outcomes. The Seva Teaching Kitchen is an expansion of that idea of caring for communities through nutrition and education and inspiring generational impact, Kakar said, and "it all ties together for us."
The Seva Teaching Kitchen will be the home for in-person as well as virtual immersive hands-on cooking classes in which participants learn basic cooking skills, nutrition information, guidance for grocery shopping and recipe knowledge that helps them build a firm foundation for eating great food that just happens to be great for them.
"Thanks to the Kakars' leadership and generosity, GW can offer even more hands-on learning and community engagement opportunities for our students in the health care fields, our faculty and staff and for those in our community," said Barbara Lee Bass, RESD. '86, vice president for Health Affairs, Bloedorn Chair of Administrative Medicine, dean of SMHS, and CEO of the GW Medical Faculty Associates. "By cooking and learning together with members of the community, our faculty, staff and students will learn how to have more healthful eating themselves and also provide more effective care to their future patients."
The new teaching kitchen space not only reinforces GW's commitment to culinary medicine, but also serves as "a tangible bridge" connecting health education with the surrounding community, said Graciela Caraballo, a fourth-year medical student.
"Culinary medicine education provides an exciting avenue through which we can move away from one-size-fits-all health care and work with our patients to empower them to take a more active and intentional role in their health," Caraballo said. "Everyone eats, so why not teach people how to do that in ways that bolster their health?"
In addition to serving as the location of GW's culinary medicine classes offered to students, staff, faculty and clinical programs, the Seva Teaching Kitchen will also be a laboratory for research on the impact of culinary medicine. Initially occupying a former restaurant space on K Street NW, the Seva Teaching Kitchen will move into a permanent space in GW's new outpatient facility on the Foggy Bottom campus when it is completed.
Establishing the Seva Teaching Kitchen will help countless individuals, said Jackie Wood, associate vice president of development and alumni relations. "Seema and Sonny believe in the power of education and the unique way food can connect people and build health and wellness," she said. "Their generosity reflects their hearts and their passion for caring for the community through service, and we are delighted that Dr. Kakar will serve on the Advisory Board for the Seva Teaching Kitchen." Kakar said that her and her husband's efforts are "about wanting the best for patients, our community and the clinicians who serve them."
"Learning how to cook and eat more healthfully and how to encourage our patients to do so serves everyone," she said. "I believe the Seva Teaching Kitchen will be a unique resource that is a source of pride for GW and our community."
---
Contributions to the Seva Culinary Medicine Teaching Kitchen Fund will support the build-out of transitional and permanent spaces for the Seva Teaching Kitchen.