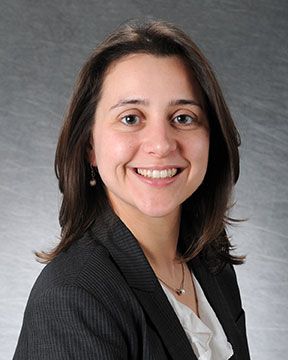 Congratulations to Mandi Pratt-Chapman, M.A., director of the George Washington University Cancer Institute, who was chosen as a Young World Cancer Leader (under 40) by the Union for International Cancer Control. Pratt-Chapman was chosen as one of eight young leaders based on her impact and successful track record in cancer control and prevention. This distinction gave Pratt-Chapman the opportunity to attend the 2015 World Cancer Leaders' Summit (WCLS) in Istanbul, Nov. 17-18.
WCLS is the most important annual high-level policy meeting dedicated exclusively to influencing global decisions which impact cancer control. Pratt-Chapman joined 250 leaders from government, UN agencies, academia, private sector and civil society to discuss urgent actions needed to scale-up international collaboration and reduce the premature deaths from cancer and other non-communicable diseases by a third within the next 15 years.
The 2015 Summit focused specifically on the importance of collaboration across country borders, across diseases and through public and private partnerships. The program highlighted successful examples of national cancer control planning and cross-diseases interventions, as well as issues related to the management of conflict of interest, data sharing and international policy development. High profile guest speakers included Dr. Sania Nishtar, founder and president of Heartfile and former Federal Minister of Health for Pakistan; Gary Cohen, executive vice president of global health and development at Becton, Dickinson & Co; and Michael Hübel from the EU Commission, Health and Food Safety Directorate General.
Pratt-Chapman was recognized as a Young World Cancer Leader for her national leadership in patient navigation and survivorship care, specifically broad collaboration to create national consensus-based core competencies for oncology patient navigators, free training to raise oncology navigation standards and advocacy for a standard occupation code for patient navigation with the U.S. Pratt-Chapman was nominated by colleagues at the Association of Community Cancer Centers, the American Cancer Society, the Academy of Oncology Nurse & Patient Navigators, the American College of Surgeons' Commission on Cancer, LIVESTRONG Foundation and the Cancer Support Community along with staff and senior research leaders at the George Washington University. With more than a decade of experience in policy analysis, health services research, education, community engagement and patient-centered program development, Pratt-Chapman has achieved meaningful results in cancer control through education and technical assistance to Centers for Disease Control and Prevention grantees in the U.S. states, tribes and territories. Her research and work in patient-centered care and health equity aims to achieve better quality of life and improve health outcomes for cancer survivors locally and nationally. At WCLS, Pratt-Chapman met with global cancer leaders to find ways to reduce the burden of cancer worldwide.
In addition to Pratt-Chapman, Mrs. Afsan Bhadelia, Harvard Global Equity Initiative, USA; Mr. Runcie Chidebe, Project PINK BLUE, Nigeria; Dr. Temidayo Fadelu, Partners in Health (PIH) / Inshuti Mu Buzima (IMB), Rwanda; Mr. Cristian Herrera Riquelme, Cabinet of the Minister - Ministry of Health, Chile; Mr. André Ilbawi, World Health Organization, Switzerland; Dr. Mei Ling Yap, Liverpool and Macarthur Cancer Therapy Centres, Australia; and Dr. Mauricio Maza, Basic Health International, El Salvador were chosen as Young Cancer Leaders.