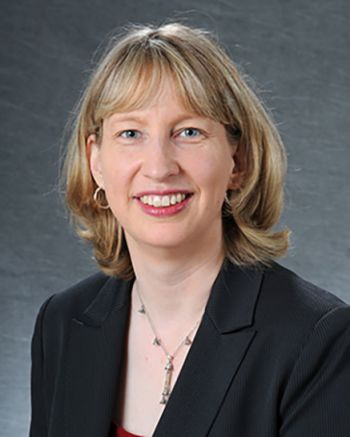 The George Washington University (GW) School of Medicine and Health Sciences (SMHS) has selected Tamara "Tami" Ritsema, PhD, MPH, MMSc, PA-C, associate professor of physician assistant (PA) studies, to serve as the interim chair of the Department of PA Studies at GW SMHS, beginning on March 1, 2021.
"We are looking forward to great things from the Department of PA Studies under Dr. Ritsema's leadership," said Reamer L. Bushardt, PharmD, PA-C, DFAAPA, professor and senior associate dean for health sciences at GW SMHS. "Her passion, important contributions to the field, and her commitment to excellence within PA education and practice, clearly illustrate why Dr. Ritsema is the right choice for this role."
Ritsema began her educational career at GW in 2005 as adjunct faculty, and then joined the regular faculty in 2009. In 2012, she joined the University of Nebraska College of Medicine as director of research in its division of PA studies, however, her love of Washington, D.C., and GW brought her back in 2016.
Home to the #5 ranked PA program in the nation by U.S. News and World Report, the Department of PA Studies at GW is an innovator in education, offering one of the first PA programs in the U.S. and a joint PA/MPH program in partnership with the GW Milken Institute School of Public Health at the Foggy Bottom Campus in Washington, D.C. The department also oversees the successful GW Post-Baccalaureate Pre-Medicine program at the Virginia Science and Technology Campus in Ashburn. This intensive 11-month program prepares students to enter medical school and boasts a 95% acceptance rate among its graduates. PA Studies Department faculty have a strong record of professional service, advocacy, and leadership, both regionally and nationally, with a particular focus on health equity.
In the U.S., Ritsema has made substantial contributions in PA education and workforce studies at GW and the University of Nebraska. Additionally, abroad, and specifically in the U.K., she has taught within the PA program at St. Georges University of London and helped lead national efforts to expand PA education, accreditation, and practice. As the principal investigator of the National Physician Associate Annual Census, she developed a novel longitudinal PA workforce study that has resulted in numerous publications and informed advocacy efforts for PAs across Europe. Ritsema also helped draft accreditation standards for PAs in the U.K. and is an item-writer and examiner for the U.K. PA National Examination. 
In the GW PA program, Ritsema says, "My greatest joy as a faculty member comes from teaching and spending time with students, helping them gain the knowledge, skills, and abilities necessary to become outstanding clinicians." At GW, her teaching focuses on prevention, diagnosis, and management of neurologic disease and acute conditions in emergency care settings. She also leads coursework in clinical skills and helps students explore the role of PAs in the American health system. She regularly advises students in the PA and the joint PA/MPH programs at GW. 
Ritsema earned an MPH from the University of Michigan in 1993 and worked in a variety of clinical research roles at Michigan and later Johns Hopkins University. She furthered her education at Emory University and was graduated from its PA program in 2001. In her first role as a PA, she practiced in neurology and emergency medicine at Johns Hopkins and served as a clinical trialist. She continues to practice in emergency medicine in Northern Virginia.
Ritsema is a prolific scholar and researcher within her field. As lead author and editor, she and colleagues developed the 7th edition of Physician Assistant: A guide to clinical practice, a sentinel text used by PA programs across the country which will be published in fall 2021. She has published dozens of peer-reviewed publications and served seven years as a member of the editorial board of the Journal of Physician Assistant Education. In 2017, she won the Breitman-Dorn Fellowship that supports promising health workforce research.
Jim Scott, MD, professor of emergency medicine, professor of health policy and management, and former dean of the MD Program, will serve as a departmental advisor.
"As a scholar, a clinician, and an educator, Dr. Ritsema is a role-model for all in the Department of PA Studies. I am confident that the department will continue to flourish under her leadership and I am grateful for her willingness to step-up and take on this important role for the school," said Barbara L. Bass, MD, Vice President for Health Affairs, Dean of the School of Medicine and Health Sciences, and CEO of the GW Medical Faculty Associates.
Stepping down as chair of the Department of PA Studies is Maura Polansky, MS, MHPE, PA-C, DFAAPA, associate professor of PA studies. She joined GW in early 2018 after more than 20 years of service to the University of Texas MD Anderson Cancer Center. Polansky has focused her career on PA education throughout the educational and career development trajectory.
During her tenure at GW, she has been an advocate for educational innovation, collaborations across HS and SMHS, and professional development including supporting faculty assuming new leadership roles. She will be devoting more of her time to research related to interprofessional education and practice while she completes a PhD in Health Professions Education from MGH Institute of Health Professions. She will also continue to teach in the PA and Doctor of Health Sciences programs.
"We are grateful to Professor Polansky for her leadership in PA Studies, especially her tireless work to support our PA and pre-medicine students, faculty, and staff during the COVID-19 pandemic," said Bushardt.