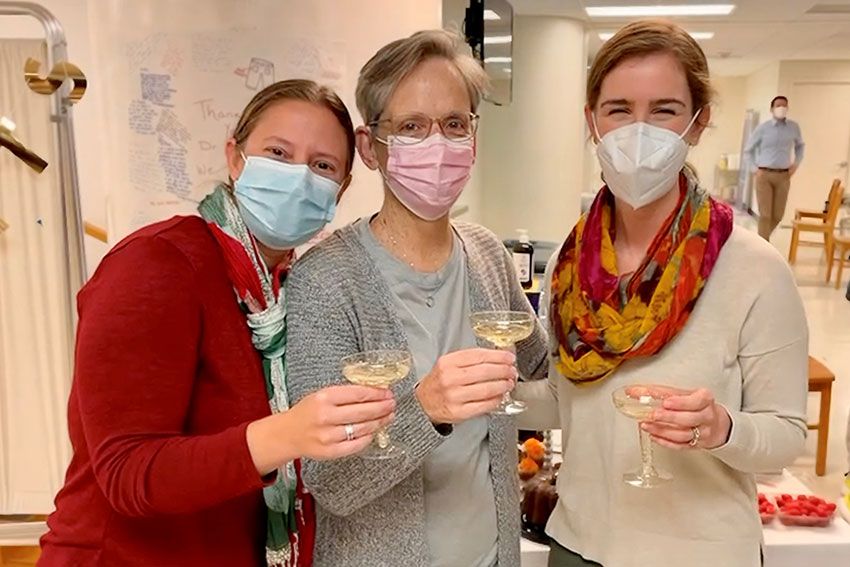 Margaret M. Plack EdD, DPT, may finally find the time to develop new skills unrelated to higher education or pediatric physical therapy (PT). After nearly 18 years at the George Washington University (GW) School of Medicine and Health Sciences (SMHS) Doctorate of Physical Therapy (DPT) program, and 42 years in clinical practice, Plack retired at the end of the fall 2021 semester.
GW SMHS has been Plack's academic home since 2004, when she was hired as the Director of the Physical Therapy program. She has served in a variety of positions since, from faculty member to program chair, interim chair of the Department of Clinical Research and Leadership, chair of the Department of Health Care Sciences, and interim senior associate dean of GW SMHS. Along the way, Plack gained insight and grew as an administrator, scholar, teacher, mentor, and clinician.
Joyce Maring, EdD, DPT, chair of the Department of Health, Human Function, and Rehabilitation Sciences at GW SMHS, noted Plack's dedication to her students. "Margaret always keeps her door open to offer advice or have a conversation with the students and always shows commitment to their success," she said.
"It has been fun to watch and an honor to be a part of [my student's] transition," Plack said, recalling the fulfilment she has felt teaching across the curriculum and witnessing students move from total novices to burgeoning professionals. "I have so very many special memories with our incredible students over the years, they have taught me so much and have shaped me into the person I am today," she added.
That bond between Plack and her students is mutual. DPT students honored her with Golden Apple Awards in 2015, 2017, and 2019.
Over her nearly two decades teaching at GW, Plack took on four very different courses across the DPT curriculum: Foundations of Interventions, Teaching and Learning in Physical Therapy Practice, Management of the Pediatric Client, and the Capstone Seminar.
Her accomplishments and awards extend far beyond the classroom. Plack is an outstanding and award-winning educational leader and a nationally recognized educational research scholar. She received the Outstanding Faculty Member Award at GW in 2015 as well as a number of awards for her research. In 2011, Plack received the Award for Leadership in Education from the American Physical Therapy Association, the highest honor conferred by the association's education section, for her substantial impact on the profession through scholarship, teaching, administration, and service activities.She's widely published, with more than 60 scholarly works, including the textbook, Teaching and Learning in Physical Therapy: From Classroom to Clinic, and a chapter on pediatric physical therapy in the textbook, Introduction to Physical Therapy.
Once she retires, Plack looks forward to spending quality time with family and friends, especially her three grandchildren. While she plans on continuing some research and teaching projects, Plack hopes to take time to reflect, relax, and explore new skills such as sketching and drawing.
"Margaret truly brings dedication and excellence to everything she touches," Maring said. "GW will certainly miss her, but we wish her the very best as she retires and enters a new chapter in her life's journey."