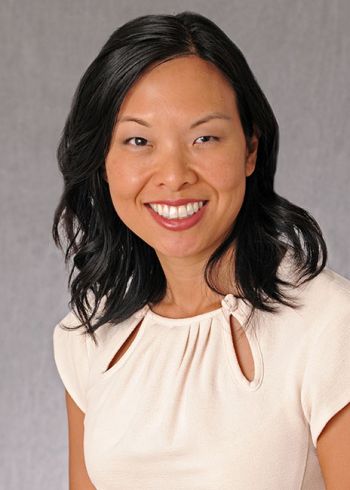 Katherine Chretien, M.D., associate professor of medicine, was named assistant dean for student affairs for the George Washington University School of Medicine and Health Sciences (SMHS).
As a member of the dean's executive leadership team, Chretien will participate in the development and operation of an accredited undergraduate medical education program. For current medical students, she will provide leadership in the development and implementation of effective career counseling; develop and maintain an effective system for access to health services, including immunizations, occupational safety, and post-exposure prophylaxis; provide leadership in the development of programs and policies to foster the academic, personal, and career success of a diverse student body; and prepare the Medical Student Performance Evaluation for senior medical students.
"I am honored to serve the school in this capacity," said Chretien. "I look forward to helping students achieve their goals, maintain life balance, and thrive during medical school as they develop into competent, compassionate, and trustworthy professionals."
Chretien will also participate in the student admissions process, including interviewing and reviewing files of potential students. Additionally, she will assist with the planning and implementation of strategies leading to successful accreditation of the undergraduate educational program and work collaboratively with other deans at SMHS to foster a positive learning environment for students, among other responsibilities.
Chretien has worked as a medicine clerkship site director at the Washington DC VA Medical Center since 2005. She has also directed the physician assistant student rotation and has been involved in curriculum reform and LCME self-study for medical students in recent years. Chretien serves as an associate editor of Simulated Internal Medicine Patient Learning Experience for MedU, where she develops and edits case modules used in internal medicine clerkships nationwide. She has continued to develop her education and leadership skills by completing the Master Leadership Development Program in 2007. In 2013, she was awarded the Women Leaders in Medicine Award by the American Medical Student Association.
Chretien has numerous publications in the field of medical education and professional development. Many of her publications focus on the new frontier of using social media as a medical student and physician.  For her contributions to medical education research, she was presented the 2012 Charles H. Griffith, III, M.D. Educational Research Award by Clerkship Directors in Internal Medicine.
"We are happy to welcome Dr. Chretien to our leadership team," said Richard Simons, M.D., associate dean of M.D. Programs and professor of medicine at SMHS. "Dr. Chretien is recognized nationally for her work on social media and professionalism in medicine. At the GW School of Medicine and Health Sciences, she has already enriched the medical careers of many students, and we look forward to working with her to give even greater support to these future physicians."
Chretien received her undergraduate degree from Brown University before entering medical school at Johns Hopkins School of Medicine. Following her graduation in 2000, Chretien completed a residency in internal medicine at Johns Hopkins Hospital. She joined the staff at the Washington DC VA Medical Center and was appointed assistant professor of medicine in 2003. She became an associate professor of medicine in 2010 and a clinical associate professor of medicine at Uniformed Services University in 2014.
Chretien will assume the role of assistant dean for student affairs in July 2015.