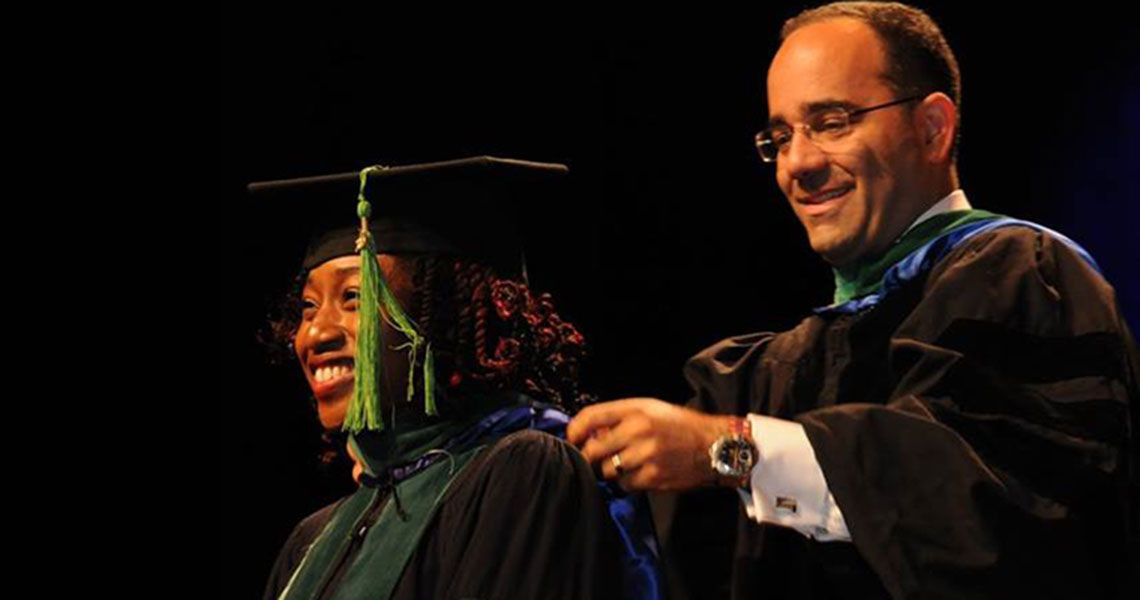 The distinct sound of bagpipes resonated throughout Lisner Auditorium as GW's School of Medicine and Health Sciences (SMHS) M.D. program Class of 2015 took their seats at the start of their graduation ceremony on May 17. Jeffrey S. Akman, M.D. '81, RESD. '85, vice president for health affairs at GW, Walter A. Bloedorn Professor of Administrative Medicine, and dean of SMHS, welcomed the graduating class, along with family and friends, proclaiming today was meant to celebrate and acknowledge the successful efforts of each outstanding medical student.
As he opened the diploma ceremony, Akman took a moment to remember Navdeep S. Kang, a fourth-year medical student, whose life ended tragically and prematurely last August after a motorcycle accident. He described Kang as a compassionate and giving individual who touched the lives of many. "He will forever be connected to this university through the Navdeep S. Kang Award for Excellence and Service established by his parents; the Navdeep S. Kang Class of 2015 Scholarship, supported by his classmates; and the Navdeep S. Kang Student Lounge in Ross Hall," he said, inviting Kang's father to the stage to accept his son's doctor of medicine degree. Kang's family chose to honor his memory by establishing an endowed award in his name at the medical school that will be given annually to a graduating student who manifests his humanistic traits, enthusiasm for medicine, and interest in the field of psychiatry. The first Navdeep S. Kang Award for Excellence and Service was presented to Justin Michael Palanci.
Class valedictorian Siri Sahib Singh Khalsa introduced keynote speaker Vice Admiral Vivek H. Murthy, M.D., M.B.A., the 19th U.S. Surgeon General. "It's an honor to be here at GW because of this institute's longstanding commitment to creating physician citizens," said Murthy. Reflecting on his own journey to becoming U.S. Surgeon General, Murthy talked about his family's struggles leaving India, stopping in three other countries, including one with a brutal dictatorship, on their journey to America. Murthy's father started a family medicine practice when they landed in Miami. "From my parents, I learned that being a healer isn't just about diagnoses and treatment, it's also about building relationships of trust," he said.
Murthy told the graduating class that, "as doctors we share a singular core value that binds us together, and this is an unflinching commitment to improve the lives our patients." He charged the graduates with addressing health disparities, which Murthy described as a "civil right issue." Finally, Murthy told the Class of 2015 that "your leadership, your vision, your creativity, and your courage will be essential in creating an America that is as good at preventing illness as it is treating it."
After the graduates crossed the stage to be hooded by members of the faculty, accept their diplomas, and sign the SMHS graduate registry, graduate Ashely Marie Alker, who was chosen by her classmates to make remarks, challenged her fellow physicians to appreciate the partnerships between specialties as they embark on their residencies. "Don't unconsciously give into senselessness, resist the urge to agree with your peers on stereotypes, make sure to give credit where credit is due, and encourage others of other specialties to continue good work, and finally, don't let institutionalized prejudice and fatigue pull us apart when we have come so far together."
During the ceremony, Akman acknowledged one of the great leaders in the history of SMHS, Robert I. Keimowitz, M.D., Emeritus Professor in the Department of Medicine. Keimowitz, who has been a member of the SMHS faculty since 1970, served as dean from 1989 to 1998 and has since retired from his practice in internal medicine. Akman invited Keimowitz to the stage to accept the school's deep appreciation "for the thousands of alumni you have admitted to GW medical school, taught, and mentored, and for your decades of leadership and outstanding patient care."
Raymond Lucas, M.D., associate dean for faculty affairs and professional development at SMHS, took the stage to honor the school's newest Emeritus faculty members: Charles B. Abrams, M.D., Associate Clinical Professor Emeritus in the Department of Medicine; Robert Alan Ball, M.D., Clinical Professor Emeritus in the Department of Urology; Edward Michael Connor Jr., M.D., M.B.E., Professor Emeritus in the Department of Pediatrics and in Microbiology, Immunology, and Tropical Medicine; Martin R. Eichelberger, M.D., Professor Emeritus in the Department of Surgery and in Pediatrics; Richard Miles Kaufman, M.D., Clinical Professor Emeritus in the Department of Medicine; John F. Kelly Jr., M.D., Professor Emeritus in the Department of Neurology; Karen S. Kuehl, M.D., M.P.H., Professor Emeritus in the Department of Pediatrics; Jerome A. Paulson, M.D., Professor Emeritus in the Department of Pediatrics and in Environmental and Occupational Health; Jerrold M. Post, M.D., Professor Emeritus in the Department of Psychiatry and Behavioral Sciences; and Roger Norris Ruckman, M.D., Professor Emeritus in the Department of Pediatrics.
"Your path to physician-hood began with an emphasis on professionalism and humanism at your white coat ceremony," said Akman, addressing the graduates before leading them in reciting the Hippocratic Oath. "Now you have a much better understanding of how essential the values you swore to uphold on that day as your identities as physicians. With the recitation of the Hippocratic Oath, we come full circle." Service, altruism, integrity, and courage, "the career you have chosen demands that you embody these values," said Akman. First, "service and altruism are inextricably linked to the core of your calling to medicine. Integrity is the foundation for all we do, it is the cornerstone of the doctor-patient relationship, and, well, courage is not a word you hear often in medical school, but it is fundamental to our identity as physicians."
The graduates then recited the Hippocratic Oath, as they did at their white coat ceremony four years ago; but this time, they did it as physicians.