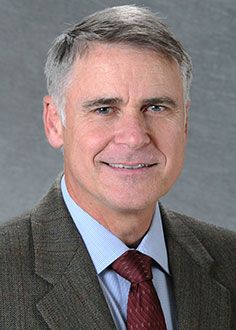 The George Washington University School of Medicine and Health Sciences (SMHS) is pleased to announce that Joseph Bocchino, Ed.D., MBA, has been named Senior Associate Dean for Health Sciences. In this role, Bocchino will oversee the day-to-day programmatic activities of the Health Sciences programs and implement strategic initiatives that will support the continued expansion and success of the health sciences at the George Washington University. Bocchino has been serving as the interim senior associate dean for Health Sciences since January 2012.
"Joe is a true leader within the School of Medicine and Health Sciences. He has been a part of the University for more than a decade and has helped to innovate and develop multiple programs into economically sustainable educational opportunities," said Jeffrey S. Akman, M.D., Interim Vice President for Health Affairs and Dean, School of Medicine and Health Sciences. "I know that Joe's vast expertise and strong background make him the perfect choice for this role."
Bocchino has held multiple positions within SMHS. Prior to taking on the role as interim senior associate dean for Health Sciences, Bocchino served as associate professor and chair of the Department of Clinical Research and Leadership — providing formative direction since the department's inception in 2005. He also has served as program director for the Clinical Research Administration Programs, the Graduate Regulatory Affairs Programs, the Clinical and Translational Research Programs, and the Clinical Management and Leadership Undergraduate Programs.
Some of his most notable accomplishments include developing and introducing the Graduate Regulatory Affairs Programs in collaboration with the FDA, overseeing the development of  graduate programs in clinical and translational research to meet the requirements of the Clinical Translational Science Award (CTSA) held by Children's National Medical Center in collaboration with GW, and providing leadership and management that has enhanced academic rigor and relevance of the health sciences programs.  
Bocchino continues to teach courses within the School of Medicine and Health Sciences and the Graduate School of Education and Human Development. He also serves on the health sciences curriculum committee and consults with departments within SMHS regarding organizational process and leadership development. He is a key component director for the CTSA and will continue to serve as the co-director for Research Education, Training, and Career Development for the CTSA.
Prior to joining SMHS, Bocchino served as a board member, vice president, and executive advisor at Otsuka America Pharmaceutical, Inc. and served as a vice president at the pharmaceutical company, Marion Merrell Dow.  Bocchino has served as an executive coach, working with senior management professionals to develop cognitive processing and learning skills. He also provides executive consultation on strategic change initiatives. He is a member of multiple professional organizations, including the Academy of Management, the International Leadership Association, the Association of Clinical Research Professionals, the Regulatory Affairs Professional Society, and the Society for Clinical and Translational Science.
Bocchino received a Bachelor of Business Administration (BBA) at the Florida International University, he earned a Master of Business Administration (MBA) at Xavier University, and he earned a Doctor of Education (Ed.D.) at the George Washington University.
Bocchino assumed the role of Senior Associate Dean for Health Sciences on Dec. 2, 2012.