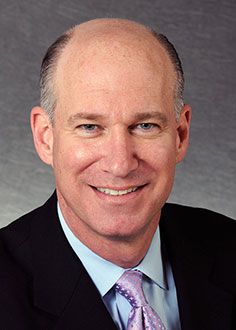 Jeffrey S. Akman, M.D., has been chosen to serve as the vice president for health affairs and the dean of the George Washington University School of Medicine and Health Sciences (SMHS). He will lead the academic and research mission of the SMHS and will be named the Walter A. Bloedorn Chair of Administrative Medicine.
In 2010, Dr. Akman was named interim vice president for health affairs and dean, and has served as a liaison between the university and its clinical partners, including the GW Medical Faculty Associates, the George Washington University Hospital and Children's National Medical Center. He was instrumental in the restructuring of the GW Medical Center and successfully reorganized the administrative leadership at SMHS.
"Dr. Akman has shown extraordinary leadership in overseeing the transformation of the medical center, guiding SMHS through a period of transition, and strengthening the school's relationships with its clinical partners," said GW President Steven Knapp. "I have every confidence that his skills, his wisdom, and his proven ability to build consensus will serve the school well as it continues to follow the course he has so ably charted."
With an eye on the future, Dr. Akman will build on the school's tradition of outstanding clinical education; encourage the growth of research, programmatic excellence and faculty recruitments; enhance interdisciplinary collaboration within SMHS and across campus; expand opportunities for students through increased scholarship support; increase efforts to encourage diversity among the student body and faculty; and work to expand global relationships. He is committed to working collaboratively to support strategic growth strategies of SMHS's clinical and academic partners. Dr. Akman will also lead a strategic planning process that will reflect and support the larger objectives of the university, including a historic fund raising campaign for key priorities in SMHS.
"Speaking on behalf of the clinical faculty, we have an enormous amount of confidence in Jeff's ability to lead SMHS at this time. His honesty, openness and overall leadership style have led to the successful transition of the Medical Center, and we look forward to working with him to achieve great things," said Alan Wasserman, M.D., Eugene Meyer Professor and chair of the Department of Medicine at SMHS, and chair of the Board of Trustees and president of the GW Medical Faculty Associates. "We believe he is the singular optimal choice for this position at this time and applaud the administration of the university for this appointment."
The hospital's CEO echoed Dr. Wasserman's view.
"The appointment of Jeff Akman as the dean of SMHS solidifies a strong working relationship between the school and the hospital," said Barry Wolfman, CEO and Managing Director of GW Hospital. "Jeff is a strong consensus builder on this campus, dedicated to the GW community and is committed to defining the future of medicine here at GW."
From 2000 to 2010, Dr. Akman served as the Leon M. Yochelson Professor and chair of the GW Department of Psychiatry and Behavioral Sciences. He led the financial turnaround and academic growth of the department, recruiting top faculty, and was central to the development of its nationally recognized medical student education and psychiatry residency programs. From 1991 to 2000, Dr. Akman served as assistant dean for student educational policies in SMHS before being appointed associate dean for student and faculty development and policies. In those capacities, he was a significant contributor to successes and major milestones within the school. A highly regarded educator, he has received multiple awards related to teaching and humanism in medicine. Dr. Akman graduated from Duke University (1977), the GW M.D. program (1981) and the GW psychiatry residency program (1985), where he served as chief resident.
"It's an honor and a privilege to be named dean of the GW School of Medicine and Health Sciences," said Dr. Akman. "As a double alumnus and member of the faculty for more than 25 years, I have a deep commitment to this institution and its multiple missions of healing, learning, discovery and service. I look forward to working with the entire university community and our clinical partners in moving SMHS to a new level of greatness."
Dr. Akman is a nationally recognized expert on topics related to the neuropsychiatric and psychological aspects of HIV/AIDS. He has held multiple leadership positions in professional and health care organizations, including having served as president of the National Lesbian and Gay Health Association. He is a distinguished fellow of the American Psychiatric Association, an elected member of the American College of Psychiatrists, and a member of the Alpha Omega Alpha Honor Medical Society. A recipient of the GW Distinguished Alumni Service Award, Dr. Akman has an extensive history of university and community service. He currently serves on District of Columbia Mayor Vincent Gray's Commission on HIV/AIDS and has served on numerous nonprofit boards of directors.
Dr. Akman will lead a faculty of 3,298, a student enrollment of 1,737, and 431 medical residents and fellows. SMHS counts more than 19,600 alumni, some 4,000 of whom have studied with Dr. Akman.