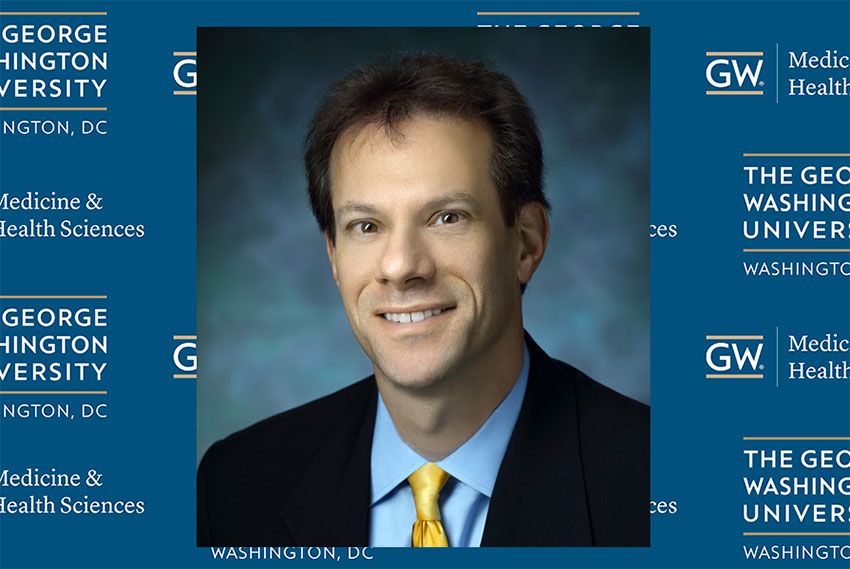 Announcements (March 7, 2022) —The George Washington University (GW) School of Medicine and Health Sciences (SMHS) and the GW Medical Faculty Associates (GW MFA) are pleased to announce the appointment of Robert Sterling, MD, FAAOS, FAOA, as the new chair of GW's Department of Orthopaedic Surgery. In this role, Sterling will lead the further development of the department's clinical, educational, and academic missions.
"Dr. Sterling is a nationally renowned orthopaedic surgeon who is committed to positive outcomes for his patients and is dedicated to training the next generation of orthopaedic surgeons," said Barbara Lee Bass, MD, FACS, vice president for health affairs, dean of GW SMHS, and CEO of the GW MFA. "We are very pleased to welcome Dr. Sterling, and his proven track record of excellence in clinical care, educational scholarship, and health outcomes and quality research, to the GW academic medical community."
Bass added that the GW Department of Orthopaedic Surgery is known for its high standards of patient care and research and for its well-respected residency program. "Dr. Sterling will bring visionary leadership to the department. He will further develop the faculty's depth across multiple specialty areas in orthopaedic surgery and will establish a destination site for complex orthopaedic care in the nation's capital here are GW," she said.
Anton N. Sidawy, MD, MPH, FACS, professor and Lewis B. Saltz Chair of the Department of Surgery at GW SMHS and Chief Physician Executive of GW MFA, echoed Bass's enthusiasm about Sterling's appointment. "We are thrilled to have Dr. Sterling join the leadership team at GW. Dr. Sterling's extensive experience and commitment to excellence in training medical students and residents, national leadership in quality and outcomes research, and personal performance as a superb surgeon will enable him to develop and enhance the department, positioning it for further success in all academic missions."
Sterling joins GW from Johns Hopkins University School of Medicine, where he most recently served as vice chair for quality, safety, and service. He also holds the position of director of the adult hip and knee replacement fellowship in the Department of Orthopaedic Surgery.  
A nationally recognized leader in hip and knee replacement surgery, Sterling has widely published in the Journal of Bone and Joint Surgery, The Journal of Arthroplasty, and the Journal of Frailty & Aging, among others. He is an authority on optimization of patients for joint replacement surgery along the continuum of care, including clinical pathways and educational strategies. He has served on national standard setting committees for clinical care and for establishing education and training standards for orthopaedic residents and fellows.
"GW Hospital has a longstanding commitment to excellence in orthopaedic care. We are pleased to welcome the expertise and leadership of Dr. Sterling to our orthopaedic team as we continue this commitment into the future," said Kimberly Russo, CEO of GW Hospital. "We are confident that he will help us continue GW Hospital's legacy of advancing orthopaedic care and outcomes in order to best serve our community."
Sterling earned his medical degree at Temple University School of Medicine. He completed his orthopaedic surgery residency at the University of Maryland Medical Center (UMMC), specialized fellowship training in orthopaedic traumatology at the UMMC R. Adams Cowley Shock Trauma Center, and a fellowship in joint replacement surgery at the Nuffield Orthopaedic Centre in Oxford, England before joining the faculty at UMMC. He joined the faculty at Johns Hopkins University in 2014.
"I am excited and honored for the opportunity to join GW and lead this dynamic group of talented surgeons and clinicians. As chair of orthopaedic surgery, my vision is to build upon the foundation of excellence: growing the department, providing patients with the highest quality care and best possible outcomes, and educating the next generation of orthopaedic surgeons," said Sterling.   
Sterling will begin in this role at GW on July 1, 2022.