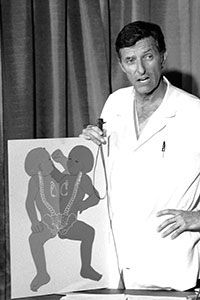 Renowned GW SMHS faculty member and leader in pediatric surgery, Judson G. Randolph, MD, passed away on May 17, 2015 in Nashville, TN at the age of 87. He was born July 19, 1927, in Macon, Ga., and grew up in Nashville. After Navy service in 1945 and 1946, he graduated in 1950 from Vanderbilt University in Nashville and in 1953 from its medical school. He trained in surgery at Massachusetts General Hospital and at Boston Children's Hospital and was a faculty member at Harvard Medical School before coming to Washington. Dr. Randolph joined the GW faculty in 1963 serving as professor of surgery and pediatrics and as Surgeon-in-Chief at Children's National Medical Center until his retirement over 25 years later.
 "Dr. Randolph was one of the giants of American Surgery.  He trained over 40 fellows in Pediatric Surgery many of whom assumed leadership positions in prestigious institutions around the country.  In addition, he introduced hundreds of surgical residents to Pediatric Surgery and inspired them to pursue academic careers of their own; I was one of those residents. He taught me many important lessons that influenced my career. He was a spectacular surgeon and mentor and a leader that always put his patients first. He will certainly be missed by many of his friends, colleagues, and trainees," said Anton Sidawy, M.D., M.P.H., Lewis B. Saltz Chair of the Department of Surgery and Professor of Surgery.
Dr. Randolph was a former chairman of the American Academy of Pediatrics' surgical section, president of the American Pediatric Surgical Association and a founder of the American Board of Surgery's pediatric committee. He wrote about 200 publications on subjects such as endocrine disorders and liver transplants and lectured around the world.
His wife of 49 years, Comfort Adams Randolph, died in 2001. Survivors include five children, Somers Randolph of Santa Fe, N.M., Garrett Randolph of Belfast, Maine, Judson G. Randolph Jr. of Seattle, Adam Randolph of Sewanee, Tenn., and Comfort Belbas of Edina, Minn.; and eight grandchildren.
The Judson G. Randolph Fellowship in Pediatric Surgery was established at Children's National upon Dr. Randolph's retirement to honor his outstanding commitment to children's healthcare and his dedication to upholding the standards of excellence in surgical care, teaching, and mentorship.
Dr. Randolph's full obituary appeared in the Washington Post.
A memorial celebration will be held in Washington, D.C., at Children's National in the Children's National Auditorium on Saturday, August 22, 2015, at 2 pm, to be followed by a reception.