GW makes a historic commitment in the fight against cancer, holding a ribbon-cutting ceremony and grand opening celebration for the new GW Cancer Center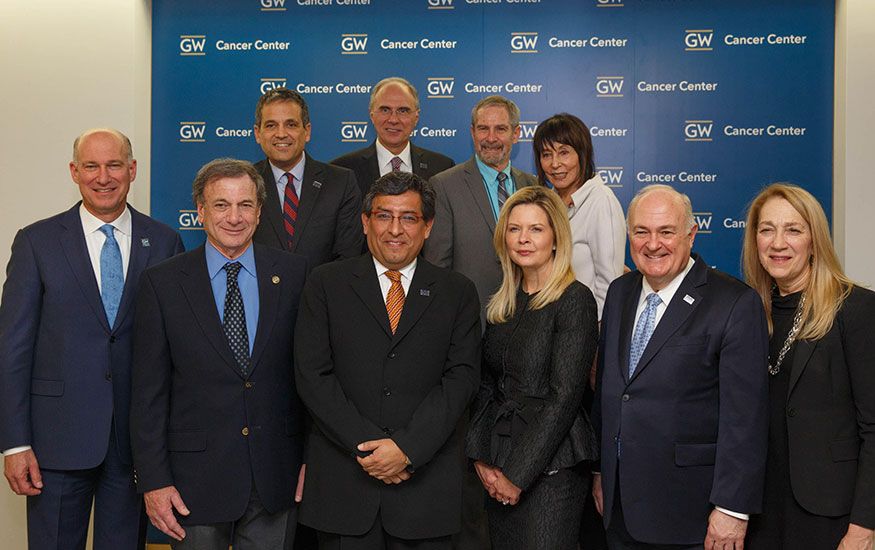 WASHINGTON (Dec. 8, 2016) — The George Washington University (GW) formally launched the GW Cancer Center with a ribbon-cutting and grand opening celebration the evening of Wednesday, Dec. 7.
The celebration took place on the eighth floor of the Science and Engineering Hall, where the new GW Cancer Center offices and lab spaces are located. The event signals a historic commitment from GW in the fight against cancer and the commitment to finding a cure.
"Today is the beginning of a challenging, but highly rewarding journey," said Eduardo Sotomayor, M.D., the inaugural director of the GW Cancer Center. "Here, we will drive innovative research, personalized patient care, and cancer policy in the nation's capital. We are ready to achieve great things here at GW."
Speakers at the grand opening celebration included Steven S. Knapp, Ph.D., president of GW, Douglas R. Lowy, M.D., acting director of the National Cancer Institute, and Ellen V. Sigal, Ph.D., chairperson and founder of Friends of Cancer Research. In attendance were community leaders, cancer physicians and researchers, alumni, students, and friends.
The vision of the GW Cancer Center is to "drive innovative research, personalized patient care, and cancer policy in the nation's capital," and its charge is:
To integrate under the umbrella of the GW Cancer Center all cancer research, clinical cancer care, and cancer control/prevention and outreach initiatives at GW, GW Hospital, the GW Medical Faculty Associates, the Milken Institute School of Public Health at GW, and affiliated health systems
To build a premier cancer center that excels in cancer research, clinical investigations, cancer prevention/control and policy as well as education and patient outreach
To apply for a Cancer Center Support Grant and achieve National Cancer Institute designation within the decade
"We have a bold, but humble approach to cancer care and research: to put patients first," said Sotomayor. "We at the GW Cancer Center are looking forward to partnering with you."