The Cancer Preventorium – a cancer prevention and control program combining outreach, health education, cancer screening, research and clinical trials recruitment to the local, national and international Latin American community – will now live at GW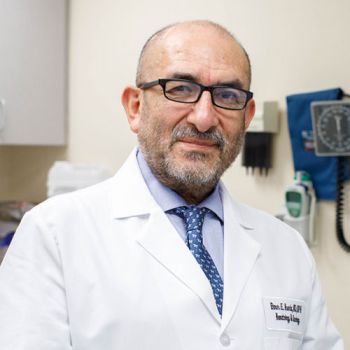 WASHINGTON (July 9, 2020) — Recognized cancer prevention and control expert Elmer E. Huerta, MD, MPH, will serve as the director of the Cancer Preventorium at the George Washington University (GW) Cancer Center and as professor of medicine at the GW School of Medicine and Health Sciences. 
Huerta is not only an internationally recognized medical oncologist and epidemiologist, but one of the most trusted voices in the Latin American community when it comes to cancer prevention and control. Over the last 25 years, he has helped nearly 40,000 Washington, D.C.-area patients through in-clinic screening and education, and hundreds of thousands more through his syndicated radio program and other outreach efforts. He will continue to grow and expand his proven model for cancer control and prevention at the GW Cancer Center. The Cancer Preventorium has three main areas of focus:
Education and outreach: Patients receive health education trough "The Community Clinic of the Air", a one-hour, daily health education radio program on Radio America;
Cancer screening and education: Patients can get screened and receive educational sessions about their current or past cancer diagnosis in the clinic or through telemedicine services;  and
Patient navigation: Patients receive support navigating the health care system.
"When I was working as a medical oncologist in Peru, many of my patients were dying because they were coming in with cancers that were too advanced," said Huerta. "I realized their cancers were completely preventable, but my patients were not well-informed, they didn't know basic facts about cancer prevention or their health, leading to late diagnosis. That's when I began training in cancer prevention and control and when I started disseminating life-saving messages through the media." 
Huerta has over 30 years of patient care and educational experience. He most recently served as director of the Cancer Preventorium at the Washington Cancer Institute at MedStar Washington Hospital Center, which he founded in 1994. Over the years, thousands of patients have come to see him about cancer prevention. Huerta previously served as a volunteer physician for the nonprofit Community Clinic Inc. Health Care for the Homeless and was a faculty member at the National Cancer Institute in Lima, Peru. 
He will be bringing his "community clinic of the air," Radio America, to the GW Cancer Center. This daily one-hour radio program produced and hosted by Huerta has informed and educated Latin Americans in the Washington, D.C., metropolitan area on important health issues for nearly three decades. Additionally, Huerta will continue his role as a prominent media figure on Spanish-language radio and television, reaching Spanish-speaking people in the U.S. and Latin America. He is a senior medical contributor for CNN en Español and hosts the most popular Spanish-language COVID-19 podcast in the U.S.  
Huerta has done extensive research on community cancer control in Latin American populations and plans to expand this research through clinical trials recruitment and retention at the GW Cancer Center. After finding that African American patients had advanced breast and colorectal cancers at a higher than the national average, Huerta demonstrated a startling fact: 99% of those patients had health insurance and lived in Wards 5, 7 and 8. Collaborating with his colleagues at the GW Cancer Center, he will bring his 'cancer in the neighborhood' model to GW. 
Huerta serves as a board member of Health Care Services for the Health and Medicine Division of The National Academy of Sciences, Engineering and Medicine, and Board Emeritus for Research!America and the Cancer Prevention Foundation. He is a founding member of Nueva Vida a Cancer support organization for Latinos and the Intercultural Cancer Council and National Hispanic Medical Association. Additionally, he is a member of the American Society of Clinical Oncology, the American Association of Cancer Research, the National Association of Science Writers, American Society of Preventative Oncology, the American Public Health Association, and the Peruvian Society of Cancerology. 
He was previously national president of the American Cancer Society and was appointed by President Bill Clinton to serve as a member of the National Cancer Advisory Board from 1998-2004. Some of his awards include the Broadcast Leadership Award by the Board of Sponsors of the National Breast Cancer Awareness Month, the Leadership Award by the Latino Caucus of the American Public Health, the Oscar E. Edwards Memorial Award for Volunteerism and Community Service by the American College of Physicians-American Society of Internal Medicine, White House Champion of Change in Public Health and Prevention, and the Spirit of Life Foundation Humanitarian Award and the Innovations in Prevention Award by the Secretary of the Department of Health and Human Services. 
Huerta received his Doctor of Medicine from the Universidad Nacional Mayor de San Marcos in Lima, Peru, and his Masters of Public Health from The Johns Hopkins Bloomberg School of Public Health in Baltimore. He completed internal medicine and medical oncology residency training at the National Cancer Institute and Universidad Cayetano Heredia in Lima, Peru, and at St. Agnes Hospital in Baltimore. He completed several fellowship programs, including fellowships in pediatric oncology and research at the National Cancer Institute in Lima, Peru; a post-doctoral fellowship in adult leukemia services at The Johns Hopkins Oncology Center in Baltimore; and a cancer prevention and control fellowship at the National Cancer Institute in Bethesda, Maryland. 
Huerta assumed his role in March 2020.