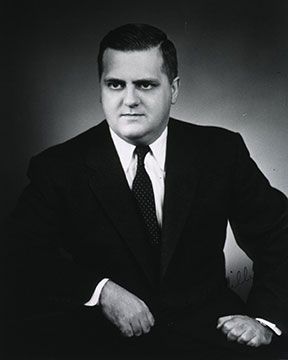 George Washington University School of Medicine and Health Sciences (SMHS) alumna Diane Perrine Luckmann, M.D. '59, recently made a significant bequest to endow the Frank N. Miller, M.D. Distinguished Teaching Professorship. Miller, a long-time faculty member, was one of the iconic figures in GW's medical history. He passed away April 24, 2013 after a long illness. He was a double alumnus, B.S. '43 and M.D. '48, and professor emeritus of pathology. He served the SMHS community for more than 40 years, shaping the future careers of generations of medical students, including Luckmann. In his role as dean of students and curricular affairs from 1966 to 1973, Miller paved the way for women to enter medical school, markedly increasing female enrollment at SMHS during those years.
"My enthusiasm for teaching is inspired, not only by the incredibly well chosen and talented pupils, but by the outstanding physicians who taught me at GW in the 1950s," Luckmann recalled during a visit to campus for her 50th reunion.
A specialist in anesthesiology, emergency medicine, family practice, and pain management, Luckmann has spent years sharing her skills and knowledge, both by providing care in numerous foreign countries and through her teaching at the University of California San Francisco. She provided care to the elderly urban poor in Chinatown. She has worked with Mother Teresa in India, assisted the Flying Doctors in Kenya, and provided trauma care in Papua New Guinea.
"As a professor, mentor, and friend, Dr. Miller was one of the most beloved faculty members in the history of the school," said Jeffrey S. Akman, M.D. '81, G.M.E. '85, vice president for health affairs and dean of SMHS. "Thanks to Diane Luckmann's incredibly generous gift, his legacy will live on through the Frank N. Miller, M.D. Distinguished Teaching Professorship, supporting the school's tradition of distinguished teaching."