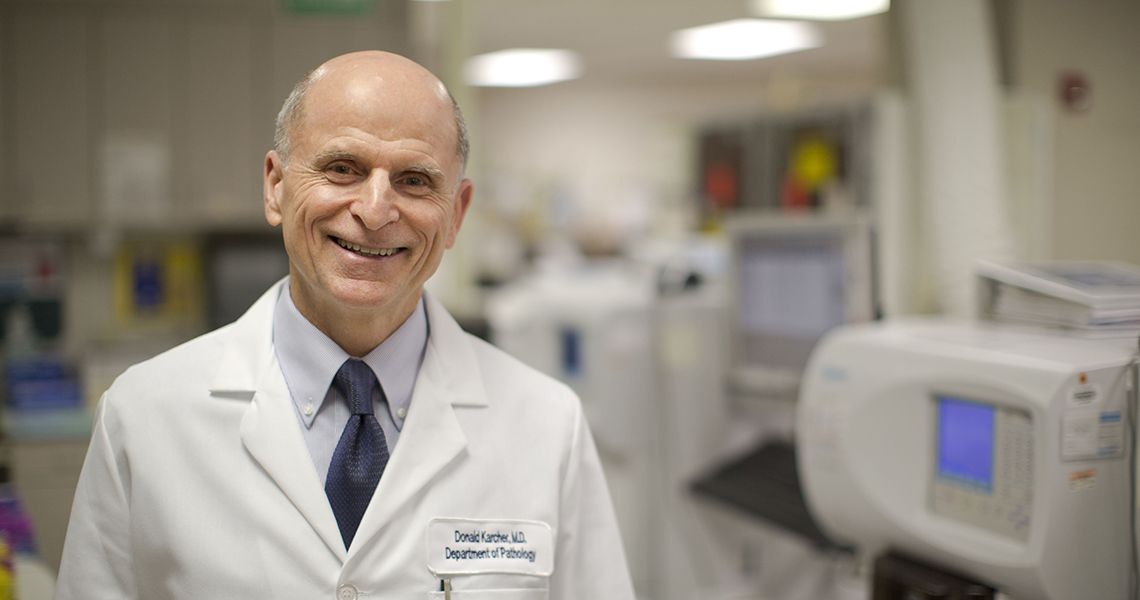 George Washington University School of Medicine and Health Sciences Professor of Pathology Donald S. Karcher, MD, FCAP, was recently elected to serve as the 38th President of the College of American Pathologists (CAP). 
In a statement announcing his appointment, Karcher, whose term as president will run from 2023 to 2025, said he plans to advocate for what pathologists need to practice successfully and to increase the positive impact the organization has in clinical laboratories and pathology practices. 
"As pathologists we all share the same challenges, celebrate the same victories, and deal with the same defeats," said Karcher, who joined the GW faculty in 1984 and served as chair of the Department of Pathology from 1999 to 2019. "I feel there is special value in having one organization where all pathologists can come together to advocate, learn, and work to benefit our profession and our patients. I strongly believe the CAP is that organization."
Karcher also will work toward removing as many health disparities as possible and helping under-resourced pathologists and clinical laboratories around the world get access to what the CAP has to offer. 
He added, "I also want to see the CAP complete its journey to full diversity and equity in everything we do."
Founded in 1946, CAP is the largest organization of board-certified pathologists and physicians who specialize in diagnostic pathology and laboratory medicine in the world. A preeminent provider of laboratory accreditation and proficiency testing programs, CAP played an active role during the COVID-19 pandemic. 
A longtime CAP member, Karcher served as president-elect from 2021 to 2023, and previously was a member on the Board of Governors and chaired the Council on Education, the Council on Government and Professional Affairs, the Pathologist Pipeline Ad Hoc Committee, and the Value-Based Care Strategy Steering Group. Karcher also served as president of the Association of Pathology Chairs, an organization of academic pathology departments in the U.S. and Canada, from 2014 to 2016.