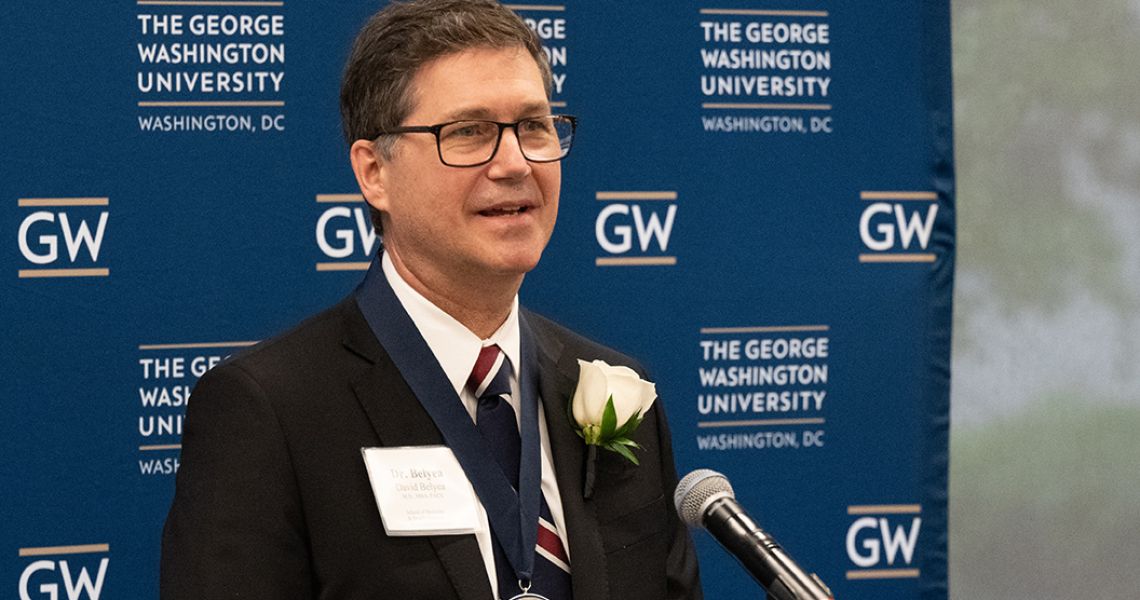 ANNOUNCEMENT (June 21, 2023) — The George Washington University (GW) School of Medicine and Health Sciences (SMHS) and the GW Medical Faculty Associates (GW MFA) are pleased to announce the appointment of Professor David A. Belyea, MD, MBA, FAAO, FACS, as the fifth chair of the GW Department of Ophthalmology. With this appointment, Belyea becomes the inaugural holder of the endowed Daniel P. Shepard, MD, and Dennis Shepard, MD, Chair of the Department of Ophthalmology. Previously, Belyea served as the interim chair of the department since January 2021.
"I am most grateful to Dr. Belyea for his leadership of the Department of Ophthalmology in an interim capacity over the last two challenging years – and I am pleased that he has now joined us as the leader to guide the future development of this department. Dr. Belyea's vision for the department and his longstanding demonstrated commitment to excellence in guiding the clinical, educational, and research missions of the department's faculty, are the skills and qualities that will propel him as a great leader for this department," said Barbara Lee Bass, MD, professor of surgery, Walter A. Bloedorn Chair of Administrative Medicine, vice president for health affairs at GW, dean of GW SMHS, and CEO of the GW MFA.
As chair, Belyea will lead the department's faculty, residents, and staff to promote clinical excellence in an academic setting while supporting outstanding education and training for GW's learners and overseeing meaningful research to improve care. He will also guide the recruitment and professional development of faculty, as well as the data-driven clinical operations in the department.
Belyea joined GW in 2000, as an assistant professor and director of the Glaucoma Service. Since then, he has served in many roles with leadership responsibility including as program director of the residency in ophthalmology since 2019, as founder of the glaucoma fellowship, and as vice chair of the department of Ophthalmology - while rising through the academic ranks to Professor of Ophthalmology in 2022.
Before joining GW, Belyea led a distinguished career as a physician in the US Army Medical Corps. That service included assignments as assistant director of the U.S. Army Health Clinic, Herlong, California; assistant chief of Ophthalmology at Womack Army Medical Center, North Carolina; site ophthalmology residency program director for the University of North Carolina (UNC), Chapel Hill; and director of the Glaucoma Service at Walter Reed Army Medical Center. In addition to GW, Belyea has also held faculty appointments at UNC, at Walter Reed Army Medical Center, the University of Vermont College of Medicine, and he continues to serve on the faculty of the Department of Surgery at the Uniformed Services University of Health Sciences, F. Edward Hebert School of Medicine. Belyea retired as a U.S. Army Colonel on Dec. 31, 2017, receiving an Honorable Discharge after 32 years of Active and Reserve service.
Belyea's military service took him to many hospital facilities around the globe with key leadership responsibilities are every site, including Madigan Army Medical Center, Tacoma, Washington; U.S. Army Landstuhl Regional Medical Center in Landstuhl, Germany; a total of four deployments for Operation Iraqi Freedom and Operation Enduring Freedom with service at Camp Liberty in Iraq; and Operation Inherent Resolve at Camp Arifjan, Kuwait.
He has earned many military awards and honors for his service to the U.S. Army including the Legion of Merit, the U.S. Army Surgeon General "A" Proficiency Designator in Ophthalmology (Top 5% of Army Medical Officers awarded this distinction), induction into The Order of Military Medical Merit, and two Combat Service Identification Badges.
"As an innovative and motivating leader, Dr. Belyea is committed to high-quality care for our patients. We are pleased that he has taken on the role of chair and are confident that he will lead the department to academic and clinical preeminence," said Christopher T. Smedley, MPM, chief clinical affairs and strategy officer, the GW MFA.
His clinical research interests include application of novel technologies procedures for cataracts, glaucoma and surgical treatment for these conditions. He has published widely on these topics and on the use of simulation in surgical procedural training. A gifted and dedicated educator, Belyea has received nine ophthalmology teaching awards.
Belyea completed his BA at the University of Maine, and earned his MD at Tufts University School of Medicine. He completed an internship and ophthalmology residency at Letterman Army Medical Center, Presidio of San Francisco, California followed by a glaucoma fellowship training at California Pacific Medical Center, San Francisco, California.
"In the Proverbs IV: 25-26 passage, 'Let your eyes look straight ahead; fix your gaze directly before you. Give careful thought to the paths for your feet and be steadfast in all your ways,' it suggests that as we seek wisdom, find it, embrace it and make a daily study of it. I believe that wisdom will guide us, stabilize us and protect us while we work together in these challenging times and within medical environments. That wisdom will allow us all to best serve our patients and educate our staff, students, and doctors. I am grateful to my colleagues for their partnership and look forward to working with them to see, find, and embrace wisdom as we build the future of our department, with our patients at the center of all we do," said Belyea.
Belyea assumed the role of Chair of the Department of Ophthalmology on March 1, 2023 and was installed as the Shepard Chair on April 28, 2023.