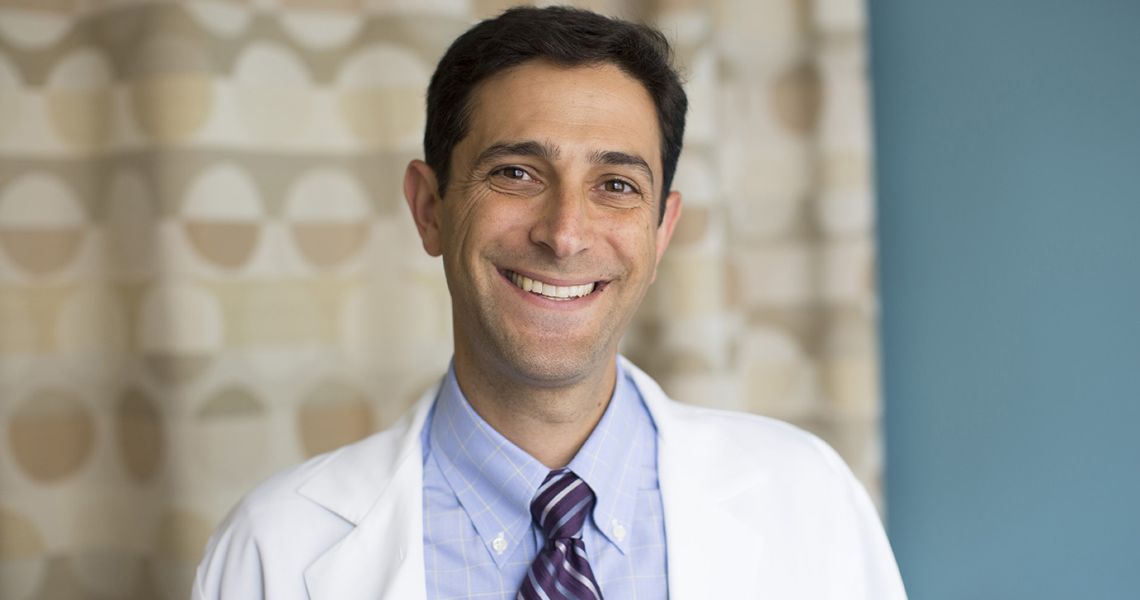 ANNOUNCEMENT (June 23, 2023) — The GW School of Medicine and Health Sciences (GW SMHS) and the GW Medical Faculty Associates (GW MFA) are pleased to announce that Daniel Stein, MD, MHS, will serve as the interim chair of the GW Department of Urology. Stein currently serves as the residency program director, as an assistant professor of Urology and leads the Trauma and Reconstructive Urology program in the department. He joined the GW faculty in 2015. 
"We are grateful to Dr. Stein for taking on this responsibility during this time of transition. His commitment to outstanding care of patients coupled to the relationships that he has with the faculty, staff, and students in the Department of Urology, have prepared him for this important leadership role at this time," said Barbara Bass, MD, FACS, professor of surgery, Walter A. Bloedorn Chair of Administrative Medicine, Vice President for Health Affairs, Dean of the GW School of Medicine and Health Sciences, CEO of the GW Medical Faculty Associates.
As interim chair, Stein will lead the department's activities as the GW academic medical enterprise continues its journey to pre-eminence as the academic health care provider in the nation's capital. As part of the leadership team of the GW MFA and SMHS, he will be responsible for growing the clinical and academic footprint of the department and bolstering the department's local, national, and global reputation.
Stein's clinical expertise is in genitourinary trauma and reconstruction, as well as the treatment of neurogenic bladder conditions secondary to neurologic disorders. He has developed interdisciplinary programs to treat many of these conditions. His focus of research scholarship is in outcomes of surgical care and quality of life assessment and implementation within reconstructive urology and urinary incontinence. Stein is a member of the American Urologic Association and the Society of Genitourinary Reconstructive Surgeons (GURS).
Stein earned his BS from UCLA, a MHS from the Johns Hopkins Bloomberg School of Public Health, and his MD from the UCLA David Geffen School of Medicine. He completed his residency in Urology at Northwestern School of Medicine followed by a fellowship in Genitourinary Reconstruction and Trauma at the Detroit Medical Center. Stein completed a research fellowship at the National Institutes of Health and has worked on access to medical therapy in South Africa during his training, an experience that launched his longstanding interest in global health which has taken him on international research and surgery trips to South Africa, Haiti, Guyana and Rwanda.
Stein has been a leader in the department's education mission since joining the faculty, having served as residency program director since 2017 and as a course director for GW's 3rd and 4th year medical students for several years.
"I am excited to take on this role and look forward to growing our department. We strive to continue to provide an integral component of the GW healthcare system from our education of students and residents to the care of our patients and our support of our colleagues throughout the School of Medicine and Health Sciences," said Stein.
The GW School of Medicine and Health Sciences is grateful to Thomas Jarrett, MD, for serving as the chair of the Department of Urology for the past 16 years. He has served GW's patients, faculty, learners and staff with a deep commitment to excellence in supporting the educational, research, and clinical missions of the organization. We thank him for his important contributions and wish him continued success in his future endeavors.