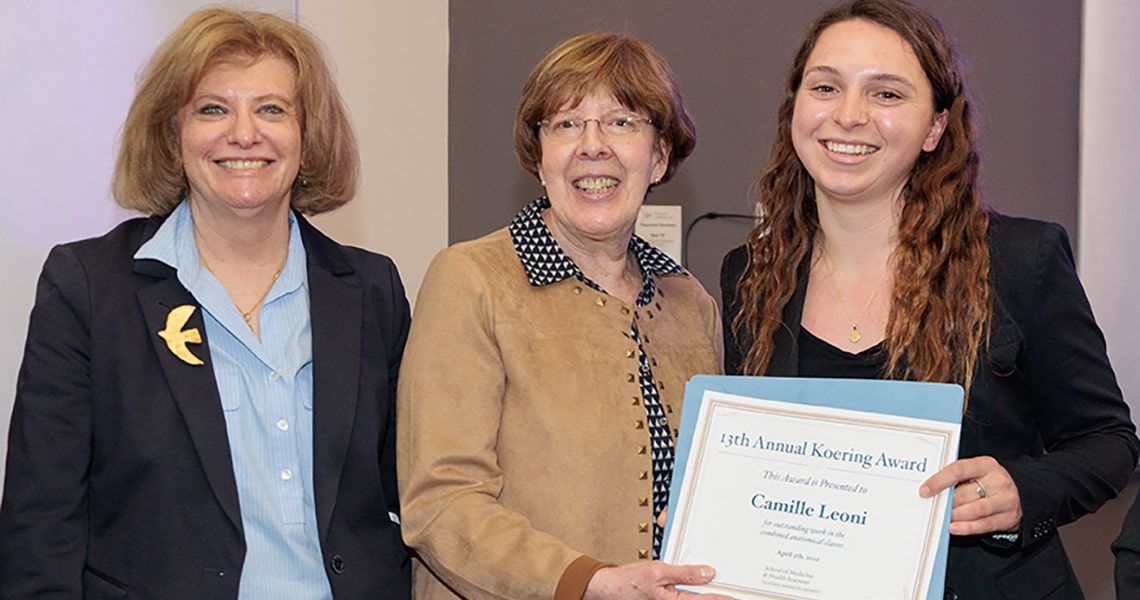 Students and faculty at the George Washington University (GW) School of Medicine and Health Sciences (SMHS) gathered for the 13th Annual Marilyn J. Koering Award, presented this year to Camille Leoni, BS '21, April 6.
The award — named in honor of Marilyn Koering, PhD, Professor Emeritus of Anatomy and Cell Biology, who taught at GW for 34 years — is presented each year to a first-year medical student for their outstanding work in the combined anatomical classes.
Kenna Peusner, PhD, professor of neurology and rehabilitation medicine at GW SMHS, led the event and welcomed this year's speakers, MaryAnn Stepp, PhD, professor of anatomy and cell biology at GW SMHS; Barbara L. Bass, MD, RESD '86, vice president for health affairs and dean of GW SMHS and CEO of The GW Medical Faculty Associates; and Susan Koering, younger sister of Marilyn Koering.
"Marilyn Koering was a devoted professor and researcher who taught more than 5,000 GW medical students during her career at GW," said Peusner. "She just loved teaching and working with students who were inquisitive and desired to learn."
A microscopic anatomy specialist, Koering earned her master's degree and PhD at the University of Wisconsin before joining the GW SMHS faculty in 1969, where she remained on faculty until her retirement in 2003.
Koering continued to teach despite a malignant melanoma diagnosis in 1986, regularly incorporating her own case history into her anatomy lectures. She was one of 30 patients to join an experimental treatment group at Mayo Clinic and was the last survivor of the group, battling cancer for 21 years before she passed in May 2008.
"I am extremely honored to receive this award in Dr. Koering"s memory," said Leoni. "Learning not only of her passion for anatomy and teaching, but also of her grit and resilience in the face of adversity is truly inspiring. I would like to thank the Koering family, our school's phenomenal anatomy instructors, and my loving family."
Stepp offered her personal reminiscence of Koering, whom she called both a dedicated research scientist and a dedicated teacher.
"I learned everything I know about histology from Marilyn, but I also learned a lot about teaching from her," she said.
Stepp described one particular trick Koering used to teach to help students find their bearings in the microscopic environment. "One of the things that students would say when they would look at the tissue section is 'I have no idea what this is. I can't tell what I'm looking at.' "
Koering, Stepp said, taught each of her classes how to establish a sense of scale when viewing slides, telling them to "look for red blood cells and then make that into their histologist's ruler." A red blood cell, Stepp explained, is about eight microns in diameter. "With that you could tell the size of anything."
She added, "It was so empowering. I have never forgotten it. I surprised my colleagues all the time by discovering that their magnifications are wrong, because automatically I look for a histologist's ruler in every section I look at."
Later, Stepp asked Koering why she didn't just tell the students to look for a round nuclei. "She got a twinkle in her eye and said, 'MaryAnn, you can find them really easily, but they have to look for a red blood cell. The more they look, the more they see."
In her remarks, Dean Bass encouraged the class to take in Stepp's anecdote. "I want to thank Dr. Stepp for those tidbits about how to look at a slide. Boy, was it fun. I hope you all will continue to find that same kind of joy of learning as you go through these next few years.
"What you're learning right now," continued Bass, "what [information] you're packing away now, is really the foundational work that will guide you forever. And I hope you will all continue to excel, knowing that you are a very special and privileged group that has this incredible opportunity."
Each year, Susan Koering travels from Minneapolis, Minnesota, to present the award honoring her older sister. For her, the award represents Marilyn Koering's success and aspirations.
"What I have to say to you," said the younger Koering, "is find a goal, stick with it, and share your energy with others, because you will find real fulfillment in that."