University of Virginia Honors Dean with Distinguished Alumna Award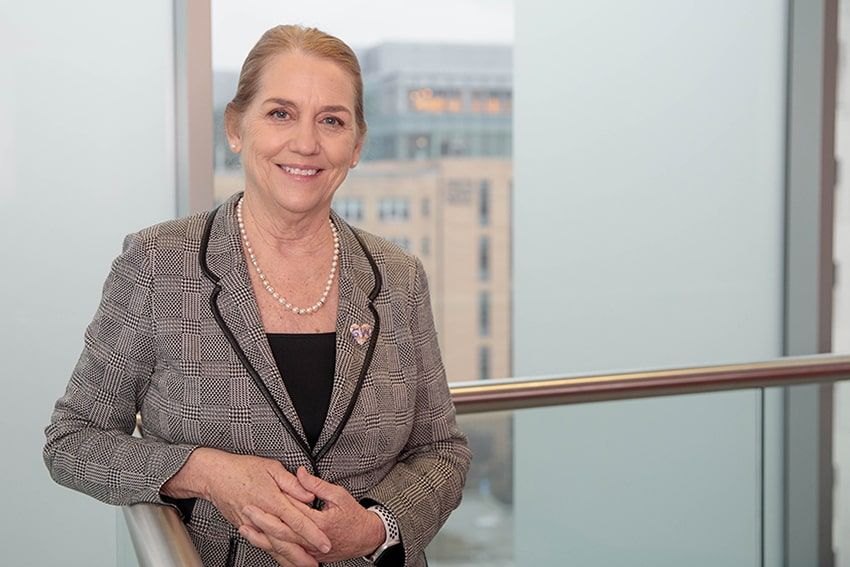 Barbara L. Bass, MD, RESD '86, vice president for health affairs and dean of the George Washington University (GW) School of Medicine and Health Sciences (SMHS) and CEO of The GW Medical Faculty Associates (GW MFA), was recently recognized by her medical school alma mater as the University of Virginia's (UVA) 2022 Distinguished Alumna. Bass was selected for the honor, established by the Maxine Platzer Lynn Women's Center, for her accomplishments as a leader in academic medicine and her efforts to improve the training of surgeons.
"It is an incredible honor to be the recipient of the University of Virginia Distinguished Alumna Award," Bass told UVA Today. "The most formative years of my professional life were spent at the UVA School of Medicine – four years of deep, immersive learning and maturation guided by superb faculty physicians, scientists, and educators. The core values of service, curiosity, integrity, and kindness were instilled in me during those important early years, coupled to the fundamentals of medical science on which to build a lifetime of learning."
Bass, a 1979 graduate of the UVA School of Medicine, is the first woman to serve as vice president for health affairs, dean of GW SMHS, and CEO of the GW MFA. She is also the first individual to hold all three positions. Soon after her arrival on the Foggy Bottom campus, Jan. 15, 2020, Bass faced the onset of the COVID-19 pandemic, followed by national outrage over the killing of George Floyd in Minneapolis, Minnesota. She responded by supporting efforts to ramp up online learning and telehealth initiatives, operationalizing COVID-19 surveillance testing on campus and across Washington, D.C., and supported a host of community service and research programs. She also partnered with the SMHS Office of Diversity and Inclusion to establish the Anti-Racism Coalition, which bolsters work to make anti-racism part of the fabric of the culture at SMHS and the GW MFA.
Among her most notable accomplishments at GW to date is the role she played in the agreement to build a $375 million, 365,000 square foot, 136-bed, full-service hospital and ambulatory pavilion in Washington, D.C.'s, Ward 8 community. Bass, along with D.C. Mayor Muriel Bowser (D), D.C. Council members and leaders from GW, Children's National Hospital, and Universal Health Services Inc., broke ground on the new facility, Cedar Hill Regional Medical Center, GW Health, in February 2022. SMHS and the GW MFA will serve as the physician and academic arm of the new hospital, which not only will serve as a regional center for all of Washington, D.C., but, most importantly, will also significantly improve access to high-quality, integrated care for the city's most medically under-served communities.
Previously, Bass served as the first chair of the Department of Surgery at Houston Methodist Hospital and professor of surgery at Weill Cornell Medicine, where she worked to build the new academic department into one of the nation's top programs. She also served as founding executive director of an education and research center for simulation-based training: the Houston Methodist Institute for Technology, Innovation, and Education. In 2017, Bass became the 98th President of the American College of Surgeons (ACS), and she received the 2013 ACS Distinguished Service Award, the college's highest honor.
UVA's Distinguished Alumna Award was established in 1991 to honor alumnae whose contributions at the highest level in their fields reflect the spirit of excellence and the ethic of service for which a UVA education stands. A selection committee chooses the alumna who has best demonstrated excellence, leadership, and an extraordinary commitment to her field and who has used her talents as a positive force for change.
Recipients of the award join a select group of advocates, public servants, journalists, athletes, researchers, and innovators who have received this honor since its inception. Past winners include Carolyn Miles, MBA, former president, CEO, Save the Children; Janet A. Napolitano, JD, former Governor of Arizona and third U.S. Secretary of Homeland Security; Rebecca Rimel, former president and CEO, Pew Charitable Trusts; Katherine A. Couric, broadcast journalist; and Vivian W. Pinn, MD, inaugural director, National Institutes of Health Office of Research on Women's Health.