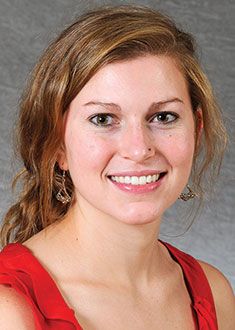 Ask medical students what is most important to them and you get similar responses— support for their education and overall well-being. That's certainly the case for Amy Waldner, a third-year medical student at the George Washington University (GW) School of Medicine and Health Sciences (SMHS), who will use her new leadership role to advocate for her fellow medical students. As of January, Waldner is the GW student representative to the Organization of Student Representatives (OSR), and she was elected as a national delegate to the OSR Administrative Board. Founded to represent medical students nationwide, the OSR ensures that students actively participate in directing their education, while working with the Association of American Medical Colleges (AAMC) to improve the nation's health. Waldner will represent students in the AAMC by providing feedback on programs and services the organization sponsors, then disseminating that information to her fellow students.
The key to success in Waldner's new role is keeping current. "I have to stay up-to-date on everything from new recommendations for applications to residency, to away rotations, to national residency matching programs, to MCAT changes," she said. Most importantly, it's about standing up for students, according to Waldner. "The AAMC makes a lot of the decisions for us," she said. "Therefore it's essential that we give the organization feedback and be vocal about programs that can be improved."  
In her new position, Waldner will work closely with Scott Schroth, M.D., M.P.H., associate dean for administration at SMHS and chair of the Group on Student Affairs (GSA) Steering Committee for the AAMC. The GSA represents the interests of medical schools and medical students within five subgroups overseen by Schroth — admissions, diversity affairs, financial aid, student affairs, and student records.
Student wellness is a major initiative that falls under the student affairs umbrella spearheaded by Schroth and Waldner. For Schroth, that means focusing on establishing student wellness programs at schools, as well as taking a holistic approach to student wellness. "We are trying to focus not just on emotional and mental health wellness, but also physical and spiritual wellness and what we call community wellness, which is a student's connection to and involvement in their local community," said Schroth. Waldner echoes Schroth's desire to ensure that students' needs outside of academics are met. "It's my job to make sure that students know what resources are available in terms of wellness," said Waldner.
Another item on Waldner's agenda is financial literacy. A major part of this initiative is conquering student debt, learning how to balance a budget, and understanding student loans.  "These are lessons that most professionals learn on their own but most medical students don't have time to," she said.
Aside from being a voice for medical students, Waldner is learning how to advocate for herself and, most importantly, her future patients. "In a sense, patients are voiceless at times. You need to know how the legislative system operates, as well as the different points of entry to advocate on behalf of your patients." Waldner doesn't want to spend four years of her life in medical school without trying to better the system. "Improving medical school education and wellness for generations behind me will eventually improve physician practice in the future and, therefore, patients will receive better care."