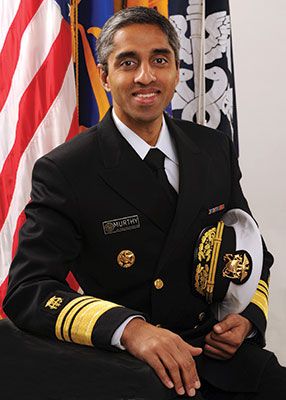 Vice Admiral Vivek H. Murthy, M.D., M.B.A., will address M.D. graduates at the George Washington University (GW) School of Medicine and Health Sciences (SMHS) M.D. Diploma Ceremony on Sunday, May 17. Nominated by President Barack Obama and confirmed as the 19th U.S. Surgeon General in Dec. 2014, Dr. Murthy is a shining example of how physicians and other health care providers can go beyond the clinic to make history. His background as a clinician, educator, public health advocate, researcher, and innovator is an inspiration to the SMHS community.
 "I am honored Dr. Murthy has accepted our invitation to be the keynote speaker at this year's M.D. Diploma Ceremony," said Jeffrey S. Akman, M.D. '81, RESD '85, Bloedorn Professor of Administrative Medicine, vice president for health affairs at GW, and dean of SMHS. "Dr. Murthy's experiences and innovative leadership in the medical and public health fields will inspire and encourage our graduates to make their own mark."
As America's Doctor, Dr. Murthy has hit the ground running to make sure every American has the information they need to keep themselves and their families safe. Dr. Murthy has focused his efforts on building cross-sector partnerships in communities across the nation to emphasize healthy eating and active living, to address tobacco-related diseases, to reduce the stigma of mental illness, to improve vaccination rates, and to make prevention and health promotion the backbone of all communities.
In addition to his role as Surgeon General, Dr. Murthy oversees the operations of the U.S. Public Health Service Commissioned Corps, comprised of approximately 6,700 uniformed health officers. Prior to his confirmation, Dr. Murthy practiced and taught at Brigham and Women's Hospital and taught at Harvard Medical School. He co-founded a clinical trials company, an HIV education organization and served as president for Doctors for America, all before his 40th birthday. His lifetime of experiences speak to his strong belief that the nation's greatest strength lies in its people. His efforts speak to improving the health of Americans by strengthening communities, which will lead to strengthening the country.
The SMHS M.D. Diploma Ceremony will be held at the Lisner Auditorium on GW's Foggy Bottom campus.
Previous M.D. Diploma Ceremony speakers include Kurt Newman, M.D., president and CEO of Children's National Health System; Floyd D. Loop, M.D., former CEO of the Cleveland Clinic; and Congresswoman Donna Christensen, M.D. '70.