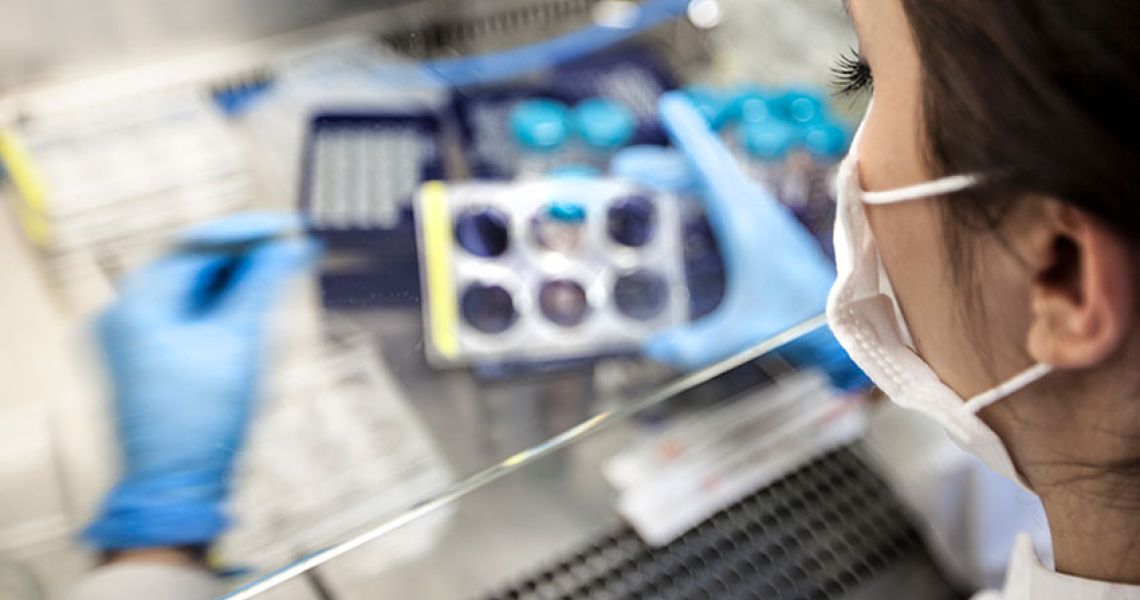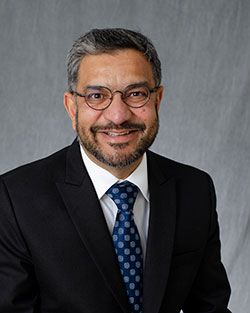 The George Washington University (GW) School of Medicine and Health Sciences (SMHS) was recently awarded a National Institutes of Health (NIH) T-32 research training grant. The five-year grant, worth nearly $1 million overall, will support the training of junior scientists who will advance research in the search for a cure for HIV.
The grant, titled "HIV Persistence, Comorbidities, and Therapeutics (HIVPeCoT-TP)," funds a two-year fellowship program featuring dual-mentored HIV research opportunities, a contemporary curriculum of courses and workshops, and career stage-specific professional development activities to contribute to the research workforce needed to address HIV persistence, co-morbidities, and therapeutics in the Washington, D.C., area and nationwide.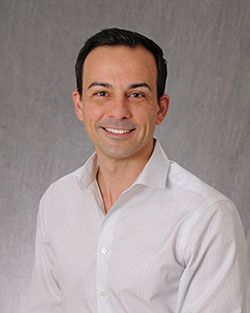 "This T-32 grant, a common training grant among the most prestigious research institutes in the country, is extremely important for GW in terms of keeping pace with the intensive research portfolio at SMHS," said Sanjay Maggirwar, PhD, MBA, professor and chair of the Department of Microbiology, Immunology, and Tropical Medicine (MITM), who serves as co-principal investigator and program director. "It allows us to up our game in terms of recruiting and training the next generation of outstanding research scientists, and it helps us have a formal program in place for training these graduate students."
Joining Maggirwar on the grant is Alberto Bosque, PhD, MBA, associate professor of MITM at SMHS, who will serve as the program's associate director oversight of training activities relating to curriculum and coursework, rotation evaluations, individual development plans, and thesis committee reports. Laura Lucs, MPA, a program manager in MITM and for the AIDS and Cancer Specimen Bank, will manage the administrative aspects of the T-32 HIVPeCoT Training Program (TP).
The grant, added Bosque, is "critical to the success of the school's efforts to train and mentor that next generation by enhancing GW's ability to recruit, retain, and support outstanding predoctoral students interested in HIV."
GW's HIVPeCoT-TP program will equip the next generation of biomedical researchers with the knowledge, analytical tools, and critical thinking skills necessary to integrate multiple fields of biology in pursuit of HIV discovery. Program fellows will prepare for leadership roles in HIV/AIDS research through an innovative training program that will provide comprehensive research, professional and technical skills, and knowledge in a multi-disciplinary, multi-mentor environment that encourages creative and self-directed exploration of learning paths relevant to the full range of research careers.
A five-member Internal Advisory committee, as well as a five-member External Advisory committee — featuring an accomplished set of HIV/AIDS investigators, T-32 directors, and Center for AIDS Research core directors — will advise Maggirwar and Bosque on the direction and success of the training program and progress of the students and offer targets for improvement.
Students selected as fellows in the program will receive individualized didactic training in HIV/AIDS, as well as focused instruction on health disparities with 13 faculty preceptors across eight departments from SMHS and the Columbian College of Arts and Sciences. In addition to bench science, the curriculum will emphasize clinical or translational research questions and career and professional development. Trainees also will identify a discovery research project guided by expert HIV researchers and clinician investigators with an eye toward publishing in high-impact research journals.
One goal for all trainees is to learn to design and conduct research on significant problems in HIV. All trainees will engage in a primary research project and regular interactions with the preceptors and advisory committees, including the clinical co-mentors. The research project forms the main venue for trainees to think through research problems with increasing independence.
The program, explains Bosque, encompasses different aspects — classes, seminars, and career development activities, as well as a mentor program in which each student has the principal investigator as a mentor and also a clinical mentor from GW. "We know that HIV has a strong clinical importance. Whatever we do in the lab, it has to be translatable to the patient. Understanding that for the students is important."
Students also study grant writing and public speaking, something Bosque says is as important to a young scientist as any lab skills.
"During this two-year program," he added, "students will be mentored to apply for other fellowships to continue training, and to present their results and their data to both the scientific and the nonscientific communities. Both extremely important to become a successful scientist"
As a result of the T-32 grant, students, as well as junior faculty members emerging as potential mentors, will not only receive outstanding research training, but they will also receive guidance and tutelage to develop their programs, acquire grant funding for their HIV/AIDS research, and become training preceptors.
The inaugural HIVPeCoT-TP fellows are Teresa Murphy, mentored by Rebecca Lynch, PhD, assistant professor of MITM at SMHS, and Carissa Stover, mentored by Bosque.
The application process for the second cohort will start in March, 2022. Students in the first and second year of their PhD program — with a thesis project in any of the three areas of HIV research including persistence, co-morbidities and treatment — will be eligible to apply for this training program. Selection of two new students will be announced in May 2022.
Learn more about the HIVPeCoT-TP.