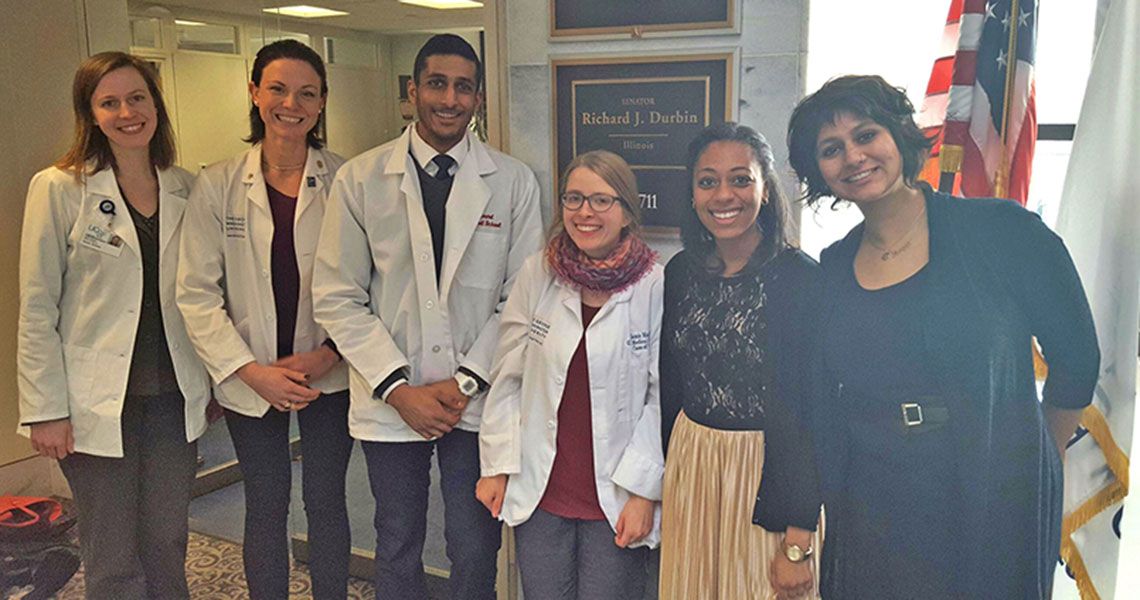 The journey to Capitol Hill for #ProtectOurPatients, an Affordable Care Act (ACA) anti-repeal campaign, really began this past summer, explained Christian Hendrix, a first-year M.D. student at the GW School of Medicine and Health Sciences (SMHS). At the time, Philando Castile and Alton Sterling had been shot and killed by police officers, and Hendrix and a few of her classmates were struggling to negotiate their need to make sense of the deaths with the rigors of a medical school curriculum.
"[We] came to class … just feeling disconnected," Hendrix said. "We had heard a lot of political talk about bigotry, witnessed divisiveness within the nation, and seen harmful action against people just because they're different from you – that was scary for me, for us, especially with the shootings back to back to back, and then trying to study."
Hendrix and her friends sought advice from Grace Henry, Ed.D. '12, director of the Office of Diversity and Inclusion, Lorenzo Norris, M.D., assistant dean for student affairs and assistant professor of psychiatry and behavioral sciences, and Yolanda Haywood, M.D., RESD '87, associate dean for diversity, inclusion, and student affairs, as well as additional members of the SMHS administration. The students decided to approach their fellow classmates. "We just expressed how we were feeling, and we had so much support from the administration and from everyone in the class, through hugs and tears and solidarity."
After that, a small group started meeting informally and eventually joined the SMHS student-led Social Justice Interest Group. They added two chapters, one for White Coats Black Lives, which aims to eliminate racial discrimination in health care, among other goals, and another for the American Medical Students' Association (AMSA), designed to promote medical student activism. "The main thing we want to do is reduce health disparities," Hendrix said. "We think one platform is through social justice."
So, on Sunday, Jan. 8, and Monday, Jan. 9, just as Congress' debate on repealing the ACA — which would leave millions without health insurance — culminated in voting, Hendrix, with SMHS classmates Jamie Majdi, Camilla Maybee, Mariama Evans, and Rayna Sobieski, joined with students from around the country to support health equity.  That Sunday, the Social Justice Interest Group hosted the #ProtectOurPatients summit, which featured topics on repeal and anti-repeal efforts, as well as social justice and advocacy in medicine. And on Monday, students organized, first at the Department of Health and Human Services and later at Capitol Hill; there, they delivered the #ProtectOurPatients petition boasting more than 4,000 signatures to legislative aides.
"We were able to thank them for their support in really advocating for the ACA, but also to really encourage them to work with the Republicans to come up with a bipartisan plan," said Majdi, who met with aides for Sen. Dick Durbin (D-Ill.) and Sen. Tim Kaine (D-Va.). "If there's no political interest in preserving the ACA, then we need something that's going to keep most of the provisions of the ACA and also improve upon it."
Majdi, who has almost completed her clinical clerkships, and Hendrix, who volunteers at the student-run Healing Clinic, can directly point to patients who have inspired their advocacy.
"I've seen patients who would not have been able to afford their medications if they didn't have the Affordable Care Act to help," Hendrix said. "I've seen patients that need more help with health insurance and need better access, but it's improved from their situation before [the ACA]."
For Majdi, continuing to give a voice to patients is vital. "Because of our position as health providers, we have a moral imperative to advocate for patients. I truly think that if we were to look at health care policy in a reasonable and measured way, everyone would agree that more coverage is best for the people of the U.S. We just need to get beyond petty politics and work for a better health system."
In the meantime, the students are continuing to make calls on behalf of #ProtectOurPatients, and the petition has climbed to nearly 5,000 signatures.
"We're going to continue to do phone banking, to continue meeting with staff — to do what needs to be done to advocate for patient protections," Majdi said.