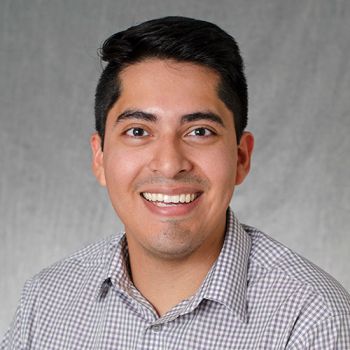 Guido Pelaez, a third-year MD student at the George Washington University (GW) School of Medicine and Health Sciences (SMHS), will have a chance to build on his passion for research after being chosen for the American Society of Hematology (ASH) 2020 Minority Medical Student Award Program (MMSAP).
Twenty-four medical students were selected for the program, which encourages underrepresented minority medical students to pursue careers in hematology. Through the program, Pelaez will receive funding to support a hematology-related research project in the lab of a research mentor. He will also have the opportunity to present his research during the society's Annual Meeting and Exposition.
"Receiving this award means a great deal to me because of what it represents and what it recognizes," Pelaez said. "First, it represents a wonderful opportunity to continue to conduct research at GW. … And second, it represents another way for me to continue to develop meaningful mentorship relationships."
Pelaez started at GW as a fellow of the GW Mentored Experience to Expand Opportunities in Research (METEOR) program, which allowed him early on to gain experience as a clinician-investigator.
His mentor during the METEOR program, Alejandro Villagra, PhD, assistant professor of biochemistry and molecular medicine at SMHS and researcher in the GW Cancer Center, also will serve as his research mentor for MMSAP. In addition, Christopher Hourigan, MD, PhD, an investigator in the Myeloid Malignancies Section at the National Institutes of Health, will serve as Pelaez's career mentor during the program.
Pelaez's research project will focus on the use of HDAC inhibitors to modulate the expression of CD19 and CD20 proteins found on the surface of malignant B-cells with the intention of increasing the effect of CD19/20 antigen-targeted therapy. 
"The hope is that by increasing surface expression of CD19 or CD20 on cancer cells, we would be able to augment the effectiveness of novel targeted-therapies," he explained. "Promising results would then allow us to further investigate the role of HDAC6is as therapies for B-cell cancers, [and enable us] to look at the tumor microenvironment as well as the effects of HDAC6is on immune system memory."
Pelaez added that receiving the award is recognition of not just the hard work he's put into his research and academics, "but also my mission to create a profession and academic environment that is more inclusive and which more accurately represents the makeup of this nation's population.
"Minorities are painfully underrepresented in medicine and research, which is why I am so grateful for the opportunity an award such as the MMSAP offers to make our voices heard," he said.