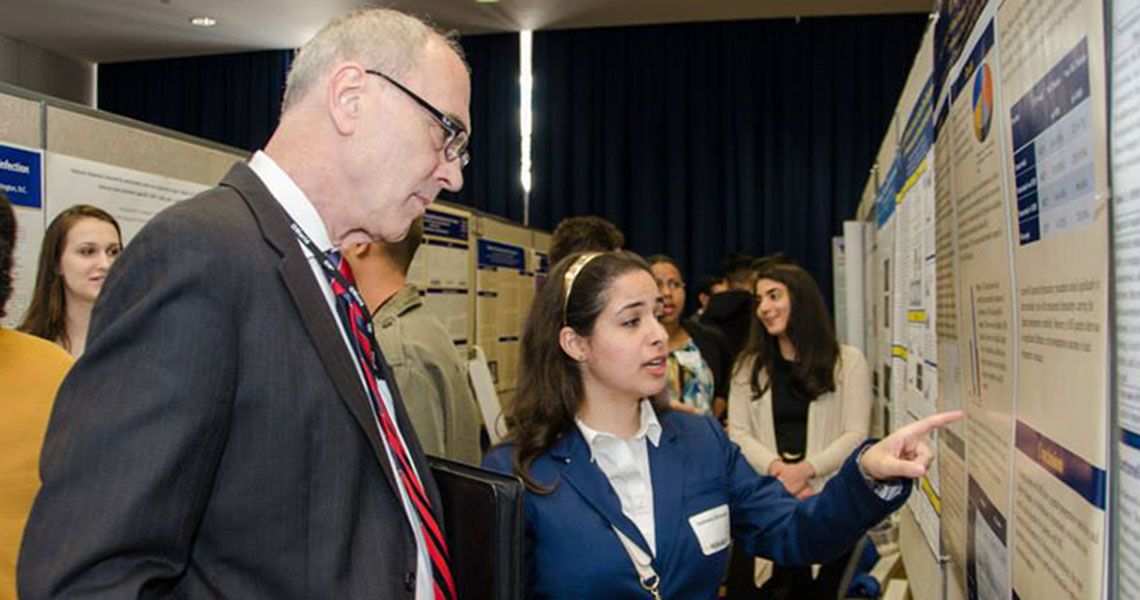 For future emergency medicine physician Travis Hase, educating health care providers about the devastating impact of prescription opioid misuse, overdose, and addiction is a true passion.
"Emergency physicians play an important role in recognizing trends that have public health implications and alarming those who have an interest and can take preventative action," said Hase, a third-year medical student at the GW School of Medicine and Health Sciences (SMHS).
"There is a huge increase in people who are overdosing and abusing opioids like heroin, morphine, and oxycodone," he said. "We want physicians to recognize their contributions to these addictions and the role they can play in people being addicted."
Hase's poster was one of the more than 280 presented at Wednesday's 20th annual health- and medicine-themed GW Research Day. The event highlights the partnership among GW's Office of the Vice President for Research, SMHS, the School of Nursing, the Milken Institute of Public Health at GW, and Children's National Health System. It focused on the health and wellness of local, national and global communities.
As a first-year medical student, Hase spent 12 weeks at the White House Office of National Drug Control Policy, gathering information on health policy issues surrounding opioid medications to help the White House educate the public about prescription opioid misuse, overdose, and addiction.
"My goal isn't necessarily to reduce the prescribing of these substances when they are necessary, but we want physicians to be cognitive of who they are prescribing them to, what they are prescribing, and how much," he added.
Where it really comes into play is physicians' self-reported lack of comfort in dealing with prescription opioids, especially when they are prescribed long term. His research recommends some level of remediation. "What we are suggesting is a small continuing medical education course that will help raise awareness and ultimately save lives."
The scope of research presented by this year's crop of medical students, health sciences students, residents, and fellows ranged from basic science research projects to translational efforts seeking to convert more fundamental discoveries into patient-focused applications to human-subject investigations exploring the effectiveness of new therapies and practices.
"Health and Medicine Research Day is dedicated to highlighting the breadth of research, creative scholarship, and discovery underway at GW," said Jeffrey S. Akman, M.D. '81, RESD '85, Walter A. Bloedorn Professor of Administrative Medicine, vice president for health affairs, and dean of SMHS.
Research is a critical component of SMHS, as well as the rest of the university, explained Robert Miller, Ph.D., Vivian Gill Distinguished Research Professor, senior associate dean for research, and professor of anatomy and regenerative biology at SMHS. "We need to encourage and support that activity."
There were two aspects of the poster presentations that struck Miller: "The remarkable breadth of the research and the talent and sophistication of the young investigators, and the programs they are undertaking," he said.
The morning kicked off with Philip E. Bourne, Ph.D., associate director for data science at the National Institutes of Health, who delivered the first of two keynote addresses.
Bourne's speech "Biomedicine in the Digital Era," detailed the opportunities and challenges of biomedical research and how data sharing and information technology will impact the first-year medical students who filled Lisner Auditorium.
"Our goal is to foster an open ecosystem that enables biomedical research to be conducted as a digital enterprise that emphasizes health and quality of life," said Bourne.
The biggest challenge, he explained, is "that we don't have a sustainable data plan, and global policies define the why but not the how."
There is good news on the horizon, said Bourne. "There is a genuine willingness across disciplines to address these problems, and global communities are emerging and beginning to define and quantify these issues."
"Health-associated infections are among the 10 leading causes of death in the United States," said Julie Segre, Ph.D., senior investigator at the National Human Genome Research Institute, NIH chief, Translational and Functional Genomics Branch head, Microbial Genomics Section, who delivered Wednesday's second keynote address.
Segre gave an overview of health-associated infections during her talk, "Tracking Hospital Transmissions of Antibiotic-Resistant Bacteria in the Genomic Era."
"There is always a risk when you are admitted to a hospital that you can acquire a bacterial infection, often a pathogen that is circulating within the hospital," she said.  
She also notes that this is a risk that is part of many of the new modern practices like stem cell transplants, where a physician immunosuppresses someone in order to perform pre-curative therapy.
Stressing the human, economic, and societal toll these types of infections take, Segre explained that "our biggest concern is the increase of bacterial resistance in these patients."
To combat this problem, she said there is a need to "streamline the analysis method; standardize clinical reports; and standardize molecular diagnostics based on genomic sequencing."
Wednesday's session ended with a panel discussion moderated by Tim McCaffrey, Ph.D., professor of medicine and of microbiology, immunology, and tropical medicine, and director of the Division of Genomic Medicine at SMHS. The panel featured both keynote speakers along with Eric Hoffman, Ph.D., chair and professor of integrative systems biology, and of pediatrics at SMHS. Panelists discussed the latest trends and changes in immunology and big data in health and medicine.
For Hase, the ultimate reward is that his research resulted in a paper he is publishing on how physicians can help curb the opioid overdose epidemic through education and responsible prescribing practices.
"It's incredibly important to have an event like this," added Miller, after touring the poster presentations. "It gives the medical students, residents, and fellows the opportunity to talk about the research they are doing and shows the rest of the GW community what we are working on."